The Art History Vitrine hosts month-long exhibitions dedicated to the public expression of art historical research, methods, and objects of study. Since 2006, professors and graduate students have curated installations in this display cabinet on themes as varied as Canadiana, print culture, postcards, as well as architectural drawings and models, often using original works of art by Concordia students.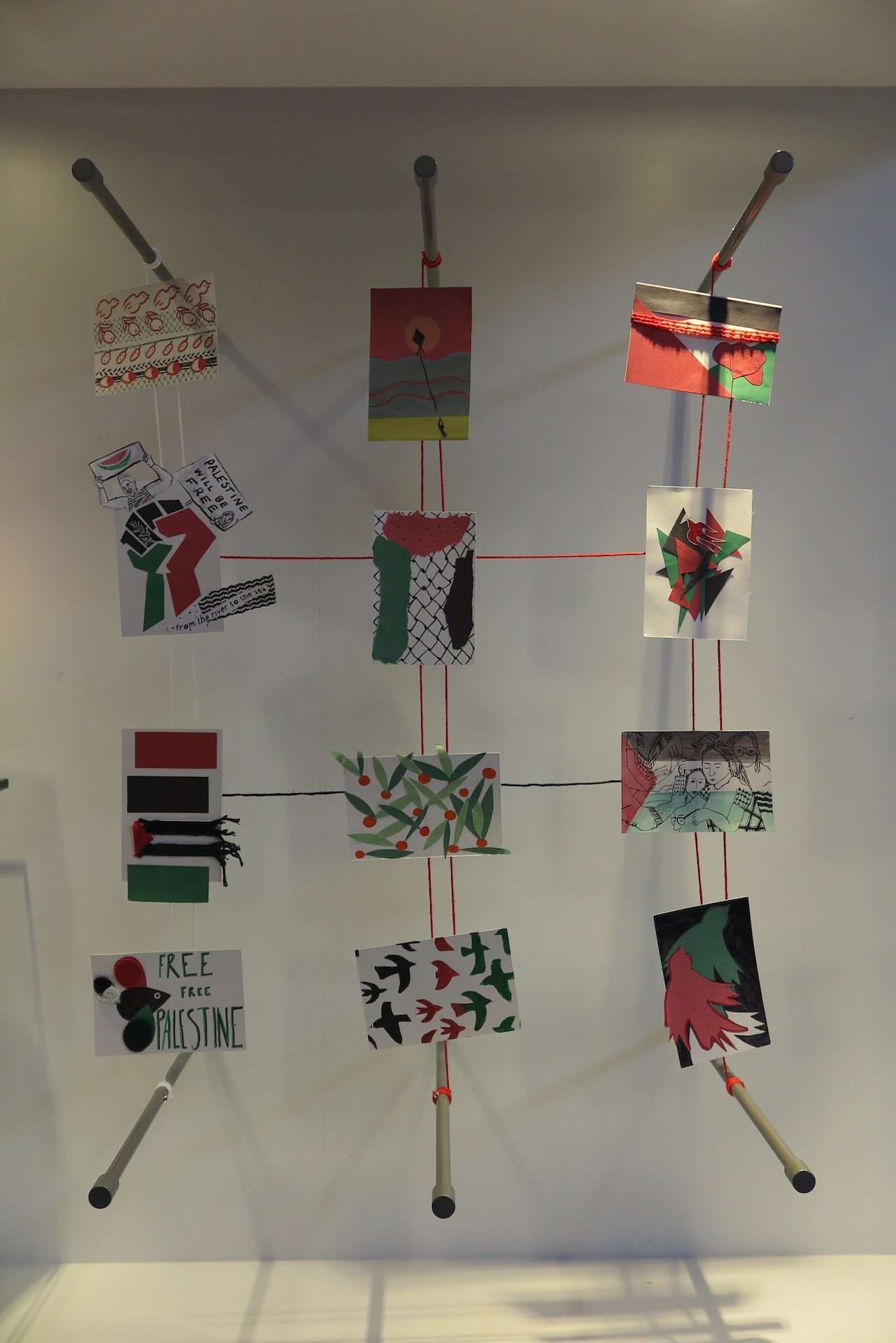 Built in Words: Listening to Latin Narratives
August 18 - September 30, 2022
Presented by the Visual Collections Repository (VCR) as part of its Curator-in-Residence program
Wanessa Cardoso de Sousa, Image Curator-in-Residence, Visual Collections Repository, Concordia University, 2022
Although most societies frequently rely on writing documents to record facts and events throughout time, oral tradition was, and still is, an important instrument to transmit knowledge from one individual to another. In an artistic environment, oral tradition – along with the aid of different recording devices or the employment of writing to document cultural and historical events over the years – can act as a creative source for art practices. In-depth interviews, recorded memoirs, life narratives, taped memories, self-reports, personal narratives, and oral biography: there are numerous mediums in which one can use oral history to produce visual art when documenting aspects of identity, collective memory, cultural heritage, and related matters. But why is oral history such a powerful tool? Why is enabling anonymous stories to be heard and broadcasted to others imperative to live in a more empathetic society?
Growing up listening to stories about my family and neighborhood was crucial to understanding my intersectional identity and how certain aspects of the collective story have shaped me. In a broader sense, oral history is a powerful means – especially for individuals in marginalized social and cultural groups – to understand who we are and how the society we are part of influences our perspectives and interests through aspects such as culture, religion, politics, and language.
Such aspects, with stories that resonate from the self (individual) to the outside (collective), heavily influenced me while selecting the works presented in Built in Words: Listening to Latin Narratives. This curatorial research invites its audience to delve into works that discuss issues of immigration, racism, diaspora, oppression, displacement, and omitted narratives through different communication approaches. The selected Latin artists act as intermediaries to distinct communities by speaking for those who cannot – or never could – speak for themselves. From their works, these artists disseminate Latin American voices that patriarchy, colonization, controlling policies, and social inequality have historically silenced, oppressed, or excluded. They give these marginalized voices a platform to tell their story. While the selected artworks
range from different levels of storytelling and human interaction, they all contain exchanges between individuals. These art pieces are, first and foremost, collaborative works, whether these cases of partnerships happened before, during, or after the artists' creations.
This curation brings together four artists previously found in the archives of the Visual Collections Repository (VCR) and four new additions from contemporary Latin artists to contribute to the VCR's collection. Together, they constitute four distinct moments: immigrant, (un)written, fictional and collaborative narratives. While discovering each of them, I invite you to reflect on how transforming a personal report into a collective story contributes to the opening of communication and exchange of experiences that contributes to understanding others' realities. How is transmitting stories – that, at first glance, seem too ordinary, specific, or intimate – essential to know who we are and where we came from as a society? Is it possible to use oral traditions or other mediums associated with this practice to oppose social oppression and exclusion?
VCR Curator-in-Residence program
The VCR Curator-in-Residence program hosted a Concordia University alum scholar to curate a collection of digital images created by Black, Indigenous and People of Colour (BIPOC) artists. The goal was to provide resources to support and create a more inclusive pedagogy through curated expansions to the image collections.
Exhibition views
Charles Gurd
May 15 - August 17, 2022
Presented by the Visual Collections Repository (VCR)
A former instructor in the Faculty of Fine Arts, the architect, painter and photographer Charles Gurd donated hundreds of photographs to the Faculty of Fine Arts' Visual Collections Repository (VCR). These gifts serve as pedagogical and research tools for Concordia's community. Amongst the works exhibited in the Vitrine are black and white photographs from the 1974 Montreal Mansion series, which offer glimpses of historical homes of notable families of the city.
Exhibition views