Student profile
Marie-Eve G. Castonguay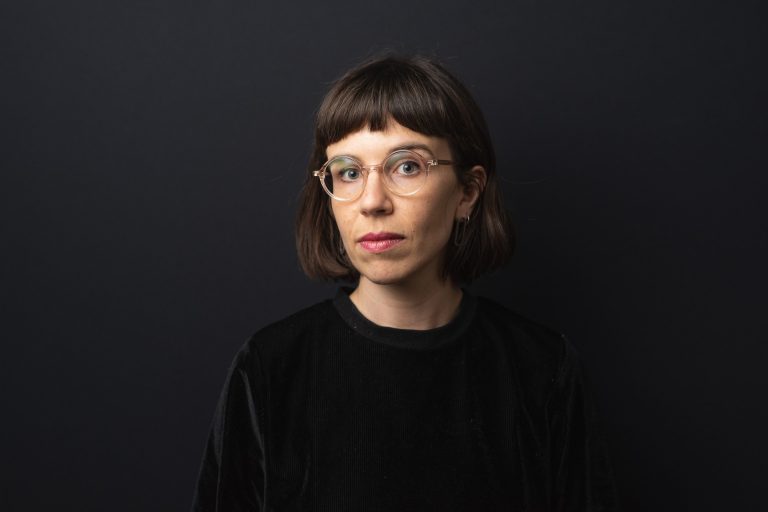 Marie-Eve G. Castonguay is a jewellery artist, independent curator, writer and educator currently based in Tiohtià:ke | Mooniyang | Montreal. She holds a Bachelor of Fine Arts in Jewellery Design and Metalsmithing from NSCAD University, where she graduated in 2013. From 2014 to 2018, she was a full-time artist in residence at Harbourfront Centre, in Toronto. Her work was showcased in many exhibitions throughout Canada and internationally. She has received numerous grants and awards, notably the Autor-Joya Award in 2015, and more recently, the Jean-Cartier Award in 2020.

An active member of the jewellery and craft community, she co-founded MetalAid, a Canadian contemporary jewellery network, which aims to support, promote, and foster community in the field of contemporary Canadian art jewellery practice, both nationally and abroad. Since 2018, she is acting as the Art Jewelry Forum Canadian Ambassador, thus creating a bridge between the Canadian and international jewellery community. In the recent years, she co-curated the touring exhibition "Paysage de l'intime" and she co-authored the accompanying catalogue. Marie-Eve is currently acting as lead curator for the main exhibits at the upcoming Biennale Révélations, an international biennial dedicated to fine craft, which is held in Paris, France. Quebec being the feature nation for the 2023 edition, she is in charge of curating a delegation of nearly 30 artists and over 100 works.

Her articles were published in Bazzart and Metalsmith Magazine, and she has written several pieces for exhibition booklets published by Galerie Noel Guyomarc'h. She teaches at the École de joaillerie de Montréal, as part of the cégep program.
www.marieevegcastonguay.com
@mevegcastonguay
Thesis Title: TBD
Supervisor: Dr. Elaine Cheasley Paterson
Research Interests:

Contemporary craft practices

Contemporary art jewellery

Canadian craft

Art and the body

Art, craft and design intersections
Public presentations:
Contemporary Art Jewellery and the Craft Ideal (panel curator and moderator), Making and Thinking Symposium: Shifting Ground, co-presented by Harbourfront Centre and Craft Ontario, November 2022

New Vernacular : A Canadian Jewellery Conversation (panel discussion), NYC Jewelry Week, presented by MetalAid at the Consulate General of Canada in New York (2019)

(body of work) by Karin Jones (panel discussion), La Centrale Galerie Powerhouse (2019)

Artist talk, SNAG Emerging Artists Lectures, SOFA Chicago (2018)

Artist talk, École de joaillerie de Montréal (2018)

Artist talk, Craft Ontario Volunteer Committee (2016)

Artist talk, Centre de formation et consultation en métiers d'art, Quebec City (2015)

Artist talk, Anna Leonowens Gallery, Halifax (2013)
Curatorial projects:
Biennale Révélations: Le Québec à l'honneur, Paris, France- curator (2023)

Paysage de l'intime, Abbozzo Gallery, Toronto, ON (DesignTO); Galerie Lewis, Québec, QC; Galerie Noel Guyomarc'h, Montreal, QC – co-curator (2020)
Selected publications:
« Looking Through the Decor. » Gabrielle Desmarais : Les Espaces-Satellites. Montréal : Galerie Noel Guyomarc'h, 2021, print.

New Vernacular: A Canadian Jewellery Conversation (foreword). Toronto: MetalAid, 2021, print.

« Beyond the Visible. » Paul McClure : SLICE. Montréal: Galerie Noel Guyomarc'h, 2021, print.

Paysage de l'intime, exhibition catalogue (2020)

« Parallel Lines. », Metalsmith Magazine 40, no. 2 (Summer 2020): 20-23.
Selected exhibitions:
Paysage de l'intime, Abbozzo Gallery, Toronto, (DesignTO + Galerie Lewis, Quebec City + Galerie Noel Guyomarc'h, Montreal (2020)
- Bijoux contemporains: Francophone Artists Reimagine Adornment, Ross Art Museum, Delaware, Ohio (2019)

KORU 6, Imatran Taidemuseo, Imatra + Tiivistämö, Helsinki + Artcenter Laikku, Tampere, Finland (2018)

Face à Face: An Exhibition of Canadian Contemporary Jewellery, Harbourfront Centre, Toronto Design Offsite Festival + Galerie Résidences, Paris, Parcours Bijoux (2017-2018)

Espace habité / Inhabited Space, Amaranto Joies, Barcelona + Institut National des Métiers d'Art, Paris, Parcours Bijoux (2017)

The Essentials, Harbourfront Centre, Toronto (2017)

It's not you it's me, Harbourfront Centre, Toronto (2016)

Non-Objective, Artport Gallery, Harbourfront Centre, Toronto (2016)

Antonym, Alja&Friends, Vienna, Austria (2015)

Transmission, Studio411, Montpellier, France (2015)

Materialize, Craft Ontario Gallery, Toronto (2015)

30-Day Project, Harbourfront Centre, Toronto (2015)

Every So Often, Harbourfront Centre, Toronto (2015)

Les Traversiers des Arts, La Tonnellerie, Brouage, France (2014)

YOU ARE HERE, Anna Leonowens Gallery, Halifax (2013) - solo exhibition