Sarah Amarica
MA 18
Exhibition Coordinator, Faculty of Fine Arts gallery (FoFA), Concordia University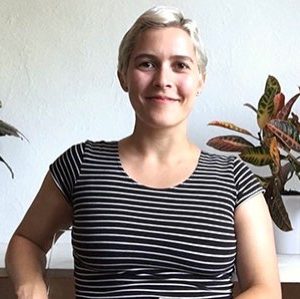 1. How are you applying your degree in Art History from Concordia?
My degree in art history has lent itself well to my chosen field of arts administration. Honing my writing and research skills has helped with everything from grant applications to publishing projects to basic administrative duties. Moreover, I find myself often using the critical thinking and creative problem-solving skills I learned throughout my degree at work. Last, working in the field of contemporary art, I am often drawing from the research I conducted during my degree when working with artists, curators, and scholars, and when learning about new trends and practices in today's ever-changing art world.
2. What do you value most from your Art History experience?
Quite simply, I am grateful to have been surrounded by brilliant peers and faculty members throughout my degree. My professors fostered an environment of support and an eagerness to learn. I loved listening to my peers discuss their interests while being able to share mine with them. I was always inspired by those around me, and I am very thankful for it.
3. What advice would you give to someone considering graduate studies in Art History?
As it turns out, the classes, readings, and topics that excited me most during graduate studies were those outside of my contemporary-art comfort zone. Researching and learning about unfamiliar topics is daunting but rewarding. It is important, I think, to keep learning, but even more so about histories, artworks, and subjects beyond one's immediate scope of interest.
Throughout my degree, I also learned the importance of asking for help, from teachers, colleagues, loved ones, or otherwise. Graduate studies are challenging and stressful and having a support system is necessary.