2021-22 Sustainability in Curriculum Progress
Learn about what Concordia is doing to advance its 2025 sustainability in curriculum targets.
CURRICULUM ADMINISTRATION SUPPORTS
Target
Develop and deliver supports within the administration and delivery of the curriculum
Status
Efforts supporting this target
Hiring of a designated sustainability curriculum developer
Calls to action
INCREASE SUSTAINABILITY RELATED COURSES & PROGRAMS
Target
Achieve a 20% threshold of sustainability-inclusive* courses
*The wording has changed from sustainability-related to sustainability-inclusive for continued consistency with the Sustainability Tracking, Assessment and Rating System (STARS) framework
Status
Efforts supporting this target
– Sustainability in Curriculum Co-Design Project
The project seeks to create co-design teams comprised of an instructor(s) and two students who collaborate to develop and integrate sustainable learning outcomes and related learning resources and activities into a course curriculum. Supported by the Centre for Teaching and Learning Curriculum Developers and Faculty-Peer Mentors, the teams are built to leverage discipline-specific expertise, sustainable development expertise, and pedagogical expertise in the co-design process.
Calls to Action
Related Sustainable Development Goal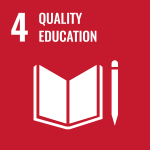 Target
Increase the number of programs available to students that have a sustainability learning outcome
Status
In 2021, an inventory was conducted to identify the number of programs available to students that have a sustainability learning outcome. Concordia offers 33 undergraduate, graduate and professional certificate programs that will enhance students' understanding of sustainability. This number will serve as a baseline for measuring progress on the target.
Learning outcomes were assessed for all academic departments identified in the sustainable course inventory. There is no singular location or database for learning outcomes associated at the program or departmental level at Concordia University. Learning outcomes were obtained by first cross-referencing programs in the sustainable course inventory, and then manually searching corresponding program web pages. Programs with learning outcomes that include sustainability keywords were included.
Efforts supporting this target
The Sustainability Ambassadors Program (SAP) provides select students with an immersive sustainability leadership experience. It provides creative engagement opportunities that build students' skills and competencies as they support a culture of sustainability on campus.
Calls to Action
Related Sustainable Development Goal