Understanding your Offer of Admission
This is a guide to accepting your offer of admission.
You've been admitted
Want to understand exactly what is in your Offer of Admission and what it all means?
Read on! You can also check our glossary for the definitions of key words.
Student ID number / Degree - Program - Faculty
Student ID Number
Your unique Concordia student ID number – provide it every time you contact Concordia, and we can instantly access your file!
Program / Academic Plan / Faculty
Your Program (Degree you plan to pursue) or Certificate program to which you've been admitted.

Your Academic Plan (the subject you want to focus on).

The Faculty (or school) to which the plan belongs.
Student Centre
Log in to the Student Hub, select My CU Account, then the Student Centre. – it's where all your Concordia-related information lives (e.g. course schedule, student account, etc.) and it's where you can accept your Offer of Admission.
The Welcome Guide for New Concordians
The Welcome Guide for New Concordians has everything you need to get started – from registering for classes and finding housing to paying tuition and getting health insurance.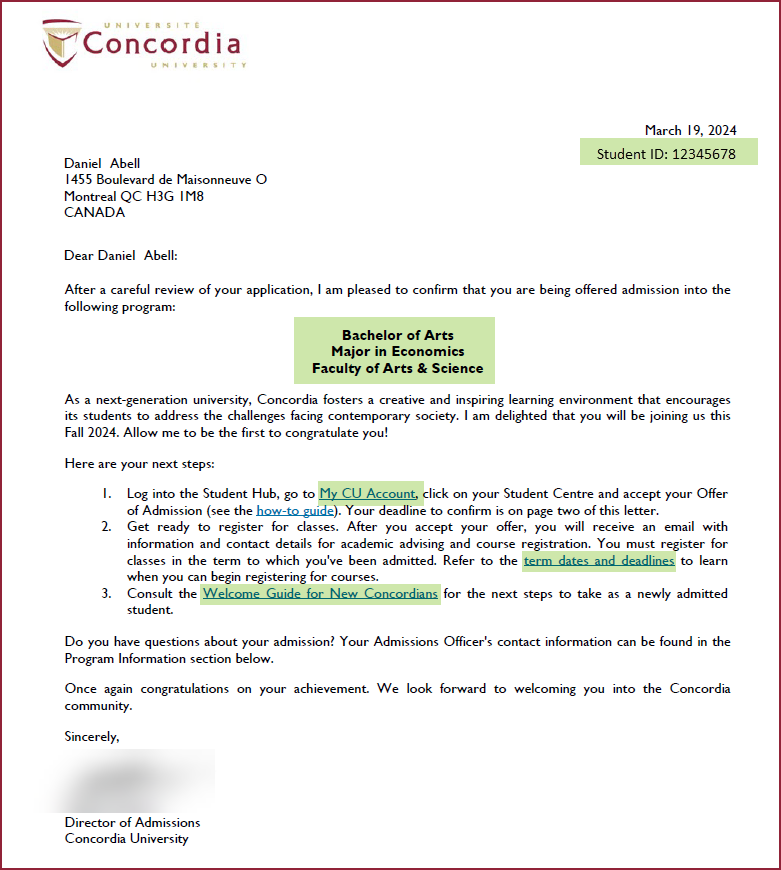 Program Information / Admission Status
Academic Load
You are permitted to take 5 to 6 courses per semester, depending on your program (International students must take a minimum of 12 credits per semester).
Minimum Program Length
A full year of studies is approximately 30 credits. The length of your program will depend on your previous studies and the requirements of the program itself.
Admission Status
Whether it's conditional or final, THIS IS your official Offer of Admission (and the one you use for immigration applications).
Conditions
This section outlines the condition of your admission to Concordia. You need to meet the condition before starting your studies at Concordia.
NOTE: You will NOT receive a new letter once your condition is fulfilled – your conditional Offer IS your official Offer.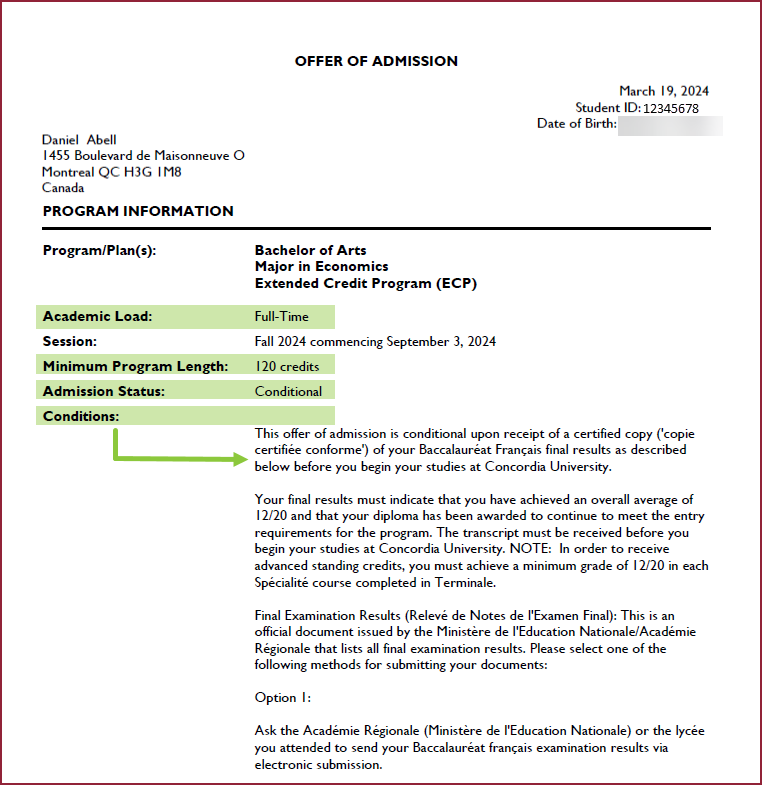 Official Transcripts
Official transcripts
Visit our Official Documents page for different ways you can have your transcripts sent. It can take up to 10 business days between the time the document is received, and the time it is uploaded to your file.
IMPORTANT
Official transcripts must come directly from the institution(s) in question - see our Official Documents page for details.
If for any reason you will not be able to meet satisfy the condition before classes start, please notify your Admissions Officer (listed in your Offer letter) as soon as possible.
Admissions Contact Information
Admissions Contact
Your Admissions Officer is available to answer any questions you may have about your admission. For answers to other types of questions (registration, housing, tuition, etc.), please see our Welcome Guide for New Concordians.
Confirmation Date
The confirmation date indicates the final date for you to confirm your acceptance of the offer. This confirmation must be accompanied by a confirmation deposit which is applied towards your future tuition.
Please see Confirm your offer.
Co-op Recommendation
If you indicated an interest in Co-op in your application, this is where you will find more details.

Exemptions / Deficiencies / Transfer Credits
Exemptions
Exemptions recognize academic content you've covered at a previous institution. An exemption does not count as credit towards your degree – but it will let you skip ahead to a more advanced course!

Granted: you have already successfully completed the course.

Potential: you are currently taking the course, and will be awarded the exemption once you successfully complete it and we receive your official transcripts.
Deficiencies
Deficiencies are courses you have not completed that are required for admission to your chosen program. These must be completed as early in your studies as possible.If you are not sure why you have ESL courses listed as deficiencies, please see our English Language Proficiency page for details.
Transfer credits
Transfer credits are credits you earned from another post-secondary institution (e.g. a college or university). They may count towards certain requirements of your current degree - find out how.

Granted: you have already successfully completed the course.

Potential: you are currently taking the course, and will be awarded the credit once you successfully complete it and we receive your official transcripts.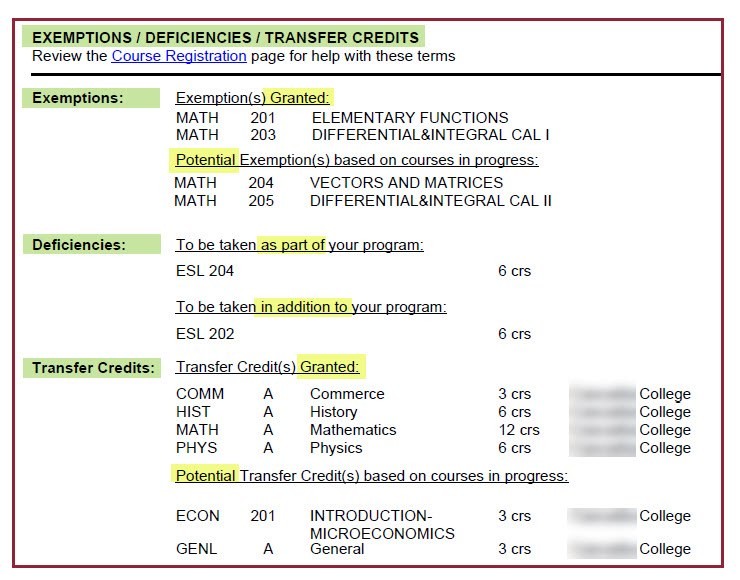 Faculty / Program Specific Information
This section may contain information about placement tests, writing requirements, or other program-specific information.
Information for International Students
As an International student, you will need to apply for the appropriate immigration documents to study in Canada. This can take anywhere from a few weeks to several months, so it's a good idea to start as soon as you've received this offer (whether it is conditional or final).
International Student Office
If you have questions or concerns about immigration, health insurance, living and working in Canada, or other related topics, the International Student Office (ISO) is here to help!
Student Accounts
This Student Accounts website has detailed information about your tuition and fees, including a tuition and fee estimator, payment deadlines, and other key information.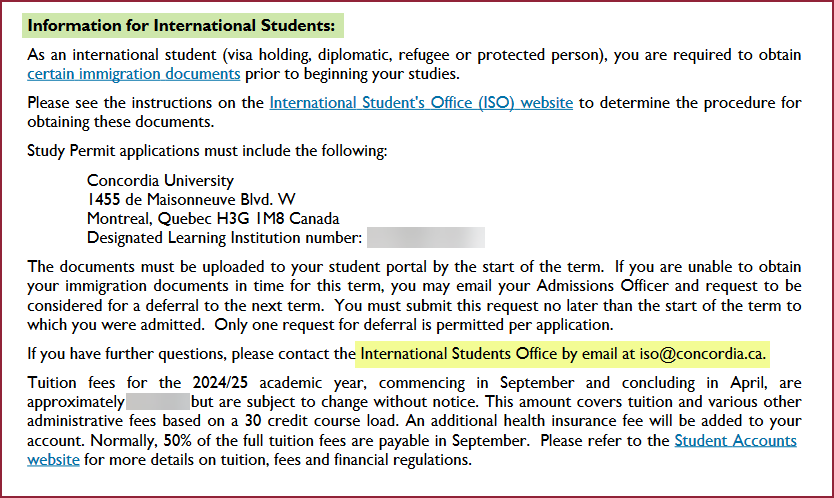 Advising and Registration
Advising and Registration
After accepting your Offer of Admission, look out for an Academic Advising email from your Faculty with key information about academic advising, course registration, and other useful tips to help you get started.
Academic Advisor
Need to speak to an Academic Advisor? Contact information for Academic Advising can be found in your Student Centre under "Program Advisor"