A Concordia-led initiative will accelerate climate action in Montreal
UNIVER/CITY 2030 will help the city meet its sustainable development goals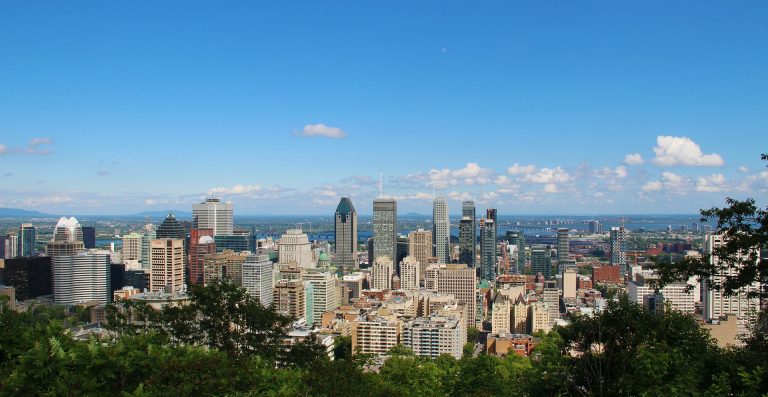 In December 2020, the City of Montreal released an ambitious climate plan targeting carbon neutrality by 2050. To help the city meet its targets, Concordia has launched the UNIVER/CITY 2030 initiative.
The partnership is supported by a $1 million, five-year grant from the McConnell Foundation.
At its core, UNIVER/CITY 2030 seeks to mobilize the capacities of Montreal's universities to help achieve municipal goals related to socioecological transitions, with an initial focus on reducing carbon emissions and mitigating climate change.
The initiative is based at Concordia's Next-Generation Cities Institute. Co-directors Ursula Eicker and Carmela Cucuzzella are members of the UNIVER/CITY 2030 steering committee, along with members of the Office of the Provost and the Office of Research.
The McConnell funding supports three project leads, who are also on the steering committee, and three research assistants.
The UNIVER/CITY 2030 team is working closely with the Partenariat Climat Montréal (PCM) on its climate action efforts.
Launched as an initiative of the Foundation of Greater Montreal and the Trottier Foundation in 2020, PCM is an independent initiative that brings together almost 100 economic, community and philanthropic organizations. Its mission is to mobilize key actors in Montreal to contribute to the reduction of GHGs by 55 per cent by 2030 and to help the city become carbon-neutral by 2050. Concordia President Graham Carr is a member of PCM's steering committee.
Jason Ens, Concordia's executive director of academic policy, planning and strategic initiatives, developed the proposal for UNIVER/CITY 2030. For Ens, the initiative is an important demonstration of the university's commitments to embracing the city, working in partnership and advancing sustainable transitions aligned with the United Nations' Sustainable Development Goals.
"UNIVER/CITY 2030 addresses a need for better collaboration infrastructure in the city around urgent issues like climate action. It creates new ways for universities to work with each other and with government, civic society groups, communities and businesses, using shared goals as the glue that holds everything together," he says.
Three axes
UNIVER/CITY 2030 comprises three main component parts.
The Climate Colab is mapping climate-related research capacity in Montreal and building a shared research and development agenda around reducing greenhouse gas emissions in support of the Montreal Climate Plan. Based on the research and development agenda, the Climate Colab team will catalyze collaborative research-action projects involving research teams at various Montreal universities.
The Climate Colab work is being led by Luce Beaulieu, the former executive director of CIRODD.
The Data Studio is exploring the use of a range of data-related tools and methods, such as community data agreements, data ecosystem maps, and data sharing arrangements to advance climate action and other aspects of socio-ecological transition and environmental justice. Building a more transparent, accountable, and engaging local climate data ecosystem is among its areas of interest and collaboration. The Data Studio will draw on support from Montreal's universities and its engagement in civic alliance, such as Transition en Commun, in its work.
The Data Studio is designed and led by Jean-Noé Landry, the former executive director of Open North and an Obama Scholar 2021-2022.
The City School is focused on developing hands-on learning experiences related to climate action and other important forms of municipal-level systems change. Building on the CityStudio model, the school will create a range of opportunities for students, citizens and professionals to play a leading role in meeting the goals of the Montreal Climate Plan.
The City School work is being led by Maude Lecourt part of the Experiential learning Office."
UNIVER/CITY 2030 also supports the work of the zero-emission building accelerator with Concordia roots. The accelerator, which is led by Oriol Gavaldá, brings together researchers, city officials, bankers and energy providers to advise private developers on how to significantly reduce or even eliminate their greenhouse gas emissions.
A second accelerator is being developed for social sector building owners.
Generating impact through collaboration, reliable data
Next-Generation Cities Institute co-director Eicker is professor of building, civil and environmental engineering and Canada Excellence Research Chair in Smart, Sustainable and Resilient Cities and Communities at Concordia. She says the UNIVER/CITY 2030's work tightly aligns with the institute's priorities and sees it as an extension of the institute's mandate.
"We take a multidisciplinary approach to thinking about cities that combines sustainability, social justice and urban transformation. We also work in close partnership with key stakeholders in the city," Eicker notes.
"It's already been hugely beneficial to work with Jean-Noé, Luce and Oriol in terms of their experience, networks, energy and creativity. We're hoping our work together will have a lasting impact on climate change mitigation efforts in the city."
With respect to impact, one of UNIVER/CITY's key contributions will be helping to aggregate data about how well Montreal is doing on its climate plan commitments.
"To measure real impact, we are developing an innovative data framework and interactive tools that will help us plan our efforts and gauge our progress," explains institute co-director Cucuzzella. She is a professor in the Department of Design and Computation Arts and the Concordia University Research Chair in Integrated Design And Sustainability for the Built Environment (IDEAS-BE).
"Whether assessing community-based initiatives or policy changes, reliable data will be key to our ultimate success."
What's next
Representatives from UNIVER/CITY 2030 will lead sessions at the Montreal Climate Summit, taking place on May 9 and 10.

Visit the UNIVER/CITY 2030 website to learn more about the initiative, how to participate in a Climate Colab workshop focused on developing a climate R&D agenda for Montreal or contribute to the Data Studio work on an emissions dashboard for Montreal.
---