Concordia launches Canada's first grad artwork sales and rental service
The Art Volt Collection connects new artists and collectors to the art market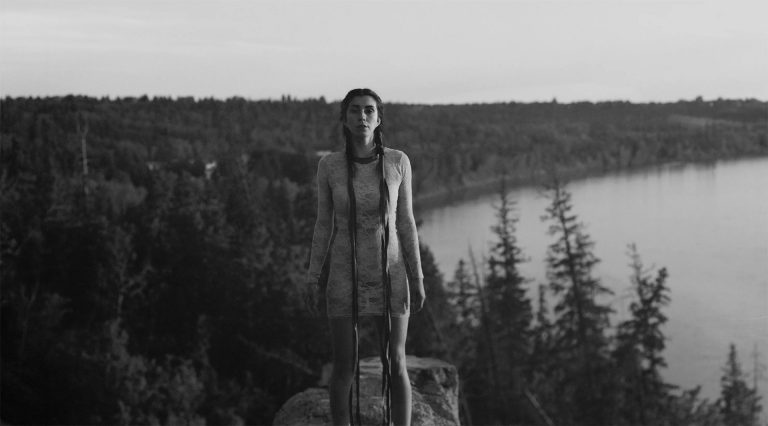 Concordia has officially launched the Art Volt Collection (AVC) — and it's a Canadian first.
Nearly 200 people, including members of the Chancellor's Builders Circle and figures from Montreal's art world, gathered at Maison du Conseil des arts de Montréal on May 17 to celebrate the new sales and rental service that showcases artworks by recent Faculty of Fine Arts graduates.
The goal of the not-for-profit initiative is to help artists launch their careers and support them as they enter a competitive professional environment.
"It gives me great pride to see the Art Volt Collection take shape," says Concordia President Graham Carr.
"It's a very Concordia initiative, one that supports our students and graduates in novel and constructive ways, providing pragmatic, entrepreneurial training, helping them transition into careers and connecting them to our city and beyond."
Annie Gérin, dean of the Faculty of Fine Arts, points out that the Art Volt Collection is unique in Canada.
"No other university offers a launch pad like this to its fine arts graduates. It is a natural extension of the education we offer, and an important step forward in professionalizing emerging artists," she says.

'Getting your first break — that's always the hardest part'
Camille Bédard (BFA 11), an art history alumna who leads the project, emphasizes that the first three to five years after graduation is a critical time for an emerging artist. During this period, artists possess the time, commitment and belief that they can succeed, but they lack the support to drive their careers forward.
"This makes it the perfect time for Art Volt to enter their lives," she says.
To be featured in the collection, graduating students and recent Faculty of Fine Arts graduates submit their work to be reviewed by a jury of faculty, artists and curators.
"The fact that the artworks in the collection have been selected by a professional jury gives the collection a legitimacy that other online art sales platforms don't have," says Bédard.
"Getting your first break, that's always the hardest part. We're here for those early pivotal moments. I am incredibly proud of this inaugural collection, and I can hardly wait to see the results."
A 'buy local' program for Montrealers
While the AVC provides graduates with a secure path into Montreal's artistic ecosystem, connections to a network of collectors and someone to mediate their first business transactions, professional development is central to its mission.
Artists in the collection will receive training from professionals working in the cultural sector to develop their entrepreneurial skills, and learn how to price and package art and how to write effectively about their practice.
"The sense of community among the artists studying at Concordia is the catalyst to their growth, success and creativity," says Francis Macchiagodena (BFA 16, MFA 20), one of the first 25 artists selected for the collection, who spoke at the event.
"The Art Volt collection serves as an extension to this notion of community, where we can continue to thrive as artists and researchers in a post-academic setting."
The Art Volt Collection will also offer training to prospective collectors to make contemporary art more accessible to the public. In a sleek digital gallery, collectors can browse high-resolution images of the artworks, visit artists' profile pages and, for a $25 membership fee, reserve works for purchase or rental. Once they select a work, the AVC offers delivery and installation services.
"I like to think of this as a kind of 'buy local' program for Montrealers, who can experiment with art collecting, and can purchase or rent art at a reasonable price by Montreal's most promising talent," Gérin says.
'We want these artists to do what they do best'
Over the next year, the collection will expand to support graduates working in the performing arts as well. This summer, the AVC has arranged for alumni to perform as part of POP Montreal's Art POP festival in Mile End.
"We are actively developing partnerships with museums, universities, festivals and in other art spaces across the city, which will give these artists more visibility and experience," says Bédard.
Art Volt is the first major project to be created via the Peter N. Thomson Family Innovation Fund. The fund was designed for large-scale projects that would go beyond the classroom into the cultural landscape of Montreal.
It is part of a record-breaking $5.6-million gift from the Peter N. Thomson Family Trust to Concordia in 2019.
"To see what was initially just a seed of an idea develop into this powerful initiative to support emerging artists and budding collectors is exciting and something that would have greatly pleased my stepfather," says Leslie Raenden, who represents the Thomson Family Trust.
"The launch of the collection marks an important culmination in our partnership. We want these artists — these exceptional Concordia students and graduates — to do what they do best: create."

Video: Watch how the Art Volt Collection builds a strong bridge between Concordia and the world.
Find out more about Concordia's Art Volt Collection.
---