$5.6-million gift to spark creative discovery in Concordia's Faculty of Fine Arts
Next-gen support from the Peter N. Thomson Family Trust will connect artists and scholars to Montreal, Canada — and the world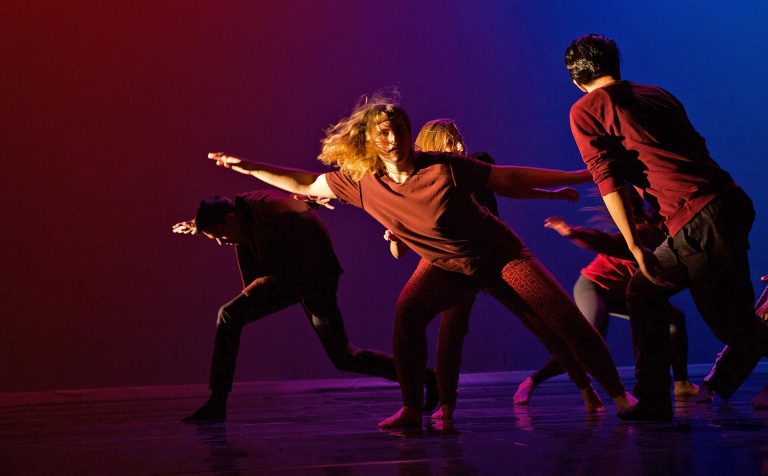 Concordia's Faculty of Fine Arts celebrated a milestone on March 14, 2019.
A $5.6-million gift from the Peter N. Thomson Family Trust is set to be the largest in the Faculty's history, and the largest in Quebec history towards a university-based fine arts program.
This exceptional support gives momentum to the Campaign for Concordia: Next-Gen. Now, and will support three key areas across the Faculty's nine departments: graduate student scholarships, field school awards and an arts innovation fund.
"The fine arts are already very much oriented towards the next generation in terms of resilience, creativity, flexibility and entrepreneurship," says Leslie Raenden, representative of the Peter N. Thomson Family Trust and stepdaughter of the late Peter N. Thomson. "It feels good to know that we've spread out the initiatives to have both short- and long-term benefits. We're going to touch a lot of people."
The new gift will advance Concordia's 9 Strategic Directions, including to Go Beyond and to Get Your Hands Dirty.
Each year, seven Peter N. Thomson Family Graduate Scholarships will be awarded to students enrolled in a master's or doctorate-level program. Valued at approximately $20,000 each, the scholarships will be based on academic merit to attract and retain top talent.
What's more, 30 Peter N. Thomson Family Field School Awards will be granted each year to undergraduate and graduate students across all nine departments. Field schools enable students to embark on cultural immersion experiences across Canada and internationally, including Iceland, Japan, Colombia, Denmark and the Czech Republic.
A portion of the gift will support the Peter N. Thomson Family Innovation Fund, which will allow the Faculty to think big. The fund will be highly responsive and will help initiate large-scale, signature projects through which students and faculty can push ideas beyond the classroom and studio into the cultural landscape of Montreal, Canada and the world.
"A very important aspect of this gift is that it gives us autonomy, mobility and responsiveness," says Rebecca Duclos, dean of Concordia's Faculty of Fine Arts. "Support from the Peter N. Thomson Family Trust offers a clear signal that what is happening in Fine Arts right now matters enormously to people both inside and outside our university."
Each year, seven Peter N. Thomson Family Graduate Scholarships will be awarded to students enrolled in a master's or doctorate-level program.
The funds will have an immediate impact with graduate scholarships being awarded this spring and students embarking on field schools throughout the summer.
"This gift from the Peter N. Thomson Family Trust is an extraordinary gesture," says Concordia President Alan Shepard. "We are deeply grateful to the family trust for the opportunity to make a difference in the lives of our students and to create amazing and wonderful artistic experiences for our community."
Concordia as a first-choice investment
Towards the end of his life, Peter N. Thomson began to establish a planned gift with his four children: he wanted a substantial portion of his wealth to be donated to artists, students and emerging entrepreneurs. He gifted each of his children with the honour of making recommendations to the trustees, so that his donation wishes could be fulfilled.
Raenden took time to interpret what it was she thought her stepfather wanted. The two shared a common love of the arts and the top institution that came to mind was Concordia.
"I think that Peter would have taken great pride and joy knowing that we now have a home for his ideas," says Raenden. "Concordia felt like a good place to connect what he wanted. How better can you promote and help an artist other than through a place like Concordia?"
Her connection to the university came by way of a colleague, Peter Kruyt, BComm 78, senior advisor to Power Corporation of Canada and former chair of Concordia's Board of Governors. Kruyt introduced Raenden to Duclos and Shepard.
Raenden found synergy in her stepfather's objectives with the Faculty of Fine Arts. "I knew the gift would be in good hands and that there was a custodianship that would be trusted at Concordia," says Raenden.
For Raenden, her hope is that Thomson's legacy will continue to inspire the next generation.
"To see that this generosity can have a lasting and lingering effect, I hope students will remember that they benefited from this gift and one day themselves give back," she says.
Find out more about Concordia's Faculty of Fine Arts.
---