8 awesome Concordia student services
From pro writing tips to the Co-Curricular Record, here are a few lesser-known perks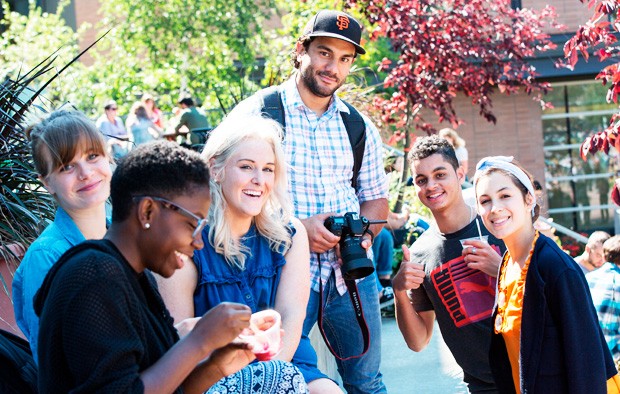 While you might be acquainted with Concordia's more mainstream student services, such as the university's team of physicians and nurses at Health Services, chances are you've yet to explore some of the other awesome resources on campus.
Here's a primer.
1. Get involved in greenhouse growing
Are you a budding agriculturalist? Do you want to learn more about seed production and organic gardening? The Concordia Greenhouse is a hotbed of urban agriculture located on top of the Henry F. Hall (H) Building.
Whether you want to take part in the City Farm School Apprenticeship program or you're just looking for a perfect oasis to study and relax, the greenhouse provides a welcoming, organic green space for students all year round.
2. Get recognized with your Co-Curricular Record
If you're an active member within the university community, your Co-Curricular Record (CCR) is an important ally. The CCR is an official university document that highlights involvement in student life at Concordia. From student leadership roles to positions within departmental services, it showcases acquired skills that can help you get into graduate school, impress prospective employers, and receive grants and bursaries.
Moreover, your CCR is easy to access and use. You can find the link on the Student Hub's My CU Account page. Click the link to manage your co-curricular record and from there you can add activities and download yoiur record as a PDF to include with your CV and official transcript.
3. Get fed and rested on campus
Did you know that Mother Hubbard's Cupboard offers vegan dinners once a week throughout the academic year for only $2? Or that there's a lounge/kitchen space on campus that offers free tea and coffee daily, and a meditation room where you can find some peace and quiet (and possibly a nap) amidst the hustle and bustle of the school cycle? Staff can also provide spiritual guidance, regardless of your faith or background.
These are all services offered by the Multi-Faith and Spirituality Centre at Concordia.
And of course, staff members are on hand at the university's Counselling and Psychological Services to provide confidential one-on-one assistance.
4. Get active at Concordia's Athletics Complex
The Loyola Campus's Athletics Complex provides set "open times" each week when students and staff are given exclusive access to all facilities, including its arena, gymnasium and the Stinger Dome.
You can use these spaces to do whatever activities your heart desires… for free! Whether you want to play some pick-up hockey or access workout equipment, "open times" are a great opportunity to get in shape, have fun and spare your wallet.
All you need to take advantage of this offer is a valid Concordia ID. Check the calendar for "Open Times"!
5. Get writing help from a pro
Have a great idea but don't know how to put it on paper? Struggling with writer's block? How do you cite a source again? Don't fret; the good people of the Writing Assistance Program are here to help you improve your writing skills in English or French.
The free service offers all students at the university the chance to work alongside a writing assistant, who can help you to clarify, develop and present your ideas in a written format that meets the requirements of your specific assignment. Book an appointment today through the Student Success Centre portal or swing by during drop-in times.
6. Get guidance from a student mentor
If you've just arrived at Concordia and are feeling a little overwhelmed, it could be advantageous to get a mentor.
Concordia's Student Success Centre connects new students with successful, upper-year, university students in the same faculty. These Welcome Crew mentors offer you invaluable help with adjusting to university life, while providing honest insight gleaned from their own challenges and achievements.
Your mentor is your go-to person when you have a question. They'll keep you up to date on networking events, campus activities, job opportunities and workshops related to your field of study. Contact a mentor in your field or program.
7. Get settled with the ISO
If you're an international student who's decided to make Montreal your new home, and Concordia your place of study, you're not alone. The International Students Office is behind you every step of the way.
From help with visas and health insurance to walking tours of Montreal and tips for getting through our harsh winters, the ISO offers an array of support services designed to help you get settled.
8. Get experience with the LIVE Volunteer Resource Centre
Finally, as a Concordian, you have numerous opportunities to get involved as a volunteer, either on campus, off campus or abroad. Drop by the LIVE Volunteer Resource Centre to meet with a volunteer ambassador and find an experience that is right for you!

Find out more about services available to you at Concordia via the Student Hub.
---