A newbie's guide to making friends at Concordia
Everything is easier with a bit of peer support, says grad Meagan Boisse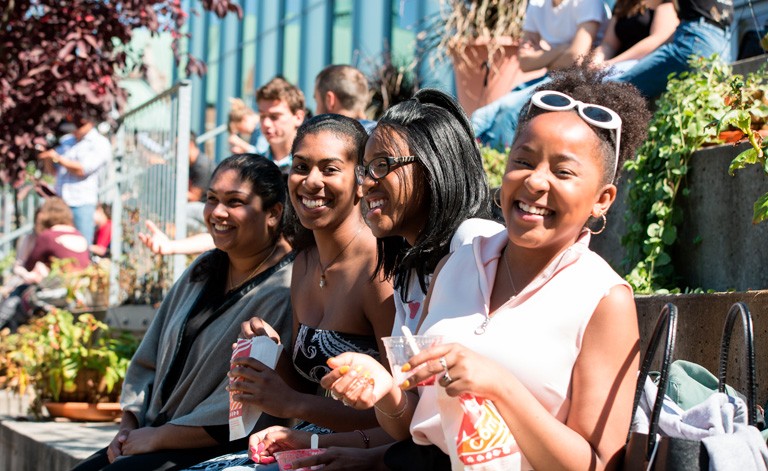 Let's be real, beginnings are scary.
Starting university is a big step and can come with a lot of uncertainty. One of the more obvious challenges is making new friends.
You're in a strange, new place surrounded by unfamiliar faces, so it's no surprise the prospect of connecting with others can feel daunting.
What I learned through my own experience at Concordia, and abroad during my exchange in Denmark, is that universities are actually great places to create social networks.
With that in mind, here are some quick tips that might help create lasting friendships.
1. Take the initiative
Put yourself out there. Attend events, workshops and social activities where other students are likely to be. The reality is a lot of people who are entering university are also looking to meet others. Don't be afraid to start a conversation, and if you feel you've clicked with someone, ask if they want to hang out again.
2. Make connections before the term starts
Seeing a familiar face waiting for you at the beginning of class can be a comfort.
One way of doing this is by attending Orientation, which offers a slew of different opportunities for you to meet other students in a social setting before classes get underway.
Why not join a new student tour? That way you'll be with other incoming students and you'll get the lay of the land right away. Tours of the Loyola and Sir George Williams (downtown) campuses start in December.
Another way to establish connections early on is to reach out to an acquaintance who is also attending classes at Concordia. Even if they were someone you only knew from a high school or CEGEP class, or through a mutual friend, these connections can be valuable first points of reference.
Also, your program may have its own Facebook page. If so, it doesn't hurt to check it regularly — group outings are often planned on these types of social media accounts. Be sure to join the New Concordians: 2019 – 2020 Facebook group.
3. Join a student club
There are plenty of opportunities to network on a smaller scale via student groups at Concordia.
There's bound to be at least one club or association at Concordia that speaks to you. Joining it will give you a chance to meet others with similar interests in an informal setting. Plus, think of how easy it will be to start a conversation when you already know you have common ground!
4. Get a job on or around campus
A student job is a great way to make new friends.
Your co-workers may even end up being in the same faculty or program as you. Whether it's at a campus café or at the bookstore, finding part-time work will give you an opportunity to socialize while also making some money.
5. Know that it's okay to show up to events alone
One of the main obstacles that can get in the way of making new friends is the fear of showing up to social events by yourself.
Getting around this can be problematic, though, especially if you're new in town and don't know anyone yet.
Do it anyway. Orientation events have student mentors who are there to help you integrate. You can always speak with one of them before introducing yourself to your peers.
Remember that this is a time when social circles haven't yet been cemented, so there's a lot of malleability and opportunity to enter different groups and speak to different people.
If you're still uncomfortable with heading out by yourself, try one of these Friday activities specifically tailored for students who may not know anyone on campus yet:
First-year Fridays: Concordia's Welcome Crew offers a series of Friday morning meet-ups where new students can escape their weekly routine and meet other first-year students all while learning essential tips on navigating the challenges of university life from our first-year support counsellor.


ISO Social Events: Concordia's International Students Office (ISO) holds weekly social activities for free (or a very low cost). Open to all students at Concordia, these events are dedicated to exploring the city. Common outings include winter walks, snowshoeing, skating and museum visits.

Finally, for those looking for a line or two to help break the ice, why not try one of these:
"Hey, I think I recognize you from Orientation; I wonder if we're in the same program."

"Are you new here, too? What are you studying?"

"Are you from Montreal? This city seems great so far."

(before the start of a lecture) "This is POLI 204 right? Just want to make sure I'm in the right class."
Cheesy? Sure. But it could open up a conversation!

Check out the Winter 2020 Orientation program to find the activities right for you!
---