'Concern, commitment and opportunity for action'
Concordia doubles down on efforts to support the UN Sustainable Development Goals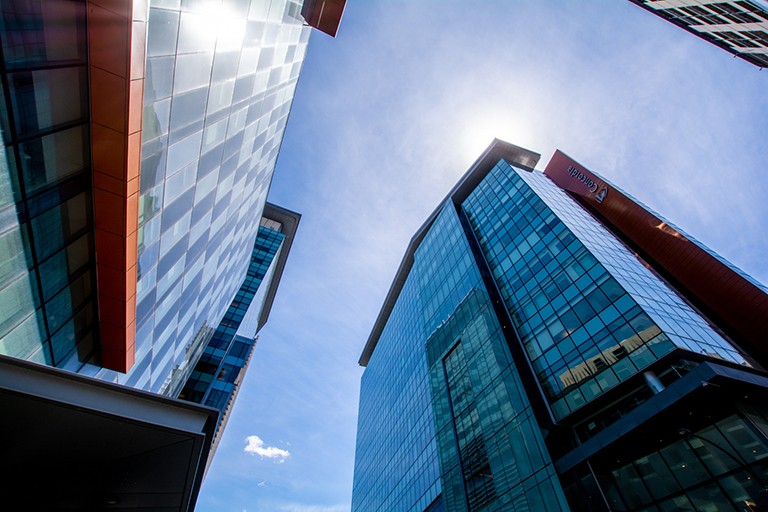 Through a variety of paths, Concordia continues to take big steps toward fulfilling its commitment to the United Nations Sustainable Development Goals (SDGs) — from specific SDG-related events and courses to sustainability-infused projects and research.
Celebrating Indigenous Expertise in Sustainability conference
Back in March, Concordia's Loyola Sustainability Research Centre, Loyola College for Diversity and Sustainability and 4TH SPACE held the Celebrating Indigenous Expertise in Sustainability conference.
The virtual conference featured a series of panels, discussions, workshops and presentations focused on how Indigenous knowledge informs sustainability issues and research.
Topics included Co-developing knowledge with Indigenous communities to facilitate sustainable fisheries management: a 'FISHES' perspective; Representations and rights of the environment; and Decolonization strategies in film and journalism. These sessions featured Concordia faculty Monica Mulrennan, Dylan Fraser, Matthias Fritsch and Aphrodite Salas, among others.
Danika Billie Littlechild delivered one of the keynote addresses. Littlechild is a member of the Ermineskin Cree Nation, Neyaskweyahk, Maskwacis (Alberta) in Treaty No. 6 territory, and assistant professor in the Department of Law and Legal Studies at Carleton University in Ottawa.
Among her many other roles, Littlechild served as an advisor and Indigenous Peoples Representative in various United Nations mechanisms, treaty bodies and special procedures.
In her talk, Littlechild described the contentious history around the recognition and inclusion of Indigenous peoples at the UN, and the parallel conversations happening around the recognition of Indigenous peoples and sustainability.
Regarding sustainability, conservation and biodiversity, Littlechild said, "Where we find ourselves now, it's hard because all of these concepts have been so entrenched within the UN system, to the exclusion of Indigenous peoples, that it's incredibly difficult to see what the synchronicities and the convergences might be, and how to create space for Indigenous peoples."
She added that there were provisions made for representation of Indigenous peoples in the negotiations leading up to the ratification of the SDGs, but because of strong resistance from several countries, led by France, references to Indigenous peoples were minimal in the final articulation.
"When we started the negotiations, I think we were in nine (SDGs) and we ended up in two goals and a few targets," Littlechild noted.
What's missing from the SDGs is formal recognition of Indigenous peoples' land and resource rights, collectively held rights and rights to self-determination and free, prior and informed consent.
Fortunately, things have improved in recent years. "I think we are very much seeing a little bit of a paradigm shift within the United Nations itself, in terms of the folks who work there, who are becoming more alive to the fact that they too have obligations in the implementation of human rights," with respect to Indigenous peoples, Littlechild said.
She also directed conference attendees to the Ărramăt project. "I hope that the Ărramăt project, as something focused on Indigenous well-being and biodiversity and the environment, has the ability to contribute to some of the co-creation of ethical space around fields like sustainability and sustainable development."
View the video of Danika Billie Littlechild's keynote address.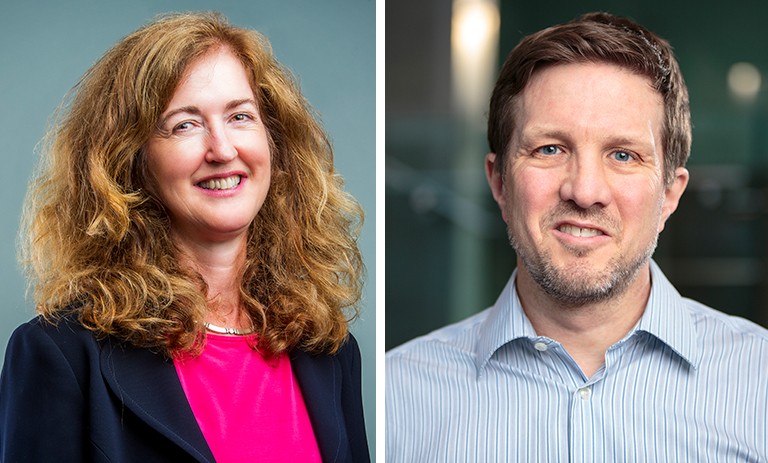 Monica Mulrennan and Jason Ens
17 Rooms exercise
The 17 Rooms exercise, which kicked off February 4, gathers a representative group of Concordians weekly to familiarize participants with the SDG framework and brainstorm ways that the Concordia community might advance each of the 17 Global Goals. Sessions for SDGs 11 through 17 are upcoming.
The 17 Rooms process is part of Concordia's Voluntary University Review, an institutional self-assessment that identifies strengths, weakness and potential opportunities for the university in relation to the SDGs.
"The conversations so far have been incredibly rich," says 17 Rooms co-facilitator Jason Ens, executive director of academic policy, planning and strategic initiatives in Concordia's Office of the Provost and Vice-President, Academic.
"This exercise is a unique opportunity to convene people who don't often cross paths to think about what the SDGs challenges us to do as an institution, what kinds of outcomes we want to target, and what specific actions we might want to take."
Co-facilitator Monica Mulrennan, associate vice-president of research, development and outreach in the Office of the Vice-President, Research and Graduate Studies and professor in the Department of Geography, Planning and Environment, agrees that the 17 Rooms exercise is fostering important cross-cutting conversations about how the university's work can contribute to sustainable development.
"These brainstorming sessions create a space for us to come together, share perspectives, and generate a shared sense of concern, commitment and opportunity for action on SDG challenges," she says.

Learn more about Concordia's Sustainability Development Goals efforts and the 17 Rooms exercise.
---