Concordians consider how to unlock the power of AI for nature-based climate solutions
University experts will lead a panel discussion at the Global Council for Science and the Environment 2022 Virtual Conference in June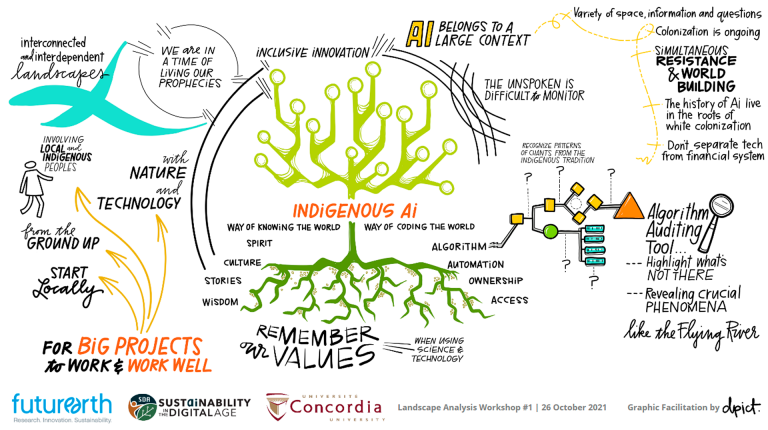 How can the vast potential of artificial intelligence (AI) enhance natural remedies to help alleviate climate change? This is the type of question a Concordia-led panel discussion will consider at the Global Council for Science and the Environment 2022 Virtual Conference in June.
The panel, Unlocking the Power of AI for Nature-based Climate Solutions – An Overview of Challenges and Opportunities, is being organized by Sustainability in the Digital Age (SDA), a Concordia-based think tank.
"There is potential to address climate challenges with nature-based solutions and artificial intelligence, but there are also risks of relying too heavily on this approach," says Damon Matthews, Concordia University Research Chair in Climate Science and Sustainability (Tier 1) and professor of geography, planning and environment. Matthews is one of the panellists.
"Our project team — Concordia, Microsoft, Future Earth and Sustainability in the Digital Age — will present key opportunities and challenges for equitable AI applications in the nature-climate sector in Canada, considering the people and ecosystems most at risk," he says.
"Attendees will learn about the contribution that nature-based climate solutions could make to climate mitigation efforts. They will also be presented with the opportunities and challenges of using machine learning and AI techniques to implement these solutions and monitor their effectiveness."
Among his other research, Matthews runs Concordia's Climate Scenarios, Impacts and Modelling Lab and also heads the Leadership in Environmental and Digital Innovation for Sustainability (LEADS) program.
Last year Matthews appeared in the Reuters Hot List of the world's most influential climate scientists. His research is emblematic of Concordia's commitment to the United Nations Sustainable Development Goals (SDGs), which includes the ongoing 17 Rooms exercise featuring brainstorming sessions and conversations around each of the 17 SDGs.
Santiago Ramírez Said, project manager for SDA and Concordia partner Future Earth, and moderator Éliane Ubalijoro, SDA's executive director and global hub director for Future Earth Canada, are among the other panellists.
Bridging knowledges
The panel is an extension of an ongoing SDA project, A Landscape Analysis of Nature-Based Solutions and its Actors, which Ramírez manages and which began in full in August 2021.
"What I like about this project is that it's almost 100 per cent interdisciplinary. We're trying to look at climate change, sustainability and biodiversity loss as a very systemic issue that can only be solved if we look at it from different angles," he explains.
The upcoming UN Biodiversity Conference (CBD COP 15) in Kunming, China, will draft a new series of biodiversity goals, Ramírez reports. He says the previous biodiversity targets set in 2011, also called the Aichi Targets, were not reached in part because they didn't fully take technology, human rights and other societal issues into account.
"It's the same with climate change. We think of it as just a carbon emission problem but we forget it's also a human problem. Technology can help us bridge the social and human rights component that we haven't been including in our climate and biodiversity conversations," Ramírez notes.
"Our project is trying to explore how we can intertwine artificial intelligence and digital innovations with alternative ways of thinking and creating knowledge. It asks how we can intertwine AI — a language created by Western ways of knowing — with Indigenous ways of knowing to create strategies that benefit everyone for the effective implementation of nature-based solutions."
Ramírez explains that nature-based solutions include actions that protect biodiversity, address societal challenges and/or counter climate change using natural means. "So replanting a forest that was lost to cattle ranching is a type of restorative nature-based solution," he says.
The project's next steps involve putting research results into practice. "We've met with several experts in nature-based solutions, in environment, in carbon monitoring and in AI. And we've met with Indigenous experts, leaders, chiefs of communities and Elders to see how to create a project that starts making a difference — a project built by all and for all," Ramírez adds.
"The final goal, ideally, is to create a Canadian framework for these nature-based projects. We know Canada needs it; we know the world needs it."

February 28 to March 4 is UN Sustainable Development Goals Action and Awareness Week, which aims to promote awareness of and action toward the SDGs among students in higher education.
Learn more about Concordia's 17 Rooms exercise and the schedule of upcoming sessions, and find out more about Future Earth and Concordia's commitment to the UN Sustainable Development Goals.

---