Concordia's Landscape of Hope expands its arts-based, resilience-focused initiatives in Montreal and Chicoutimi
Funding from the Fonds de recherche du Québec, Canadian Heritage and Michaëlle Jean Foundation supports community workshops and events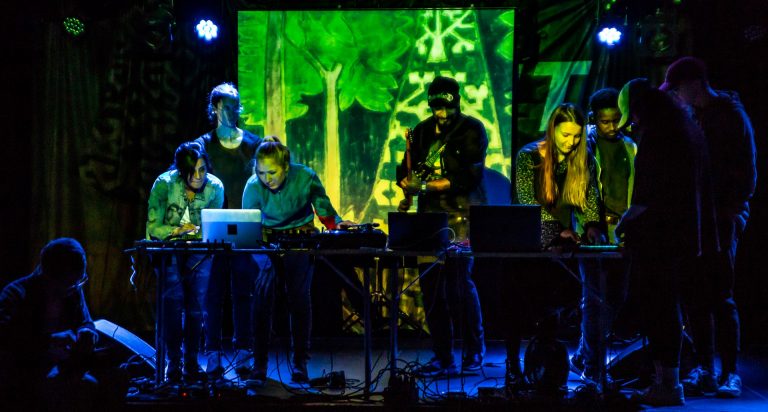 The Concordia-led Landscape of Hope initiative has received nearly $430,000 to significantly expand its work researching hate speech and discrimination in Quebec.
The funding comes from three sources — the Fonds de recherche du Québec (FRQ), Canadian Heritage and the Michaëlle Jean Foundation. It will enable the transdisciplinary team to hold workshops, create installations and performative events around Montreal in collaboration with marginalized communities, including Black and racialized youth, and in Chicoutimi, Quebec, with Indigenous community partners.
Landscape of Hope co-founder Vivek Venkatesh is UNESCO Co-Chair in Prevention of Radicalisation and Violent Extremism, director of Concordia's Centre for the Study of Learning and Performance and professor of inclusive practices in visual arts in the Department of Art Education. He says the financial commitment is heartening because it validates several years of hard work spent building interdisciplinary relationships between faculty at Concordia, other Quebec universities and community partners in the province.
"With both Landscape of Hope and its sister project, Landscape of Hate, we are focusing on how we can ensure that multiple voices and perspectives pertaining to building resilience against discrimination are seen and heard in the public sphere," says Venkatesh.
Working with La Boîte Rouge VIF and Hoodstock
Landscape of Hope is the flagship initiative of Project SOMEONE, whose researchers and professionals bring distinct skill sets to the work. The project is co-led by principal investigator Owen Chapman, associate professor of communication studies, supported by a three-year FRQ research-creation grant.
Chapman is working alongside Venkatesh; Sandra Chang-Kredl, associate professor of education; Annabelle Brault, creative arts therapies lecturer; Kathryn Urbaniak, Project SOMEONE's program manager; and Martin Lalonde from the École des arts visuels et médiatiques at UQAM. They are developing creative and digital protocols for workshops and installations.
Thanks to a Canadian Heritage Anti-Racism Action Plan award received by principal investigator Venkatesh and the team, Landscape of Hope is working with Indigenous community partners La Boîte Rouge VIF in Chicoutimi. Élisabeth Kaine, a professor at Université de Québec à Chicoutimi and UNESCO Chair in Transmission of First Peoples' Culture to Foster Well-Being and Empowerment, was instrumental in establishing the connection.
The Canadian Heritage award also funds workshops with Montreal organization Hoodstock in marginalized communities and a potential partnership with the English Montreal School Board (EMSB), among other partners.
Jean-Daniel Lafond, co-founder and co-president of the Michaëlle Jean Foundation, is also delighted to partner with the Landscape of Hope team.
"The main objective of the foundation is to offer original platforms using the arts as tools of peace, harmony and social change to marginalized young people. Giving a voice to the voiceless and amplifying their voices is our commitment and our mission," he says.
"This fits perfectly with the Landscape of Hope initiative. We are impressed by the creative capacities of the Concordia team and decided to join and support them, confident in the deep and meaningful impact that this project will have on the social landscape both in Quebec and in all of Canada."
Entering difficult conversations
Landscape of Hope uses the creation of a multimedia performance or a visual arts installation as a vehicle to delve deeply into issues of hate speech and discrimination.
"It's really about the process," Chang-Kredl says. "That is key in terms of allowing people entry points into difficult conversations that are hard to do in a direct way."
Participants have a magnetic attraction to media technologies like synthesizers, samplers, turntables, video projectors and projection-mapping software, Chapman adds.
"They are the entry point for mentorship, learning and artistic exploration. Workshop participants can contribute through making music, curating images, making montages or developing workshop protocols."
Brault, a music therapist, explains that using mixed media provides participants a platform to think and reflect on complex issues, and it's the responsibility of workshop leaders to engage and bring them into the process.
"If people have no knowledge of technique, we are skilled at engaging people," she says. "Because we work so much around participation and amplifying the voices of the people we work with, we offer different options so people can really pull from their strengths."
Every time the researchers hold Landscape of Hope, there's a different outcome, Brault also notes. Every community brings new skill sets and interests and these will inform how they approach a difficult topic.
Addressing topics of hate, inclusion and division
Chapman explains that in trying to build meaningful relationships with different collaborators, they are researching how to build capacity and resilience against racism, discrimination and prejudice.
Chang-Kredl, meanwhile, is investigating how to integrate the Landscape of Hope methodologies at an institutional level. She has held media literacy workshops with EMSB teachers, adapting their practices to a classroom setting. She says there is a strong desire among teachers to learn more.
"Quebec has a great curriculum project, I think, where they focus on critical literacy and media literacy. But it's about figuring out how to make that work for teachers and have them actually address these topics of hate, inclusion and division with the youngest children."

Find out more about the Concordia-led initiative Landscape of Hope.
---