The many ways Concordians show their generosity
Students, staff and faculty bring holiday cheer — and help those in need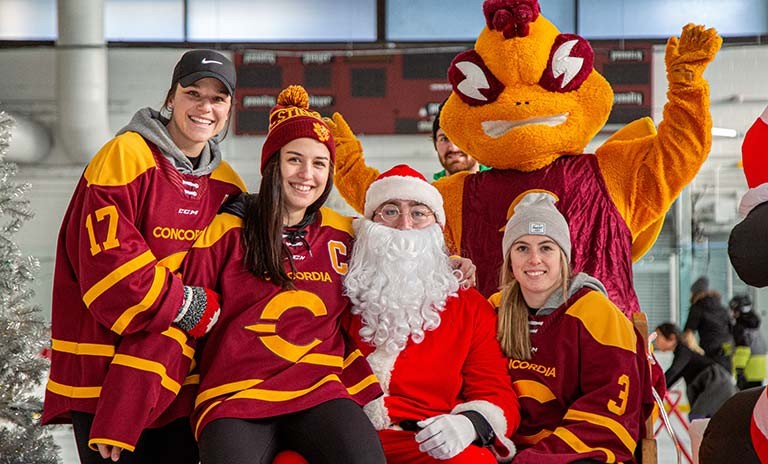 Concordians donate their time and money to good causes year-round. But with the knowledge that this season is particularly hard for many people, charitable efforts on campus ramp up.
Below is a list of some — not all — of the activities and initiatives taking place at Concordia that help make life a little easier for students and members of the community in need.
From bursaries to the Student and Emergency Food Fund, there are still plenty of causes that need your support! Also, if we've left your charitable effort off the list, please send the details to now@concordia.ca!
Happy Holidays to all!
1. Library Christmas Auction
A number of Concordians were once again able to finish up their gift shopping at the 30th annual Library Christmas Auction last Thursday, December 12.
An excited crowd bid on all kinds of crafts, antiques, jewellery, objets d'art and holiday-themed items, as well as a hockey stick autographed by the Montreal Canadiens. A delicious variety of food items was also available for sale. The event raised a total of $5,000 for the following local charities:
Auberge Madeleine
Can Serve Foundation
Chez Doris
The Canadian Organization for Development through Education (CODE)
The Centre for the Arts in Human Development (CAHD)
The Student Emergency and Food Fund
The Financial Aid and Awards Office
Dans la rue
The Gazette Christmas Fund
Operation Eyesight Universal
Oxfam
Sun Youth Organization
Women's Centre of Montreal
2. Christmas 4 A Cause
Brent Pearce, a lecturer in the Department of Marketing, and his undergraduate students have been helping families in need for the past 19 years through Christmas 4 A Cause.
The charitable effort collects non-perishable food, toys, games, books, clothes and money. In 2019, Christmas 4 A Cause delivered gifts to more than 500 children in 172 families.
To donate, drop off a cheque made payable to the "Saint Thomas More Parish Christmas Fund" to the attention of Brent Pearce at the marketing department (Room MB-13.207, John Molson Building, 1450 Guy) or send an e-transfer.
In both instances, include a mailing address for tax receipts.
3. Santa's Supply Chain
Pierce also helps coordinate the annual Santa's Supply Chain. On November 28, John Molson School of Business students and community volunteers packaged and wrapped about 650 toys and presents donated by Mega Bloks, Mattel and individuals to distribute to needy families.
Why does Pierce and his team support Christmas 4 A Cause and Santa's Supply Chain? "Because we believe children have the right to smile every day," he says. "Especially at Christmas."
4. Stingers Holiday Skating Party
On December 7, Concordia's Department of Recreation and Athletics hosted its annual holiday skating party in the Ed Meagher Arena on the Loyola Campus. It was a chance for members of the university community and their families to meet the Concordia men's and women's hockey teams, the ever-popular Buzz and Santa Claus.
Hot chocolate and snacks were served and attendees were encouraged to bring donations of non-perishable goods for local food banks.
5. Movember
The Concordia network of two teams and 37 participants raised $20,405 for Movember. The annual November campaign encourages men to grow moustaches to raise funds and awareness about men's health issues, including anxiety, prostate cancer, testicular cancer, mental health and suicide prevention.
The John Molson School of Business team (JMoSB) alone raised $18,454, exceeding their $15,000 target and the $11,250 they collected in 2018. That puts them at number four among individual teams participating in the Movember U of Mo Challenge in Canada. And the donations keep rolling in…
6. The Concordia Centraide Campaign
Concordians have been giving to Centraide of Greater Montreal since its first year in 1975. For the 2019 Concordia Centraide Campaign, the university community delivered big-time, contributing more than $171,790 — and counting — to the annual appeal. With matching gifts from the Hewitt Group, the total funds raised come to about $190,000.
"Our success was the result of real teamwork. Our committee had 20 volunteers — our largest group ever," says Denis Cossette, Concordia's chief financial officer and the campaign's Leader Committee co-chair.
Each year, Centraide helps more than 500,000 people and 350 community organizations around the Island of Montreal, Laval and the South Shore.
Those who haven't yet given to the Concordia Centraide Campaign or would like to increase their donation can find their custom link to giving in the email sent by Centraide@unclic in November.
Otherwise, they can give directly to Centraide of Greater Montreal with a corporate donation affiliated with Concordia.
7. Chris Jackson Emergency Fund
The Christopher Jackson Endowment Fund is a one-time bursary for fine arts students who are experiencing serious financial difficulty. It is considered an 'emergency fund' for students who demonstrate need as well as a commitment and dedication to the fine arts.
The late Chris Jackson joined Concordia's Department of Music as a faculty member in 1977 and was dean of the Faculty of Fine Arts from 1994 until 2005. People interested in supporting this endowment should contact University Advancement.
8. Christmas coat collection
As they do every year, Concordia's International Students Office (ISO) collected warm coats to hand out at the Get Ready for Winter workshop on November 1.
In all, 75 first-year international students were able to pick up clothing to protect them from winter time in Quebec. The items included about 50 coats, as well as countless scarves, mittens, hats and more.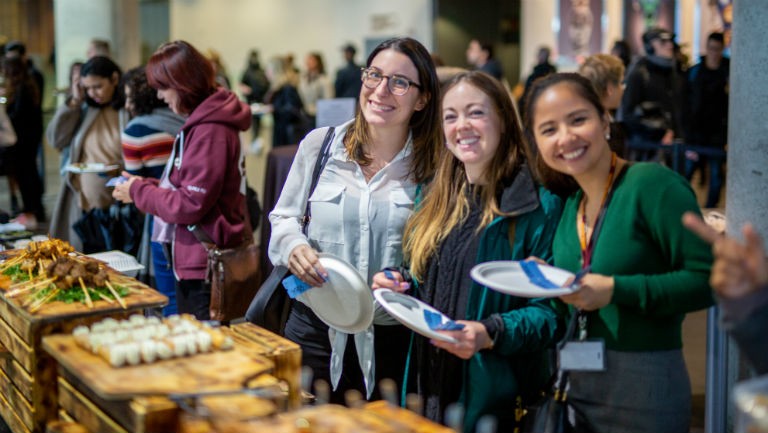 This year's Taste of a Good Cause fundraiser raised $1,951 for the Student Emergency and Food Fund.
9. Taste of a Good Cause
The seventh annual Taste of a Good Cause fundraiser took place on November 7 in the atrium of the Engineering, Computer Science and Visual Arts Integrated Complex. It was a chance for community members to meet and learn about Concordia-approved caterers, enjoy their culinary creations and support a great cause.
Hosted by Hospitality Concordia, the event attracted approximately 200 people and raised $1,951 for the Student Emergency and Food Fund.
10. Holiday Luncheon
More than 100 Concordians showed up for the two seatings of Hospitality Concordia's traditional holiday luncheon on December 5 (Sir George Williams Campus) and December 10 (Loyola Campus). The event raised $500 for the Concordia University Student Parents Centre.
11. Student Emergency and Food Fund
The Student Emergency and Food Fund provides Concordia students in need with short-term relief. Through donations to the fund, Concordia's Multi-faith and Spirituality Centre hands out grocery store gift cards generally valued from $80 to $175 to between 500 and 600 students each year.
"It's great to see the transformation of the students — who often come to us quite down — when they receive the gift cards," says Ellie Hummel, chaplain and coordinator of the Multi-faith and Spirituality Centre. "They leave with a bit of hope, seeing that somebody cares."
Hummel says the bulk of the fund's support comes from the Concordia community. It also gets help throughout the year from several university events, such as the Concordia EPIC Used Book Fair and Library Christmas Auction.
"Even the small gifts make a difference," Hummel adds. "We support students' body, mind and spirit."
To contribute:
Faculty and staff can apply for payroll deductions
Make a gift online
Send a cheque, payable to "Concordia University" with "Student Emergency and Food Fund" in the memo line, to University Advancement, 1455 De Maisonneuve Blvd. W., FB-520, Montreal, QC H3G 1M8
Drop off a cheque or cash at the Multi-faith and Spirituality Centre, 2090 Mackay St.

Do you know of other seasonal charitable events on campus? Please tell us about them by writing to now@concordia.ca.
---