Donors lift the 2019 Concordia Centraide Campaign to $171,790+
The annual fundraiser surpasses its goal by $10K and adds 16 leadership donors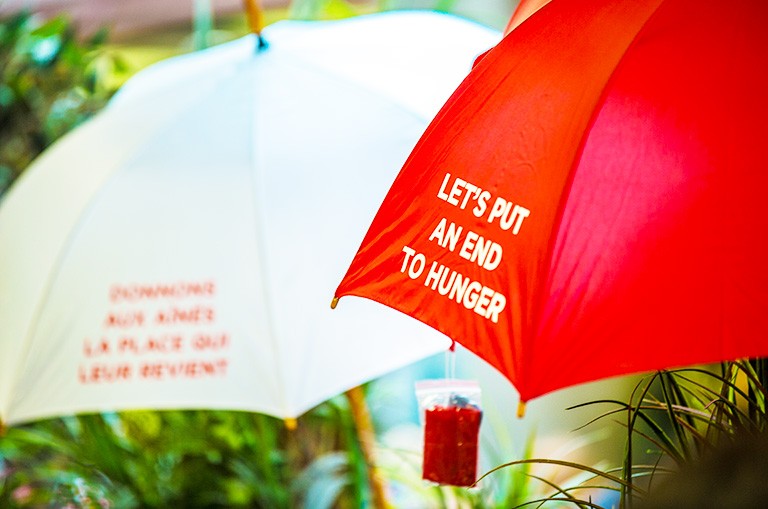 The university community raised their game for the 2019 Concordia Centraide Campaign. Donors contributed more than $171,790 — and counting — to the annual appeal, exceeding the goal of $160,000 and surpassing last year's tally of $164,357.
Denis Cossette, Concordia's chief financial officer and Leader Committee co-chair, announced the amount at the closing ceremonies on November 29.
"With matching gifts of about $18,000, that means our impact is close to $190,000," he reported to the event's attendees at the J.W. McConnell (LB) Building Atrium. "Good job!"
Cossette added that the 2019 campaign attracted 46 leadership donors, defined as those who contribute $1,200 or more. "That includes 16 new leadership donors, whose gifts are matched by the Hewitt Group," he said.
Cossette also told attendees that Centraide-related events, such as the pasta lunches, a holiday market and bake sales, brought in $9,000.
He expressed his appreciation to the dedicated volunteers, especially campaign co-chairs Nadia Bhuiyan, vice-provost of Partnerships and Experiential Learning, and Philippe Beauregard, chief communications officer. "Thank you for your commitment and your leadership," Cossette said.
"I'd also like to point out two women, Suzanne Kaye and Johanne Pelletier, whose work makes this possible. Nothing can happen without them."
Kaye is the Centraide campaign manager and project coordinator in the Office of the President and Pelletier is director of strategic initiatives at University Communications Services.
"Our success was the result of real teamwork. Our committee had 20 volunteers — our largest group ever," Cossette noted.
"I'd like to highlight our four leadership co-chairs: Kevin Austin from the Faculty of Fine Arts, Michel Magnan from the John Molson School of Business, Catherine Mulligan from the Gina Cody School of Engineering and Computer Science and Alan Nash from the Faculty of Arts and Science."
Caroline Vachon, annual campaign manager for Centraide of Greater Montreal, also commended Concordians for their support. "Thank you to all the donors. You permit us to help those in need," she said.
Each year, Centraide helps more than 500,000 people and 350 community organizations around the city.
Partners and prizes
Cossette recognized the important contributions of the campaign's partners and sponsors:
Concordia University Faculty Association, Concordia University Part-Time Faculty Association and Association of Concordia University Management and Administrative Employees
Hospitality Services, Human Resources, Seasons Catering, Distribution Services, Custodial Services, Instructional and Information Technology Services, Grey Nuns and University Communications Services
Montreal Canadiens Foundation
Oasis de l'Île Auberge & Spa
Bhuiyan and Beauregard thanked the donors and volunteers for their efforts. The co-chairs drew the names for the 12 50/50 and raffle prizes. Marie Jolicoeur, executive assistant to the associate vice-president of Human Resources, won the 50/50 raffle, worth $1,905.
Others went home with prizes such as an iPad, a $350 gift card to Cadillac Fairview shopping centres and a one-night stay for two at Oasis de l'Île Auberge & Spa in Saint-Eustache, Que.
"Although this is the official closing of the 2019 campaign, you can continue to give," Cossette advised the crowd. "And stay tuned for next year."

For more information or to donate, visit Concordia.ca/Centraide.
---