Imagining Iceland: Summer Short-Program at the Icelandic Textile Centre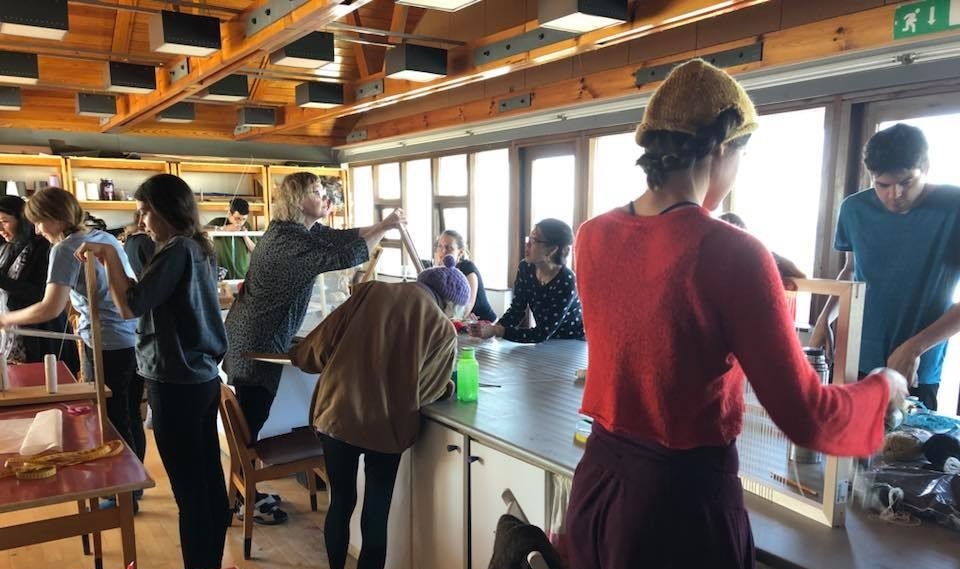 2018 Summer Program
The Faculty of Fine Arts and Concordia International are pleased to offer a new short-term summer program at the Icelandic Textile Centre for 2018. This exciting program provides students with the opportunity to earn 3 Concordia credits while spending approximately 4 weeks in Iceland. Dr. Kathleen Vaughan, Associate Professor, Department of Art Education, will accompany the group.
Program Dates & Courses
DATE: June 1, 2018 (arrival date) to June 30, 2018 (departure date)
The program consists of the following course worth 3 credits:
ARTE 398-660-850: Special Topics: Imagining Iceland
This course is offered at the undergraduate, Masters and PhD levels.
Estimated Costs & Bursary
Concordia will charge program participants for 3 credits of Concordia tuition and a program fee of $2300.00. This fee includes housing at the Icelandic Textile Centre in Blönduós, Iceland, workshops in weaving, knitting and traditional Icelandic embroidery, entry to the Icelandic Textile Museum and admission to the Blönduós knitting festival.
Students are responsible for selecting and paying their transportation to/from Blönduós; mandatory health and travel insurance; meals; spending money; any required travel documents and other miscellaneous expenses associated with travel.
To offset costs, Concordia International is offering a bursary of $1000.00 to students admitted to the program.
Eligibility Requirements
Be enrolled in a Bachelor's degree program, have a minimum 2.7 cumulative GPA and have completed at least 24 credits toward your current degree program by the end of AY 2017-18.
Or
Be enrolled in a Master's degree program, have a minimum 3.0 cumulative GPA and have completed at least 9 credits toward your current degree program by the end of AY 2017-18.
Or
Be enrolled in PhD degree program, have a 3.7 cumulative GPA and have completed at least 9 credits toward your current degree program by the end of AY 2017-18.
The selection committee reserves the right to interview applicants
Host Institution
Textílsetur Íslands, or in English: The Icelandic Textile Center is situated in the scenic seaside Northwestern town of Blönduós. Textílsetur aims to promote or develop Icelandic and international textiles and to encourage research as well as education in the field of textile art and design. The Textílsetur Residency provides visiting students, scholars, and artists with working spaces to conduct their artistic practice, research, and study-trips within textiles.
https://textilsetur.com/latest/
Accommodations
Students will have accommodation and studio facilities at the Textile Centre. Accommodations are shared 2-person rooms in the refurbished Women's School (Kvennaskollin), with shared kitchen and bathroom facilities. Students will share a large studio with a view over the Huna Bay, suitable for table-based work. A weaving loft has looms for experienced weavers and a dye-shed will provide facilities for natural dyeing.
How to Apply
Attend an information session
After you have attended an information session:

Submit a Concordia Field School Abroad bursary application by the application deadline of October 20, 2017.
Your application must also include:
A copy of your most recent transcript
A letter of intent describing why you wish to participate in the Iceland Field School and the kind of work you hope to accomplish while there. You should also make mention of what strengths or contributions you think you will bring to the group
A sample of your creative or scholarly practice. This could be either (or a combination of both):

5 images of artwork, plus image list (dates, dimensions, media) and artist's statement
A sample of scholarly or creative writing, minimum 5 pages double-spaced
Please Note
Concordia admissions decisions will be communicated by email after the application deadline.
Final admissions decisions will be made by the program monitor, Dr. Vaughan.
The Icelandic Textile Centre requires all participating students to read the Centre's rules and policies and sign a waiver (will be provided to participants admitted to the program)
Students admitted to the program will have to attend a mandatory pre-departure meeting
Students admitted to the program will have to attend two preparatory meetings in early spring 2018 and then while in Iceland, a total of seven three-hour group meetings.
After June 25, 2018, participants will host an exhibition of their work for Icelandic locals.
All information on this website is subject to change without notice.
The program is subject to cancellation at any time and for any reason
A maximum of 13 participants will be selected to participate in the program.