Art, Science and Technology in Colombia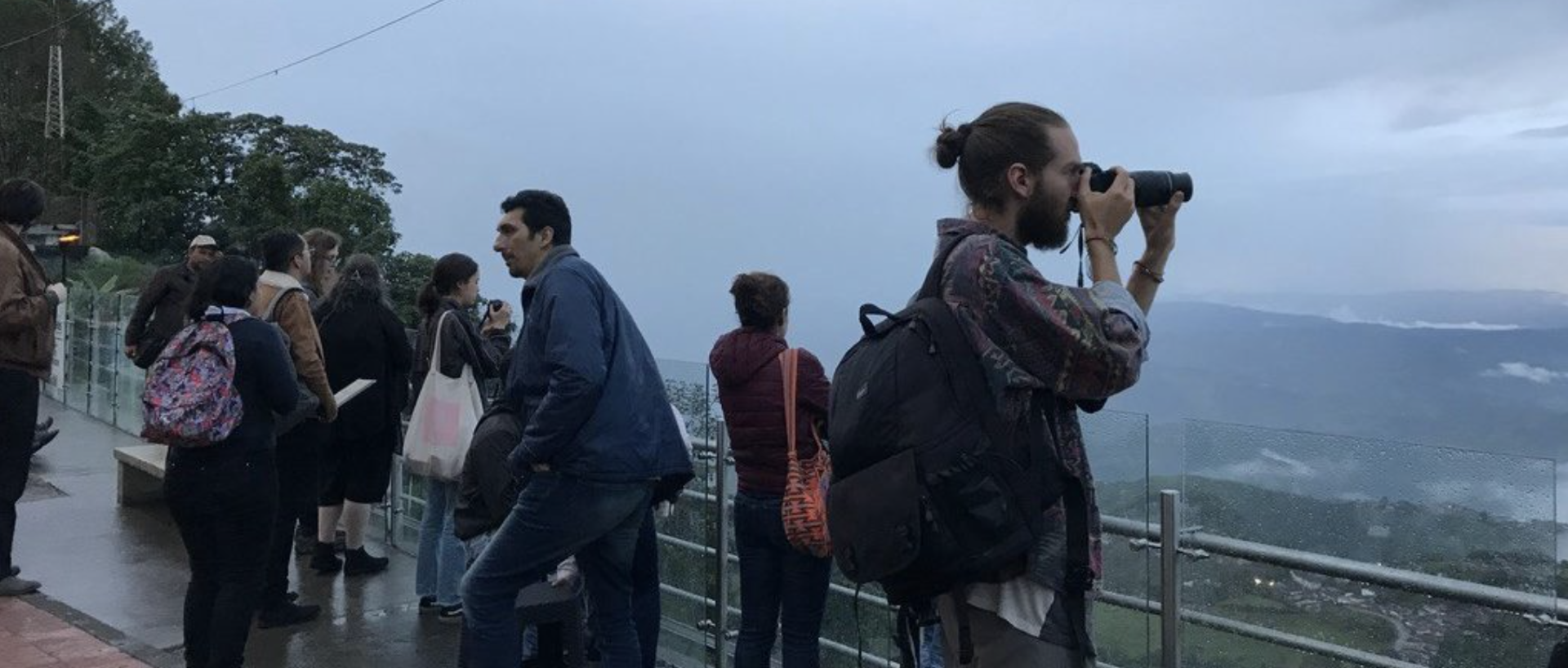 Work on a research-creation project that combines art, media, and tech while you attend the renowned International Image Festival in Colombia. ​
Students from all departments interested in intersections between art, science and technology should consider the Colombia Field School. With a focus on international contemporary media and electronic art, you will work on a self-proposed research-creation project, attending research seminars and creation workshops, and participating in cultural activities at the University of Caldas, in the city of Manizales, and its surroundings. At the Image Festival, an international conference on art, science and technology showcasing the work of 2,000+ artists, you can choose from a large selection of activities: lectures, forums, workshops and presentations in English and Spanish. Located in a mountainous coffee-growing region, Manizales will introduce you to the cultures, stories, architecture, intensity, speed, and beauty of Columbia.
Dr. Ricardo Dal Farra, Professor of media arts and new music in the Department of Music, will lead this intense academic experience.
Program dates
Dates: June 10, 2020 (arrival date) to June 21, 2020 (departure date).
Program courses
This program is offered to undergraduate, Masters and PhD level students. The respective courses are;
MUSI 398 GA (3 Credits)
ASEM620 GB (3 Credits)
Note: This program is also open to students from other universities, but priority will be given to eligible Concordia students.
Estimated cost & bursary
Program fee = $1175 CAD
The program fee includes includes;
Shared housing ( w/breakfast) in the Hotel Carretero in Manizales.

Workshops.

Entrance into the Festival of Images.

Transportation in Manizales to and from field trip venues.

Concordia tuition = 3 credits Concordia tuition
For an estimate of the tuition fee please use the tuition fee calculator.
Master and Ph.D level students will pay the same tuition charged per semster in program.

Additional costs
Selecting and paying their transportation to/from Manizales, Colombia.

Mandatory health and travel insurance.

Lunches and dinners.

Spending money.

Any required travel documents and other miscellaneous expenses associated with travel.

Students also pay for and supply their own materials.

Field school bursary = $500 CAD
To offset costs of the program, Concordia International is offering the above-mentioned mobility bursary to Concordia students admitted to the program and who meet one of the 3 following qualifications.
Be enrolled in a Bachelor's degree program, have a minimum 2.7 cumulative GPA and have completed at least 24 credits.

Be enrolled in a Master's degree program, have a minimum 3.0 cumulative GPA and have completed at least 9 credits toward your current degree program by the departure date.

Be enrolled in PhD degree program, have a 3.7 cumulative GPA and have completed at least 9 credits toward your current degree program by the departure date.

Please note that the above mentioned bursary cannot be combined with any other in-house mobility scholarship, mobility bursary or mobility award. Other field school funding opportunities are available to Fine Arts students. Please contact the Academic Facilitator, Fine Arts at fineartscurriculum@concordia.ca for all inquires.
How to apply
STEP 1: Attend the Information Session
Date: Febrauary 7, 2020
Time: 1:00pm - 2:00 pm
Where: Concordia International (2080 Mackay, Annex X) room 103.

Deadline: March 15, 2020 deadline.
A Complete field school application includes:
Copy of passport information page (to be uploaded to online application form)

A copy of your most recent transcript (whether from Concordia or another institution).

A letter of intent of 500-750 words describing why you wish to participate in Colombia Field School and the kind of work you hope to accomplish while there. You should also make mention of what strengths or contributions you think you will bring to the group.

STEP 3: Receive Acceptance e-mail
Final admissions decisions will be made by the program monitor, Dr. Ricardo Dal Farra.

If your application is successful, Maral Abajian, Coordinator of Field Schools, will send you a nomination e-mail by March 30, 2020.

STEP 4: Pay your Field School Deposit
Deposit Deadline: April 15, 2020
Admitted students must make a $500 deposit on their Concordia student account towards costs to hold their position in the field school. If a student withdraws from the program, the $500 deposit will be credited to their student account and applied against their future tuition.

STEP 5: Attend the Mandatory Pre-Departure Session
Students admitted to the program will have to attend a mandatory pre-departure meeting held by Concordia International on April 7, 2020 at 11:00am at the following address: 2080 Mackay Street, Annex X.

Note:
All information on this website is subject to change without notice.

The program is subject to cancellation at any time and for any reason.