Retired Concordia prof Evergon's intimate universe is on display at the Musée national des beaux-arts du Québec
'My art and activism are one and the same'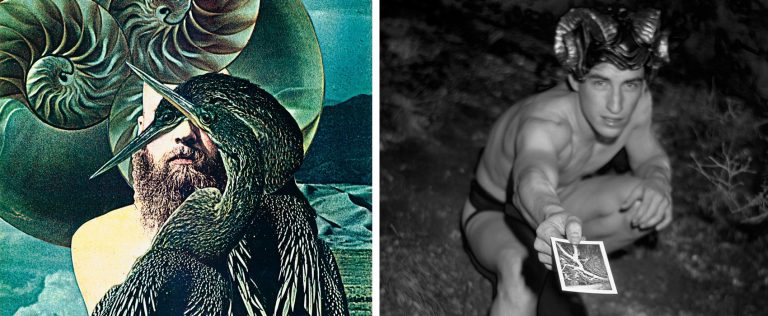 MARCH 28 UPDATE: Evergon has won the 2023 Artistic Achievement Award from the Canada Council for the Arts. The honour is one of the Governor General's Awards in Visual and Media Arts (GGArts), which celebrate the exceptional careers of artists from Canada.

The Musée national des beaux-arts du Québec in Quebec City is celebrating Canadian photographer and retired Concordia professor Evergon with an extensive retrospective of his 50-year career. Evergon. Theatres of the Intimate, which runs until April 23, features more than 230 works, some never before shown.
Visitors are invited to explore Evergon's intimate and theatrical universe, where his bold imagery, as described on the musée website, "brushes aside the conventional canons of beauty by representing atypical bodies that he invests with panache."
With thousands of pieces to select from, Evergon shares that Theatres of the Intimate is a collection many years in the making and included overcoming the challenges presented by the COVID-19 pandemic, distance and health issues.
"Bernard Lamarche is the mastermind behind the exhibition," he says, referring to the exhibit curator.
"He's been committed to it for the past several years. I only saw the splendid, finished presentation at the vernissage. The constructed installation spaces are brilliant in colour, size and viewing flow, thanks to Loïc Lefebvre's design."
'An artistic and social pioneer'
The artist, whose pseudonyms include Celluloso Evergoni, Egon Brut and Eve R. Gonzales, has made his mark as an artistic and social pioneer and has been a long-time advocate for 2SLGBTQIA+ rights.
"My art and activism are one and the same. It is all a lifestyle of dreams and reality," he says. "Every action and non-action is political. By actively not working for something, you are working against it."
A prolific career
Throughout his career, Evergon has experimented with various photographic approaches such as cyanotype, polaroid, digital imaging and holography.
Emphasizing the celebrated artist's social impact, Lamarche points out that Evergon has opened several doors. "The political and sensualist nature of his work raises questions about sexual identity while revisiting with rare vitality the genres of portraiture, landscape and the nude," he says.
For Lamarche, examining such a vast collection was a process rich with humility and learning. "Evergon is an immense creative force. Identity, eroticism, aging and body diversity are all at the heart of his work," he says.
"Evergon's daring photographic, technological and aesthetic research are his hallmark. He received worldwide recognition for his huge colour polaroids of the 1980s and for his award-winning holographic work."
Evergon has been recognized at home and abroad, with over 1,000 solo and group shows to his credit. Many of Evergon's major series, including Manscapes and Ramboys, are on display at the musée.
Lamarche reports that Evergon's Margaret and I series, featuring his mother and muse, received superb recognition. "The black-and-white nude portraits of 80-year-old Margaret display the fragility and dignity of the aging body in a way few artists have," he says.
'Teaching has kept me young'
From 1999 to 2015, Evergon taught photography at Concordia's Department of Studio Arts, where he's now professor emeritus. Describing his role as an educator, Evergon quotes poet Robert Frost. "'I am not a teacher, but an awakener.' I want to help students discover themselves so they have an inner source for a lifetime," he says.
"Teaching has kept me young of mind and young at heart. It has also helped my work to remain au courant. The faculty became my peer group, and the students became my family."

Evergon. Theatres of the Intimate will be on display at the Musée national des beaux-arts du Québec until April 23, 2023.
Evergon's work is also at the Musée d'art de Joliette as part of the exhibition The Studio as Art. Histories of Artists' Studios in Quebec until May 14. Evergon's solo exhibition, Nitty Gritty: Male Toilet Angst, is on view at Montreal's ELLEPHANT gallery until April 8.
---