Concordia grad takes home BMO 1st Art! competition prize for Quebec
Avery Mikolic-O'Rourke wins $7,500 for a video installation now on exhibit at the University of Toronto Art Museum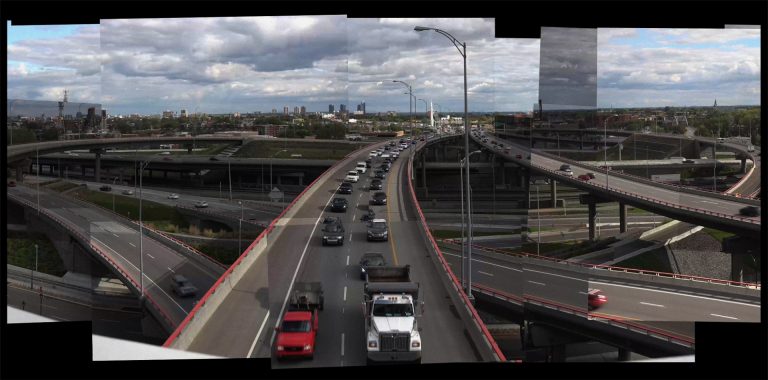 This year's BMO 1st Art! competition regional winner for the province of Quebec is Avery Mikolic-O'Rourke, BFA 22, who recently graduated from the Intermedia program in Concordia's Department of Studio Arts.
The BMO 1st Art! annual contest has for the past 20 years been celebrating the creativity of Canadian art students from more than 100 postsecondary institutions across the country. The 2022 national prize of $15,000 was awarded to Shizuka Yoshimura from the Yukon School of Visual Arts in Dawson City.
Previously, Concordia graduates Maggy Hamel-Metsos, BFA 21, took home the regional prize in 2021 and Clara Cousineau, BFA 21, won the national prize in 2018.
For Mikolic-O'Rourke, winning the Quebec regional prize represents an exciting opportunity as an emerging artist. "It's still almost hard to believe," he says.
"I know people who were nominated and there's so much amazing work. I just feel very fortunate!"
"Avery's innovative use of video and digital imagery stood out to our selection committee members, who had the unenviable task of isolating 12 works from hundreds of worthy submissions," says Dawn Cain, curator for the BMO Corporate Art Collection.
This year's competition was judged by a committee composed of Emily Falencki, a Nova Scotia-based artist and educator; Sequoia Miller, chief curator of the Gardiner Museum of Ceramic Art in Toronto; Michelle Jacques, chief curator of the Remai Modern in Saskatoon; and Anne-Marie St-Jean Aubre, curator of contemporary art at the Musée d'art de Joliette in Quebec.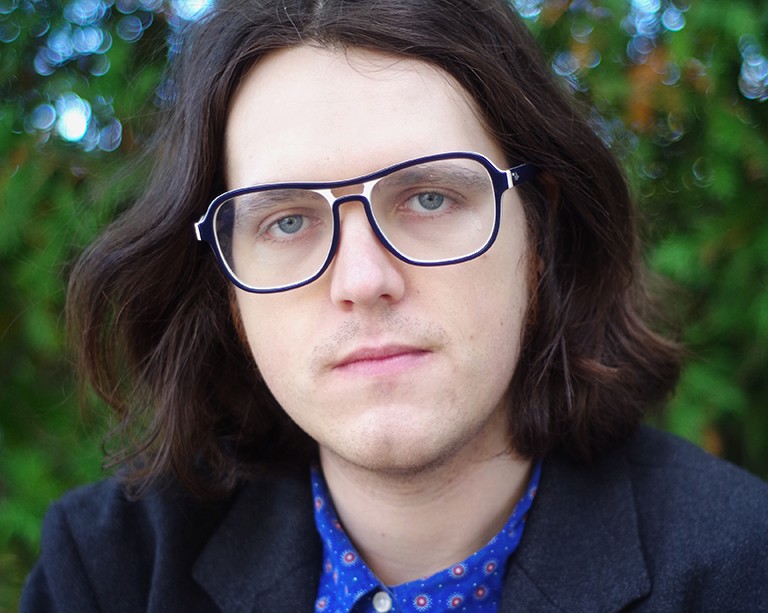 Avery Mikolic-O'Rourke: "I know people who were nominated and there's amazing work. I feel very fortunate!"
'I'm excited to see what doors this opens'
Mikolic-O'Rourke's digital video installation Center-Point Cycle (45.4704492, -73.6044496) is a patchwork landscape that explores the immersive potential of screen-based art. Composed of roughly 700 video clips shot across eight hours from the same vantage point on Montreal's Jacques Cartier Bridge, the collage unfurls gradually before the viewer across 13 minutes.
The result is a contemplative depiction of intricate highways, weaving in and out of each other, and the vehicles appear and disappear against the backdrop of a changing sky and aging industrial cityscape.
The artist, who studied painting and drawing at Brock University in Ontario before shifting gears and joining the Intermedia program at Concordia, sees Center-Point Cycle as an experimental documentary, since it creates a record of the city as it appears in 2022. "Who knows how long those buildings will be there, going into the future?" he says.
"I'm interested in doing these videos as a sort of archival practice, creating a record of the spaces that I inhabit."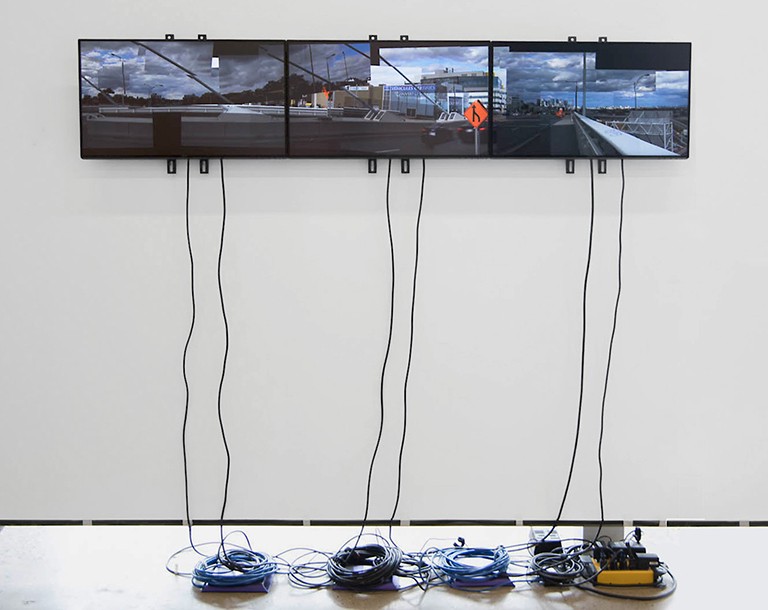 The camera in the video does a slow 360-degree turn from its fixed perspective, ending on a view of the city centre's rising glass towers in the distance. But within the images there are breaks, cuts and multiple layers of footage. As Mikolic-O'Rourke describes it, "There is this tension between stillness and motion."
Through video, he is able to do more than what he felt he could with painting and drawing. "They're such static mediums. In terms of subject matter and concepts that I want to portray, they often really revolve around time and movement," Mikolic-O'Rourke says.
"Technically, Center-Point Cycle exists as one giant file in my computer. The collage is one large image, and then I simply take that image and scroll it through our frame of vision. None of the clips themselves are actually moving, but there's movement within the clips."
Mikolic-O'Rourke and the other prize winners were recently in Toronto for the installation and opening of the exhibition of their works. The show is on view at the Art Museum at the University of Toronto from October 26 to November 19.
"I'm excited to see what doors this opens," Mikolic-O'Rourke says. "I think this is definitely a great advantage to have on my resumé."

Learn more about Concordia's Department of Studio Arts.
Images of the BMO 1st Art! competition winning works can be seen on the BMO Financial Group's website.
---