6 Concordians are long-listed for the $100K 2022 Sobey Art Awards
The finalists for one of Canada's most lucrative art prizes will be announced in June
Six Concordia artists have made the long list this year for Canada's largest financial prize for young artists.
The Sobey Art Award is given annually to a Canadian who has exhibited their work in a public of commercial art gallery in the previous 18 months. This year's overall winner will receive $100,000.
Anna Binta Diallo (GrCert 09), Anna Hawkins (MFA 14), Laurie Kang (BFA 08), Joshua Schwebel (BFA 06), Michaëlle Sergile, an MFA student in fibres and material practices, and Nico Williams (BFA 15, MFA 21) made the 2022 long list. They are joined by 19 other artists from across the country.
Since 2002, 55 Concordia students, visiting artists and alumni have been long-listed for the award. Of those, seven have gone on to win the prize: Adam Basanta (MA 13), Sabrina Ratté (BFA 05, MFA 12), Nadia Myre (MFA 03), Abbas Akhavan (BFA 04), Raphaëlle de Groot, Daniel Barrow and Michel de Broin.
The short list of finalists will be announced in late spring. The selected artists will be exhibited at the National Gallery of Canada in the fall and winter of 2022-23.
The winner of the 2022 Sobey Art Award will be announced during a gala event at the gallery in the fall. The artists on the long list will receive $10,000 in prize money. Those selected for the short list will be awarded $25,000.
Each of this year's nominees from Concordia brings a unique perspective to contemporary art making.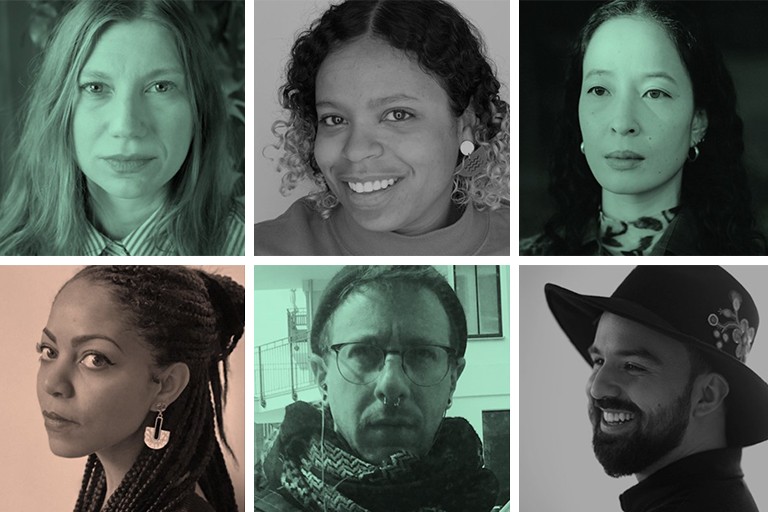 Clockwise, top left: Anna Hawkins, Anna Binta Diallo, Laurie Kang, Nico Williams, Joshua Schwebel, Michaëlle Sergile.
Anna Binta Diallo
Binta Diallo is a Canadian multidisciplinary artist who investigates memory and nostalgia to create unexpected narratives around identity. Her work has been shown nationally and internationally.
Anna Hawkins
Hawkins works primarily in moving image and installation. Her work centres around the ways that images, gestures and language are circulated and transformed online as well as the impact of technology on the intimate spheres of daily life.
Laurie Kang
Kang has exhibited at numerous galleries around the world. These include the New Museum, SculptureCenter, Helena Anrather Gallery, Interstate Projects and CUE Art Foundation, all in New York City; The Power Plant, Franz Kaka, Cooper Cole and Gallery TPW, all in Toronto; and Galerie Antoine Ertaskiran and Projet Pangée in Montreal.
Joshua Schwebel
Schwebel has become known for practicing a particularly direct form of situation-based institutional critique, undertaken through performances, withdrawals, delegated transactions and impostors.
Michaëlle Sergile
Sergile works primarily with archives, including texts and books reflecting the post-colonial period from 1950 to the present day. Her artistic practice aims at understanding and rewriting the history of Black communities — more specifically, the history of women and marginalized peoples, through weaving.
Nico Williams
Williams, ᐅᑌᒥᐣ, is Anishinaabe and a member of the Aamjiwnaang First Nation community. He is currently working in Tiohtià:ke/Mooniyang/Montreal. He has a multidisciplinary and often collaborative practice that is centred around sculptural beadwork. Williams is also the 2021 recipient of the Claudine and Stephen Bronfman Fellowship in Canadian Art.

Find out more about Concordia's Department of Studio Arts.
Find out more about the Sobey Art Award.
---