Concordia buildings recognized for their greenhouse gas reductions
John Molson Building earns a top Diamond Distinction in the education and lab category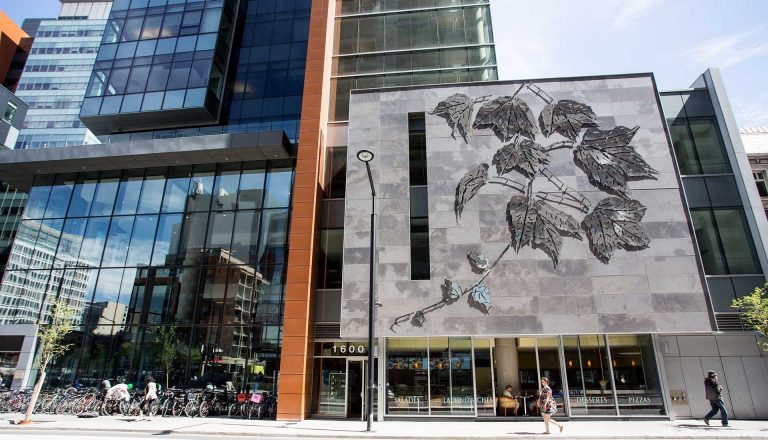 Concordia's energy efficiency efforts were celebrated through this year's edition of BOMA Québec's Building Energy Challenge (BEC). The commercial property owners and managers association recognized the university for eight of the 12 buildings it entered.
Notably, the John Molson Building (MB) earned a Diamond Distinction — the highest distinction — in the education and laboratory category.
"MB is one of our LEED-certified, smart buildings. It was built with systems that regulate based on occupancy," explains Marie-Claude Lavoie, associate-vice president of Facilities Management.
For a Diamond, building owners need to show reductions in energy consumption and greenhouse gas emission (GHG) of between 50 and 90 per cent from 2018 to 2021.
"While many of us were working and learning from home due to the pandemic, the MB was able to cut energy use rather than operating on default mode," Lavoie says.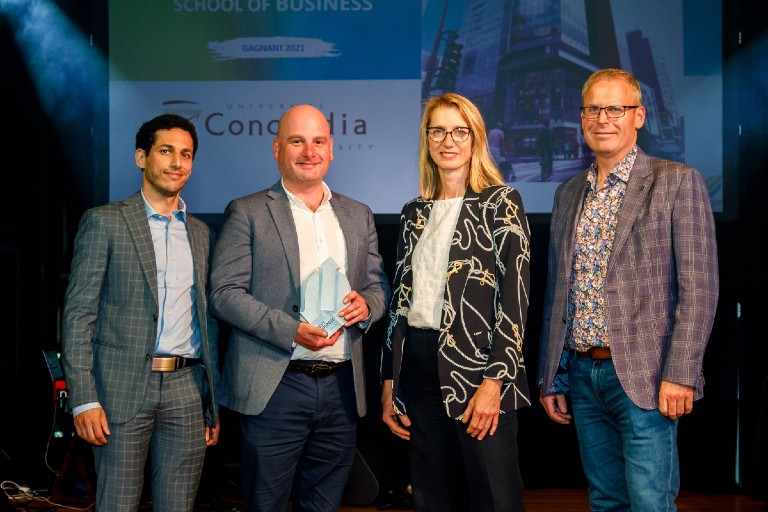 Concordia's Faisal Shennib, Paul Blouin and Yvan Soucy with Annie Guertin, director of Coordination and Social Innovation in Energy Transitions, Ministry of Energy and Natural Resources. | Photo: BOMA Quebec
The human side of buildings
Six buildings earned Platinum rankings, awarded for GHG reductions of 20 to 50 per cent compared to 2018. They include the Guy-De Maisonneuve (GM) Building, the Jesuit Residence (JR), the Grey Nuns Residence (GN) and the Z, M and B annexes. The Visual Arts (VA) Building won silver.
"Many of those are older buildings where we still have work to do," Lavoie says. "However, what the ranking demonstrates is the commitment of our property management team: we cut emissions because our staff undertook energy-saving measures appropriate to each space."
The ranking doesn't show the performance of newer buildings. Lavoie notes that because they are already more efficient, they weren't entered in the contest.
"For example, even if the Applied Science Hub fit into this year's BEC dates, it wouldn't make sense to enter it. As demonstrated by its LEED Gold certification, it significantly exceeds industry standards."

To learn more about Concordia's efforts to improve building performance and reduce GHG output, visit the climate change section of the Sustainability Action Plan.
---