Concordia introduces a work skills-training program for humanities students
Courses and paid job experience will help participants launch their careers and develop long-lasting tools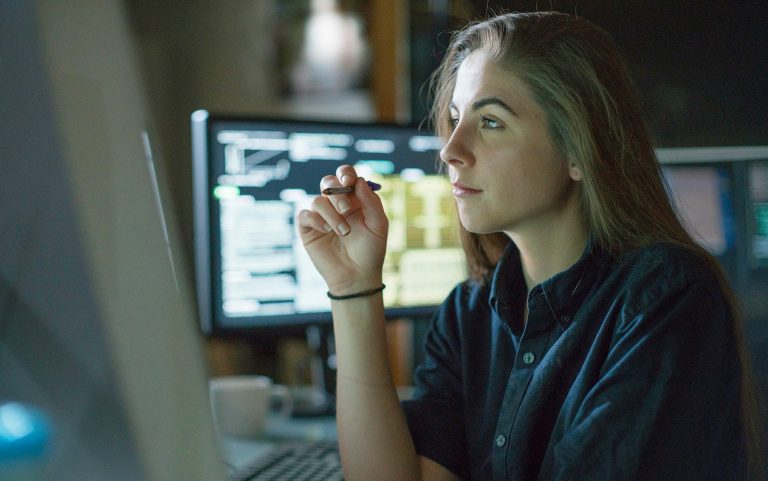 Beginning this term, Concordia's Humanities+ program will help undergraduate students in Humanities-based programs — including Art History and Film Studies — effectively make the transition from their studies to meaningful employment. The program includes a guaranteed work-integrated learning (WIL) opportunity and mentoring along the way.
The co-curricular, application-based Humanities+ is among the latest developments from the university's Future Skills Innovation Network (FUSION) team. FUSION, a federally funded pan-Canadian initiative, was launched by Concordia in 2019 to develop innovative approaches to skill development and prepare students for the future economy.
The program
Offered in partnership with Concordia's FutureReady program, Humanities+ consists of four new zero-credit courses.
The first three — SKIL 401 Digital Skills, SKIL 402 Professional Skills and SKIL 403 Placement Skills — comprise a series of skill-development workshops.
Digital Skills will teach on topics such as digital presentations, data analytics and Excel.
Professional Skills will focus on professional communications, design thinking and leadership in the workplace.
Placement Skills will concentrate on job-search and interview strategies, as well as other aspects of successfully navigating one's entry into the workforce.
With 50 hours of class in total, students must complete the first three courses before engaging in the fourth and final course, SKIL 404 Work-integrated Learning Experience, which will take place in summer 2021.
The work opportunity will allow students to gain first-hand job experience, put their newly acquired professional skill sets into practice in a professional context and begin to develop a professional network.
The Skill-Development Curriculum developed by FUSION will be incorporated into SKIL 404. This online course includes 10 hours of self-directed learning designed to "wrap around" an experiential learning initiative and enhance development in three critical 21st-century skill domains: metacognition, communication and problem solving.
Each of the four SKIL courses will appear on students' official academic transcript following completion, to affirm their achievement.
"The disciplines in the humanities provide students with essential skills such as reading, writing and critical thinking," says Pascale Sicotte, dean of the Faculty of Arts and Science.
"Humanities+ will offer our students the opportunity to hone these skills and develop new ones; to put these skills to practice in a work-integrated learning context; and to begin to explore professional applications of their degree for post-graduation."
Humanities and the workplace
While many tasks are increasingly automated, the skills developed through studies in the humanities — including communications, creativity and analytic and critical thinking — are likely to have enduring value on the job market.
Despite the favourable view of humanities skills in industry and the working world, however, the path to a specific career is not always as straightforward as it is in many other disciplines.
"This initiative supports our students in that all-important transition from the academic context to the workforce," says Sandra Gabriele (PhD 04), Concordia's vice-provost of innovation in teaching and learning. "Closing the gap in the first five years of employment for humanities graduates is critical. As a humanities graduate myself, I am especially proud of this program."
The four SKIL courses, which include the capstone 404 WIL Experience, will give humanities students additional capacity to apply their skills in the job market.
"What excites me about the Humanities+ program is that it offers the opportunity to take control of our education and mold it into something that will suit our individual goals," says first-year English major Nina Cloutier.
"The value of having a program like Humanities+ is that it fills in some of the gaps, the most important one being how exactly we transition to the workforce in our chosen field."
Communication studies student Emily Andrews echoes a similar concern. "I knew coming into communications that there was no straightforward path to a specific industry or field beyond graduation," she says.
"Though I've learned and gained so much throughout my three years at Concordia, I could use some additional guidance in taking my first confident step into the workforce. Humanities+ will give humanities students the necessary tools for a smooth transition into our careers."
Focusing on the special circumstances facing humanities students after graduation, and providing them with the necessary skills to succeed in their career endeavours, the Humanities+ program will complement the many Co-op work-study and integrated learning opportunities already available at Concordia.

Find out more about Concordia's new Humanities+ program. Applications for students are open and deadline to apply is February 10, 2021.
Know of local employers who might be interested in offering a work-integrated learning experience for the Humanities+ program? Encourage them to express their interest.
---