FUSION CONCORDIA
Fostering innovation in education and skill development for a future economy
The Future Skills Innovation Network (FUSION) is a pan-Canadian effort, spearheaded by Concordia, to develop innovative approaches to skill development and to prepare students for the future economy.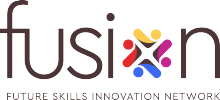 FUSION is a collaborative effort between Concordia and five other post-secondary education institutions:
FUSION is funded by the Future Skills Centre, which aims to help all Canadians benefit from effective skills development, and seeks to ensure an inclusive approach to supporting underserved groups such as women, youth, Indigenous peoples, newcomers, racialized peoples, LGBTQ2S+ peoples, persons with disabilities, veterans, and Canadians living in rural, remote, and Northern communities.
Sandra Gabriele
Vice-Provost, Innovation in Teaching & Learning, Office of the Provost
Jason Ens
Executive Director Academic Policy, Planning and Strategic Initiatives, Office of the Provost
Megan Marcoux
Project Lead, FUSION Concordia
Concordia community members will have an array of opportunities to participate in and contribute to the development of FUSION project activities.
For more information and/or to discuss possibilities, please contact FUSION Concordia's Project Lead: megan.marcoux@concordia.ca