Reader's Digest Foundation of Canada strengthens support for journalism
New $125,000 gift to Campaign for Concordia will advance science reporting, bolster digital internships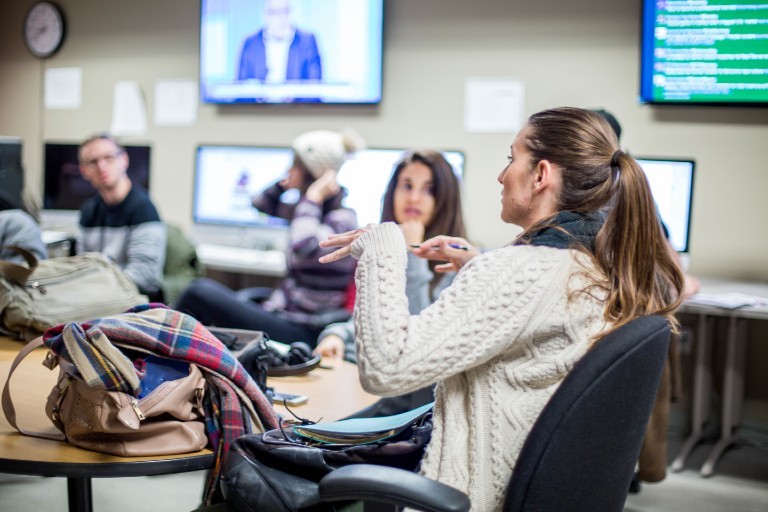 A new gift of $125,000 from a long-time donor, the Reader's Digest Foundation of Canada, will advance the Campaign for Concordia: Next-Gen Now, a Minor in Science Journalism program as well as expand digital internships for students.
"The Reader's Digest Foundation of Canada is proud to further its support for journalism education in Canada through its long-standing relationship with Concordia University," says foundation chair Robert Goyette, the former vice-president and editor-in-chief of Reader's Digest magazines.
A first in Canada when it was introduced more than a year ago, the 24-credit Minor in Science Journalism is open to Bachelor of Science undergraduates at Concordia.
"We are the only place in Canada with a clear focus on the future of science journalism," says David Secko, professor and chair of the Department of Journalism.
A former science journalist, Secko has advanced award-winning research on the field that will serve as the backbone of Projected Futures 5: Experimental Science Journalism Studies, an experiential summer school.
"We want to help students innovate to address the issues of scientific misinformation," says the founder of the Concordia Science Journalism Project.
The gift to establish the Reader's Digest Foundation of Canada Health and Science Journalism Awards will provide cohorts of students with an opportunity to do just that — and open doors to new careers as a result.
Renewed support for digital internships
Another program created in 2017 — the Reader's Digest Digital Internships, offered for 12 weeks every summer — has helped Concordia student journalists benefit from practical experiences outside of the classroom that deepen knowledge and prepare them for life after graduation.
Goyette, a former Magazine Canada Volunteer of the Year, is proud of his long association with the university, which includes the prestigious Reader's Digest Scholarship in Journalism. With its latest gift, the media company has now provided more than $447,000 in support to Concordia — and close to $4 million to embolden journalism across Canada.
"The pandemic underscored the importance of knowledgeable, competent information in health sciences and the ability for journalists to tell the facts from misinformation," says Goyette. "We are happy that we can help address this with Concordia."
The dean of the Faculty of Arts and Science says that the partnership the Department of Journalism enjoys with Reader's Digest Foundation of Canada has benefitted not only students, but society as a whole.
"It has become more essential than ever to invest in quality journalism committed to accuracy, facts and truth," says Pascale Sicotte. "We are grateful that with this generous gift, the Reader's Digest Foundation of Canada has once more empowered our ability to foster the dedicated journalists of tomorrow."
---