Concordia introduces a new minor in science journalism — a first in Canada
Students in any BSc program can now expand their communication skills through hands-on reporting and multimedia courses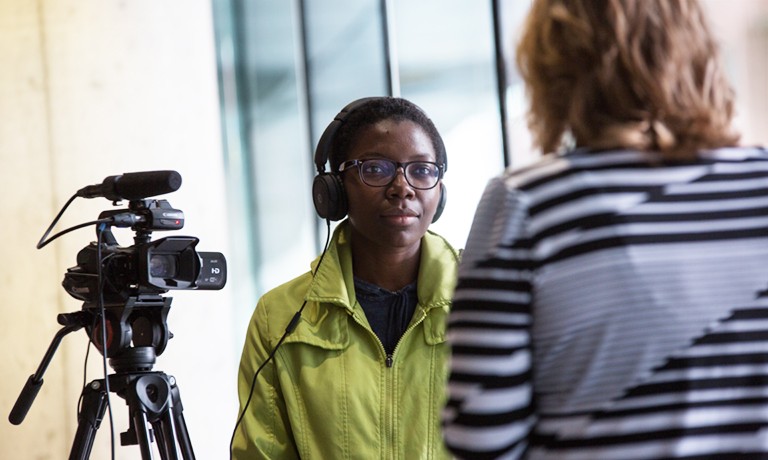 For the first time ever, Concordia students can now apply for a minor in science journalism, which will begin in the fall.
"We are the only place in Canada with a clear focus on the future of science journalism. We want to help students innovate to address the issues of scientific misinformation and hype," says David Secko, professor and chair of the Department of Journalism.
The 24-credit minor in science journalism will be available to all undergraduate students in a Bachelor of Science program.
These students will have access to hands-on reporting and multimedia courses in the department, capped off with two dedicated courses in science journalism.
The goal is to significantly enhance the communication skills of undergraduate science students at the university. It's an added plus for their BSc degree and a chance to impact public discussions about pandemics, climate change, health, genetic engineering, synthetic biology, sustainability and more.
"I can't wait to work with BSc students to tell stories and improve what is available on key scientific topics that are impacting our world," Secko adds.
The minor will be unique in Canada and innovative for science departments in the Faculty of Arts and Science, potentially expanding to other degrees, departments and faculties in years ahead.
The future of science journalism
Concordia grad Emily Brass (BA 12), a previous Joan Donaldson CBC News Scholarship recipient and current CBC radio news anchor, says she is still using the science journalism skills she learned at the university.
Since a minor in science journalism was not available at the time, Brass asked the Department of Journalism if she could also take courses in topics that interest her, like science and environmental studies.
"I would recommend science journalism to anyone because it teaches you to take complex information, boil it down and learn how to present it in a way that's easy to understand."
After graduating, Brass worked at various CBC News locations, including Toronto, Newfoundland, Montreal and British Columbia.
Now in Winnipeg, Brass says she has a new CBC project in the works on the topic of health and science.
"The pandemic has shown us how important it is to speak with scientists and break down information," she notes. "A science journalist will know how to dig deeper and know what questions to ask."
The need to communicate your science
The Department of Journalism also offers Projected Futures, an intensive and experiential summer school that challenges participants to rethink how science is communicated with society. Its fourth edition will be held from July 12 to 16, 2021.
Graduate students in the program are exposed to the foundations of evidence-based science journalism and then asked to experiment to create new forms of scientific storytelling.
Cristina Sanza, digital journalism instructor and coordinator of Projected Futures, says this minor will continue adding to the profile of science journalism studies in the department, notably because it expands opportunities for undergrads.
"More and more, we're seeing scientists and researchers publish journalism articles or taking to social media to discuss their work," she says. "Knowing how to communicate effectively through different platforms will be more than just a bonus to a student's science degree. It will also let them take their work further and reach more people."
Pouria Nazemi, MA candidate in the Digital Innovation in Journalism Studies program, participated in Projected Futures two years ago. He says a minor in science journalism is crucial.
"We are witnessing how pseudoscience hijacks social media and has dangerous effects on people and the science community," Nazemi says. "Learning how to communicate science could reduce these effects."
Biology MSc candidate Arun Dayanandan, another Projected Futures alumnus, is currently applying for doctoral positions. He says many prospective programs have noted his training in science communication as a strong asset in his academic portfolio.
"The minor in science journalism is of benefit to anyone interested in combining their current research career trajectory with best practices in science storytelling," Dayanandan says.
"The future of science in the public sphere requires both scientists and non-scientists to speak a common language."

Explore Concordia's Science Journalism Hub and find out more about the Department of Journalism.
---