Concordia recognizes more than 40 faculty at the 2022 Celebration of Research Excellence
Profs from across the university are honoured for their 'diverse and innovative' contributions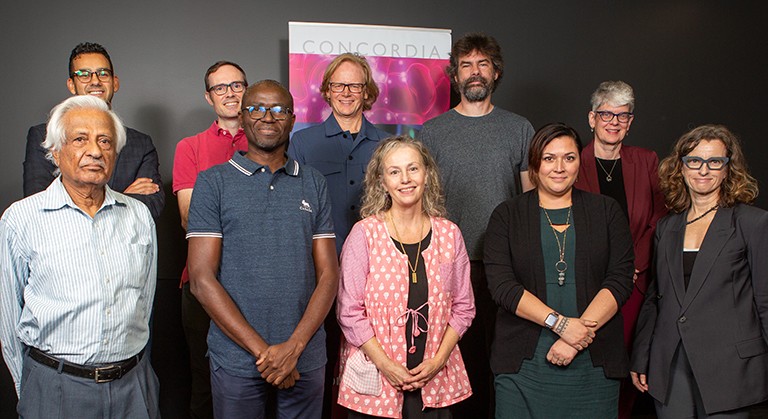 Back row, from left: Emad Shihab, Martin French, Charles Acland, Kregg Hetherington and Catherine Mulligan. Front row: Srikanta M.N. Swamy, Prosper Dovonon, Bonnie Harnden, Heather Igloliorte and Dominique Bérubé.
Concordia recognized outstanding faculty during its annual Celebration of Research Excellence on September 20. It was the first time the event was held in person since 2019 due to the COVID-19 pandemic.

More than 40 researchers representing four faculties were celebrated for expanding the university's research portfolio and laying the foundations for its future through breakthrough discoveries and the creation of stimulating training environments for students to work on real-world issues.
Dominique Bérubé, Concordia's new vice-president of research and graduate studies, hosted the event for the first time.
"After 20 years in different research ecosystems in Canada, many things attracted me to Concordia, such as the diversity of its community, the innovation ecosystem it created for its students, the excellence of the research and research–creation and the impact that our researchers are having at a community level," Bérubé shared.
"This celebration is the embodiment of Concordia's enviable strengths."
Celebrants ranged from long-time faculty to those beginning their careers and spanned national and international recognition. The event underlined their help in fostering Concordia's ever-growing reputation in research excellence.
2022 Celebration of Research Excellence

Order of Canada
Petro-Canada Young Innovator Award
University Research Award, Category A
University Research Award, Category B
University Research Award, Category C
Research Chairs from a variety of institutions and agencies
Concordia University Research Chairs
Canada Research Chairs
Noteworthy honours from external organizations that celebrate outstanding achievement:
Learn more about research at Concordia.
---