From virtual study groups to colour-coded calendars: a guide to navigating school under a pandemic
Concordia student mentors share their tips for a successful term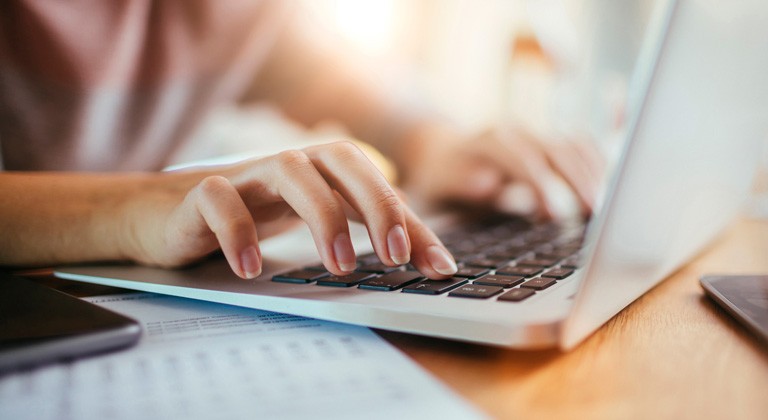 University life can be challenging under normal circumstances. Throw a pandemic, social distancing and online courses into the mix — and, voilà, you have 2020!
Most of us are operating outside our comfort zones at the moment. To help with the adjustment, mentors Abigail Candelora, Khalil Koudary and Roksana Sheikholmolouki from Concordia's Student Success Centre share some tips on adapting to a virtual university experience.
Have a designated study station — and keep it tidy!
Abigail Candelora: To help me get in a school mindset, I've designated my desk as my school-only zone. This means when I sit down, I know I've "gone to school." Having that kind of study station, no matter how small, is a big help. I find it especially useful to keep this space tidy and organized so I can focus on the task at hand.
If you can, though, it's fun to spruce up your space to make it more enjoyable — I keep my favourite candle and a picture of me and my friends on my desk. Do whatever feels best to you. I know Roksana decorated her space to make it look more like a library for a minimal-distractions type of ambiance.
Khalil Koudary : I find that keeping my study station organized and having all of my school stuff in one place also helps me keep my thoughts organized and well-structured.
Use a physical calendar (to give your eyes a break from screens)
Abigail: I don't think I'm alone in saying it's getting hard to keep track of what day it is in our current reality. I've found that keeping a calendar is especially helpful when doing school online. It allows you to plot out when you need to attend online lectures, hand in assignments and more. If you can, I recommend creating a physical one because it's a great screen-free activity!
Khalil: Using some sort of big poster board (whatever you can find at home) to make the calendar visual is a bonus. Divide it up into sections depending on classes, assignments, midterms, finals, etc. Maybe even colour-code it if you want. This really helps step up your game when it comes to deadlines and time management. A big board also allows room to write motivating words or hang inspiring photos for you to see each day.

Stick to your normal in-person university schedule
Roksana Sheikholmouki: With online learning, it's easy to perpetually put off doing the actual coursework because you don't have to (and right now, we're not able to) physically go to campus for classes. So, to beat the urge to procrastinate, I've decided to stick to my original university schedule and commit to studying during my class time blocks. I've also substituted my usual travel time to and from campus with exercising and reading books.
Need a boost to start managing your time more effectively? Check out some handy essential time management resources.
Schedule virtual study sessions
Abigail: Just because we can't be in the same space doesn't mean we can't still study together. My best friend and I, who used to get together multiple times a week to study, now plan virtual study sessions over voice or video chat. Having someone else "with" me to keep me accountable helps me stay focused on my work. And being able to chat with a friend makes studying much more fun.
Roksana: Forming virtual study groups, ideally with a few classmates in each of your classes, helps you schedule and stick to your commitment to put in the studying hours.
Similarly, the Student Success Centre's peer Math Assistants and Writing Assistants are still available for virtual appointments should you wish to take advantage of those services, and ECON Study Groups will be offered online during the summer term, too.
Celebrate your accomplishments
Roksana: I try to make an action plan at the beginning of each day. This allows me to check things off the list as I go and, at the end of day, I review what I have accomplished. Not only is it practical but it gives me a sense of accomplishment and the opportunity to reward myself — even if I only crossed off two tasks. This little ritual helps maintain my well-being and encourages me to keep going, day after day. Also, it's just plain fun to celebrate my accomplishments, no matter how small.
It can be hard to find motivation and brain space to study when everyone is quarantined at home in the midst of a global crisis. But, rest assured, you are not alone in this. Feel free to reach out to Concordia's student mentors if you need some more tips or motivation or just to chat.

Find out more about Concordia's Student Success Centre.
Follow Concordia's updates and info on COVID-19.

---