Concordia launches CU at Home to help move from isolation to connection
The initiative includes online events, webinars and family fun offered by and for the university community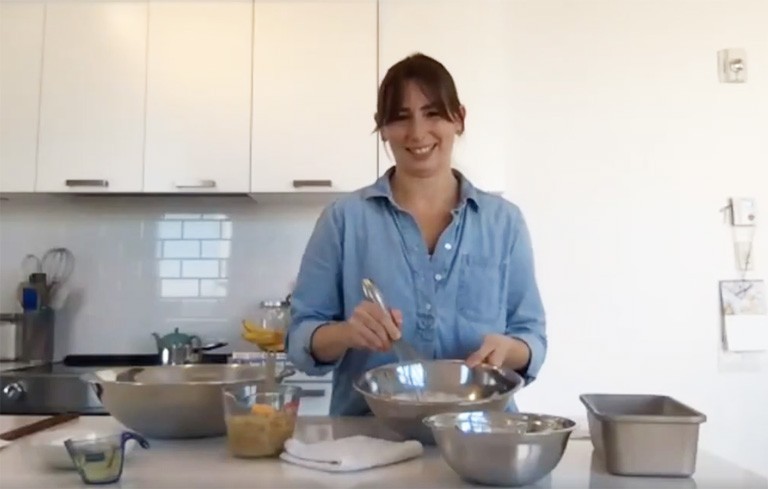 Janice Lawandi (BSc 04) shares her vegan banana bread recipe with the Concordia community.
Concordians have come together to create CU at Home: a virtual support network — designed by the community, for the community — to bring connection in the time of COVID-19.
One of many recent inspiring initiatives piloted by Concordians, CU at Home offers students, alumni, faculty, staff and partners and their families a regular lineup of online programming. The initiative spans self-care workshops, family-friendly activities, fitness classes, art sessions, research webinars and more.
"These are challenging times for everyone. The health and well-being of our community and their families are a top priority," says Nadia Bhuiyan, Concordia's vice-provost of partnerships and experiential learning.
"With activities related to coping with the crisis, keeping our kids entertained, adapting to working from home and learning new skills — there's something for everyone."
'CU at Home will bring us closer together'
For studio arts major Liza Isakov, the decision to share her passion with the community was a natural course of action.
"There's an opportunity to bring people together in a deeper sense, share an experience and hopefully find a human connection, which I think everyone is yearning for now," she says.
Isakov will be hosting a virtual workshop on May 5. Participants will learn how to make natural pigment from vegetable skins that they can use to paint.
Meanwhile, MA student Andrea Tremblay will be helping Concordians get started on their food gardens, big or small. Creator of the mind.heart.mouth. collective garden on Loyola Campus, on April 28 she will show how to plant seedlings.
"Offering innovative, stimulating content when we are in isolation in our homes is not only about providing something to watch or to do — it is also about inspiring hope and a sense of purpose," Tremblay says.
Both students plan on hosting as well as participating. Isakov was particularly interested in Gillian Leithman's four-part Happiness Lab series, a community-wide social experiment that took place from April 2 to 22.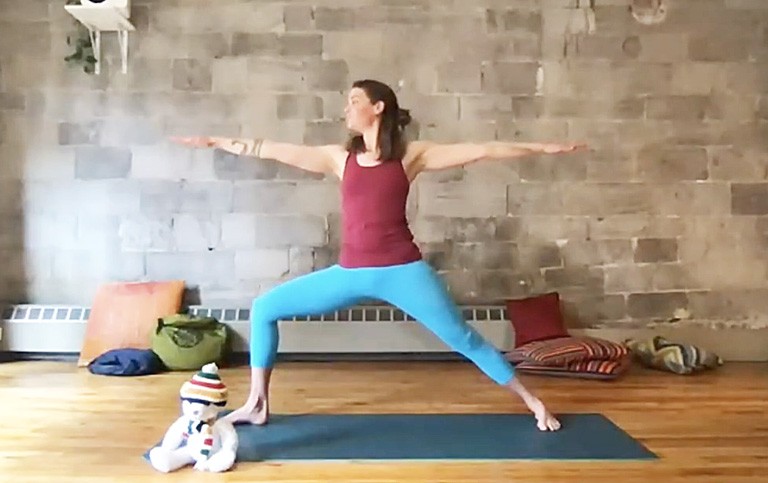 Yasmin Fudakowska-Gow (BA 04) leads a playful 30-minute yoga class designed for primary-school children and their parents.
'We are all navigating this new world together'
Leithman (BA 00, MSc 05, PhD 16) is a corporate trainer and adjunct professor of management at the John Molson School of Business. She has seen community members attend her series week after week.
They also reached out to Leithman to express their appreciation — particularly for the virtual breakout rooms — where they got to meet other Concordians.
"The experience of fun, what the science of happiness would define as positive emotions, is not only essential to our happiness, but greatly contributes to resilience," she explains.
"I am incredibly grateful to be part of the Concordia community and proud to call myself an alumna."
Only a few weeks young, CU at Home has featured programming by Alumni Relations, 4TH SPACE, the Student Success Centre, the Leonard and Bina Ellen Art Gallery, the John Molson Executive Centre and more.
"The response we have received so far has been amazing. I'm so thankful to all those who are helping build this online community," Bhuiyan says.
"We are all navigating this new world together, and we'll get through it together."

Visit CU at Home to join in this week's virtual programming.
Have an idea or question about CU at Home? Email cuathome@concordia.ca.
---