'It's about taking pride in your school — and making life better for everyone'
26 Concordians are honoured for their exceptional contributions to student life, sustainability, volunteering and community engagement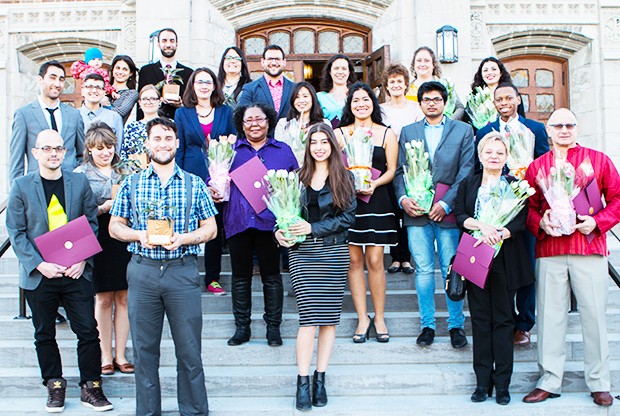 Outstanding contributors, sustainability champions, committed volunteers and engaged scholars — recipients of several university awards were honoured at a combined ceremony on April 13.
Andrew Woodall, dean of students and chair of the Concordia Council on Student Life (CCSL), hosted nearly 200 guests at the Loyola Chapel. In total, 26 individuals were called to the stage to receive their awards and give a short speech.
Paul Goubko, co-curricular record assistant in the Office of the Dean of Students, says the event is a chance to recognize outstanding staff, faculty and students who have positively contributed to university life.
"Whether through community, political, environmental or co-curricular involvement, it's about taking pride in your school and taking pride in making life better at Concordia for everyone."

CCSL Outstanding Contribution Awards
The CCSL Outstanding Contribution Awards are given annually to Concordia students, staff and faculty who have made an exceptional improvement to student life or services at the university.
"This year, we had more nominations than usual. It was wonderful to see many of our staff being pointed out for their hard work," Goubko says.
"For instance, Christine Mota, who is retiring this year from her post as director of Media Relations, received an award. She has been an outstanding spokesperson for Concordia for over two decades."
Mota says she felt honoured and grateful to receive the distinction.
"As a Concordia graduate, I care deeply about this institution. Having my work considered worthy of an award caps a terrific 23-plus year career."
Other winners include: Roxane Halary, Benoit Chaussé, Monica Dantas, Anastasia Llewellyn, Kathryn Rawlings, Julie Blumer, Michael Rembacz, Paras Grover and Julia Sutera Sardo.

Engaged Scholar Awards
Presented by the Office of Community Engagement (OCE) and the Office of the Provost, the Engaged Scholar Awards recognize individuals who go above and beyond to build and sustain strong community–university partnerships.
This year's winners were Edward Little, an educator, author and theatre maker who built a career on the principle of community-engaged creation; Annie Pisuktie, host of Nipivut, a radio show that helps build an inclusive Inuit community in the greater Montreal area; and Fabio Balli, who organized three "Breathing Games" events with the support of the Centre for Teaching and Learning.
"This year's recipients demonstrated both the depth and breadth of the impact of their work," says Susan Edey, community relations coordinator for the OCE.
"They exemplified how partnerships can be expressed in such diverse and unique ways: from gaming, to theatre in community, to revitalizing language with radio."
Little, professor and chair of the Department of Theatre, says he was thrilled to receive the Engaged Scholar Award. "I took it as affirmation of a shared desire to reduce barriers between the university and the larger community," he adds.
"I was also deeply humbled to receive the award because, clearly, this kind of collaborative work is about partnerships, alliances and relationship building. Community engagement is not about the one, but rather the many."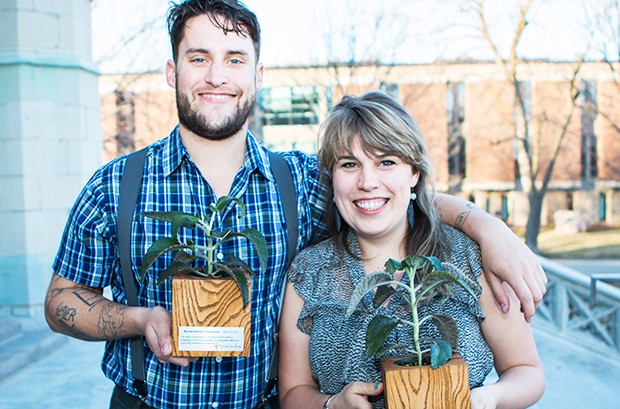 From left: sustainability champions Matthew Donald Leddy and Anna Timm-Bottos.

Sustainability Champions Awards
The Sustainability Champions Awards were created to demonstrate Concordia's collective gratitude to its ambassadors of change. Recipients are selected on the basis of their community leadership in advancing sustainability, their capacity to inspire participation, their creativity and the impact of their achievements.
"It's all about recognizing community leaders," says Isabelle Mailhot-Leduc, sustainable food system coordinator with Environmental Health and Safety.
"The individuals who won worked on very diverse issues. What they all had in common was their leadership, whether they worked on the environmental or social side of sustainability or helped broker knowledge to the larger community."
This year, the awards themselves reflected sustainability as they were made from trees felled by emerald ash borer beetles and plants from the Concordia Greenhouse. They were then assembled by Les Ateliers d'Antoine, a Montreal organization that promotes social inclusion through professional woodworking training.
"I have learned an incredible amount about the importance of persistent advocacy, innovative policy development and multi-stakeholder work," says award recipient Mark Underwood, who was recognized for his role as the general coordinator at Sustainable Concordia.
"This wouldn't have been possible without the people I work with on these transformative projects. To be recognized as a sustainability champion by these very people is a true honour."
Find out more about the other winners, who include Matthew Donald Leddy, Shiann Whitebean, Anna Timm-Bottos, Ev Daoust, Emily Crowley and Miriam Cummings.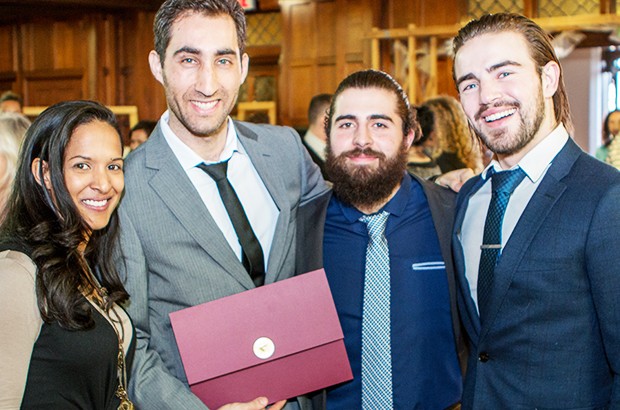 Volunteer Recognition Award winner Gonzalo Renato Quintana Zunino with friends.

Volunteer Recognition Awards
Every year, the LIVE Centre recognizes Concordia students, staff and faculty who have made significant contributions as volunteers, sharing their time and talent for the benefit of the external community.
"This year's winners have made a difference in the lives of undocumented mothers, seniors with Alzheimer's disease, sexual assault survivors, the homeless, and countless young people," says Valerie Millette, the centre's coordinator.
"They have coordinated educational programs, provided peer support, edited a journal, acted as a judge for science fairs and fundraised for numerous community initiatives. This award allows us to shine a bright light on the important work volunteers do, often away from the spotlight. "
This year's winners are: Ana Milic, Andrea Enriquez Lopez, Claire Warmels, Omar Ramus, Gonzalo Renato Quintana Zunino, Lily Chang and Andrea Renaud.

Find out more about the Concordia Council on Student Life (CCSL).

Find out more about Sustainability at Concordia.
---