Concordia leads the way in energy efficiency
Major upgrades contribute to a number-one provincial ranking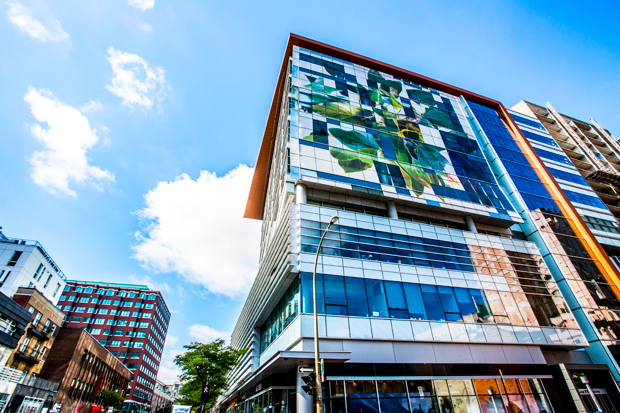 Daniel Gauthier: "We operate a top-notch educational facility."

When it comes to energy efficiency, Concordia is a model for other universities to follow, according to the latest results from the Ministère de l'Éducation et de l'Enseignement supérieur (MEES)
For 2014-15, Concordia had the lowest energy consumption per unit area among the six major universities in Quebec — the same top ranking they've received for 18 years in a row.
"This means we operate a top-notch educational facility," says Daniel Gauthier, building performance coordinator for Facilities Management. "This includes full science and arts programs, as well as engineering and computer science, which is a high energy-consumption faculty by nature. And we run them using the fewest gigajoules of energy per square metre of space."
Concordia has also had the lowest energy unit cost for 16 of the last 18 years, but this time around, Université Laval claimed that bragging right.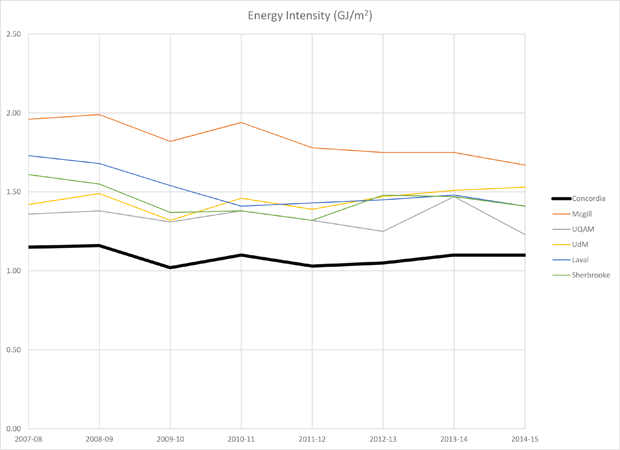 A legacy of efficiency continues
"Our high efficiency ranking continues our legacy of being a leader among Quebec universities and it reflects our cultural ethos in Facilities Management," says Gauthier.
Concordia currently has three buildings certified by Leadership in Energy and Environmental Design (LEED), an internationally recognized sustainability rating system. In 2012, the John Molson (MB) Building on the Sir George Williams Campus was certified LEED Silver, and the PERFORM Centre (PC Building) on the Loyola Campus was certified LEED Gold that same year.
The Research Centre for Structural and Functional Genomics (GE) on the Loyola Campus was certified LEED Gold in 2013.
Features like the solar wall on the south-west corner of the MB Building and the PC Building's heat-recuperation system increase efficiency, as does the automated ventilation control system in the GE Building.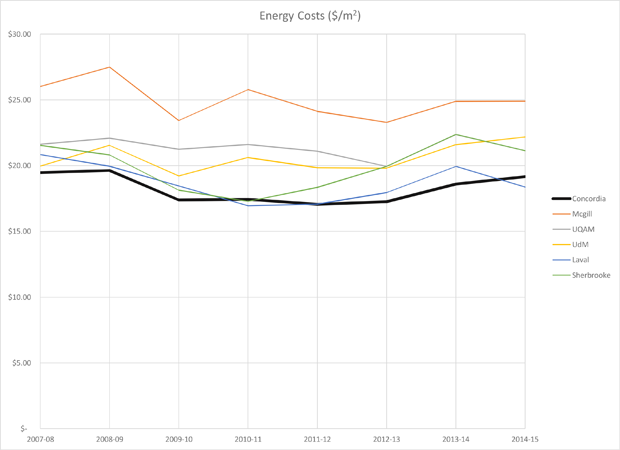 "We're constantly recommissioning equipment and evaluating our buildings' energy needs over time," says Pat Pietromonaco, senior director of property management for Facilities Management. "It takes diligent monitoring if we want to keep meeting our own strict standards."
Mindful renovations also contribute to Concordia's ongoing efficiency.
"The current transformation of the R. Howard Webster Library Building, for example, is our first endeavour with LED lighting systems — installing both the fixture and the ballast together," Pietromonaco says. He adds that they're also using low-flow faucets and toilets, along with as much natural light as possible.

Concordia's energy game plan
When asked where Concordia's energy-management plan is going in the near future, Pietromonaco stresses the importance of implementing more comprehensive documentation to track his department's methodology and processes.
"We need to validate that we're meeting the expected outcomes in regards to energy consumption. To help us take a more introspective approach, we plan to further document what's driving our energy programs toward sustainability, while outlining our contribution to the institution's social responsibility," he says.
Next steps include the development of an energy-management program, which will serve to assist Facilities Management in instilling a culture of change to save energy.
In the meantime, Pietromonaco urges the Concordia community to contribute by turning off computers and office lighting at night. "Every little effort makes a big difference," he says.

Learn more about energy efficiency within Concordia's Department of Building, Civil and Environmental Engineering (BCEE).
---