Conferences & lectures
Concordia Research Symposium in Philosophy (CRSP) 2023
What does cutting-edge research in philosophy look like? What are pressing and enduring questions it uncovers, and ways of addressing them? This event offers a taste.
---
DATE & TIME
Friday, February 3, 2023
1 p.m. – 7 p.m.
SPEAKER(S)
Drs. Matthew Barker, David Morris, Pablo Gilabert, Jing Hu, and Anna Brinkerhoff
COST
This event is free. All are welcome.
CONTACT
514-848-2424 ext. 2501
WHEEL CHAIR ACCESSIBLE
Yes
---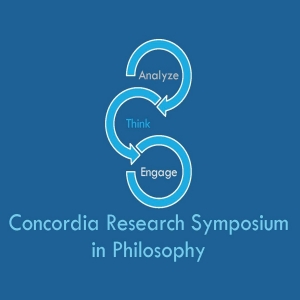 Research in Philosophy Proves to Be of Diverse and Wide-Ranging Interest
Built on millennia of inquiry, contemporary research in philosophy covers a broad swath of topics, from enduring questions about the nature of morality and human experience, to urgent questions about how to overcome oppression. Research conducted in Concordia's Department of Philosophy reflects this diversity, and is highly regarded in the profession. This event presents samples of this research, offering in combination a taste of today's cutting-edge philosophy.
About the Event
From 1:00 - 4:35 p.m., speakers will present their research followed by a short prepared commentary and a Q&A. From 4:35 - 7:00 p.m. there will be a reception in MB-9B where food and drinks will be served.
Speakers
Matthew Barker, "Is being human just a phase you're going through?"
Commentary by Nabeel Hamid
David Morris, Title TBA
Commentary by Donncha Coyle
Pablo Gilabert, "Inclusive Dignity"
Commentary by Dean Joseph
Jing Hu, Title TBA
Commentary by Adam Karpman
Anna Brinkerhoff, "The Moral Virtue of Social Consciousness"
Commentary by Olivia Sultanescu
---