Health & wellness, General, Active living
Nama-stay calm at Concordia: All levels yoga, in-person and online
A free weekly yoga class, in-person and on Zoom, with the Zen Dens and the Multi-faith and Spirituality Centre
---
WHEEL CHAIR ACCESSIBLE
No
---
Thursdays, Oct. 13, 20, 27 and Nov. 3, 12:30 - 1:30 p.m.
Do you feel your stress levels increasing and healthy habits going out the window with midterms and assignments? If you're like me, yoga-na need this!
Join Certified Yoga Teacher Alexa Ruel for free weekly yoga classes in person at the Loyola Chapel and on Zoom to help you relax. Her 60-minute all-levels classes are designed to help benefit both your mental and physical health, allowing you to de-stress and flow through your exams!
Open to all Concordia students, faculty and staff. Bring a friend!
How to attend
Each session will take place both in-person and online!
On Zoom
In-person

Drop in each week at the Loyola Chapel (or you can register to receive a reminder in your email!)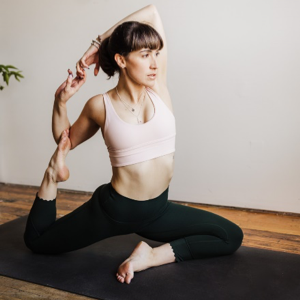 Alexa Ruel started practicing yoga just over 8 years ago, after hearing so many people swear by it. Today, she too swears by the benefits of yoga for the body, mind and soul. Last year, she completed a yoga teacher training to become a certified yoga teacher and share her passion for yoga with others.
Follow Alexa on Instagram: @alexaruel.yoga

---