Concordia Public Scholar Stéfanie Tremblay seeks to improve dementia prevention through brain imaging
The former Team Canada judo athlete's research explores the links between lifestyle risk factors and cognitive decline using MRI technology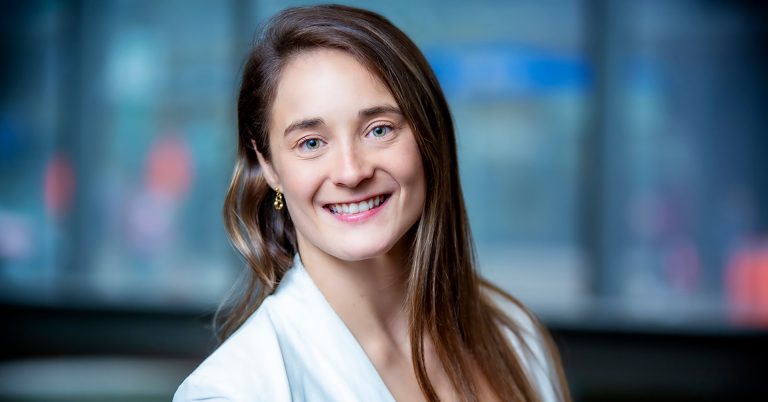 According to a 2022 study by the Alzheimer Society of Canada, over 600,000 Canadians are living with some form of dementia. By 2050, this number has the potential to swell to two million people.
The ravaging mental and physical decline that these diseases cause can be a living nightmare for those affected as well as for the friends and families that care for them.
For Concordia Public Scholar Stéfanie Tremblay, stemming the tide of neurological diseases starts with prevention.
She is studying the impact of cardiovascular disease, and of various risk factors, on brain health using magnetic resonance imaging (MRI). The hope is to uncover early markers that could predict dementia and stroke so that these diseases can be prevented more effectively in the future.
Her doctoral research is funded by the Canadian Institutes of Health Research (CIHR).
Tremblay's passion for ensuring that fewer Canadians live with the grave consequences of neurological decline is both academic and personal.
As a former elite athlete with an academic background in kinesiology, she has also been proximal to tragic events. These experiences were formative in shaping her current research.
'Changes start to happen in the brain up to 20 years before diagnosis'
You started your academic career in Concordia's Department of Health, Kinesiology and Applied Physiology with the goal of becoming an athletic therapist. Now you are in the Department of Physics. What changed?
Stéfanie Tremblay: My academic focus changed when I was in a period of transition in my athletic career. I was on the national judo team, and I put all my energy in qualifying for the 2016 Olympics in Rio de Janeiro. When that didn't happen, I started questioning my focus on athletic performance as the be-all and end-all.
During this time, I also lost two people to suicide. Obviously, this impacted me a lot. I started thinking about the brain, and about the mechanisms and factors that lead to mental-health issues.
I then decided I wanted to pursue research in neuroscience. So I met with Richard Courtemanche, the professor who taught the only neuroscience course I had during my undergraduate program, and told him I wanted to do research in his lab. This began my academic journey in this area.
Talk about your master's degree and how it informed what you are doing now.
ST: I went in with no research experience, but Richard was a great mentor. I learned a lot through working with him, from experiment design and programming to formulating good research questions and navigating the academic landscape.
My master's research investigated the network in the brain between the cerebellum and the prefrontal cortex.
Most people think of the cerebellum as a part of the nervous system that helps us with motor functions such as posture and balance. But what is less known is its role in cognition and emotion — knowledge that is gaining momentum in the scientific community. This also means the cerebellum is affected in mood disorders, and it has been used as a target for neurostimulation to treat depression and other disorders in humans.
So, I became interested in studying this network and how it responds to cerebellar stimulation at different frequencies. How can we change the activity in this network that is involved in emotion regulation through stimulation of the cerebellum?
By the end of my master's, I took a physics class to improve my abilities in quantitative research. That is where I met my current PhD supervisor, Claudine Gauthier, associate professor of physics, and learned about the fascinating research conducted in her lab.
Let's get to the heart of what you are currently researching. What are you learning when it comes to imaging?
ST: Essentially, I am interested in how people depart from healthy brains to developing cognitive diseases. How can we use MRI measures to identify decline as soon as possible so that proper interventions can be put in place?
We know that people with hypertension and cardiovascular disease are more at risk of developing dementia. So, I am studying the brains of those with cardiovascular issues who don't yet have neurological disorders like dementia or stroke. I want to see if we can start to observe patterns through imaging that will alert us that decline is starting. Detecting abnormalities at an early stage could allow interventions to be initiated at a time point when there is a greater potential for recovery and could potentially help prevent neurological disorders.
My research's focus is on white matter, the part of the brain that comprises the fibres that connect different brain regions. I look at the health and the structure of those fibres that allow our brains to have efficient communication between regions.
One of the things I look at is the myelin, the insulating sheet around nerve cells that speeds up communication in the brain. If we lose myelin, then that loss leads to cognitive slowdown.
I'm also working with a dataset from the Stop-AD Centre of the Douglas Research Centre in Montreal. The participants of this study are older adults who are at risk of Alzheimer's disease because of their familial history but who were not cognitively impaired when enrolled in the study. By studying this at-risk population we are hoping to uncover early signs of Alzheimer's disease and contribute to the worldwide effort in early detection and prevention.
What makes early detection through imaging so important?
ST: In a disease like dementia, we now know that changes start to happen in the brain up to 20 years before diagnosis. That gives us a window of time when we should be able to detect these pathological processes.
I'm especially interested in addressing cognitive decline with changes to lifestyle, such as smoking cessation, exercise and proper nutrition. If we know someone is more at risk, then these are things we can implement early.
New drugs are also coming out that help, but they work best when detection is made at early stages.
Outside of the laboratory you have apparently circled back to judo. Tell me about that.
I have recently been recruited as the training partner for a Paralympic athlete who is a medal hopeful for the Paralympic Games in Paris 2024. I am training with this athlete twice a week and travelling with her for tournaments, and hopefully to Paris next September.

Learn more about Concordia's Public Scholar program.
---