Concordia announces a thematic campus on energy transition in Shawinigan
The new collaboration agreement is a partnership with the 'Cité de l'énergie' and the Centre National en électrochimie et en Technologies Environnementales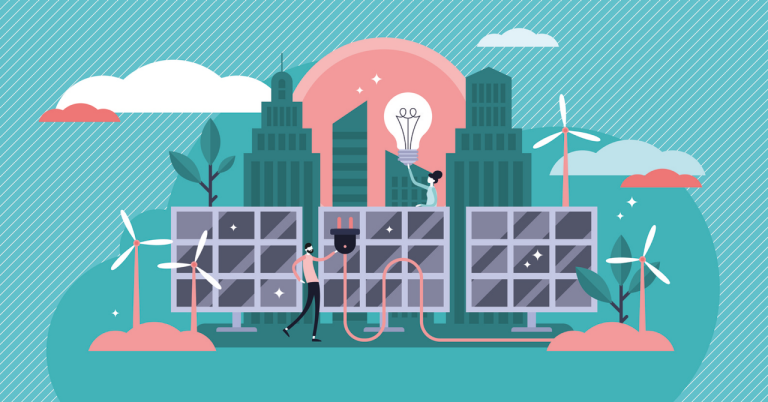 Building on its commitment to sustainability, Concordia is taking another step forward in addressing energy transition and electrification challenges through an exciting partnership in Shawinigan, Quebec.
The university has signed a collaboration agreement with the City of Shawinigan and the Centre National en électrochimie et en Technologies Environnementales (CNETE) to develop a thematic campus centered on energy transition. The campus will focus on crucial areas like energy storage, transport electrification, applied artificial intelligence (AI) and software engineering and cybersecurity.
"This collaboration with Shawinigan and the CNETE is a testament to Concordia's unwavering commitment to driving sustainable innovation," says Graham Carr, Concordia's president and vice-chancellor.
"As a recognized leader in energy transition and electrification, we are excited to join forces with our partners to shape a more environmentally responsible future for Quebec and beyond."
Bridging research, education and industry
The thematic campus aims to address climate change by fostering research, development, innovation and training in lithium-ion batteries, next-generation batteries and energy systems. The university strategically selected Shawinigan for its robust connections to local partners and its capacity to support the battery ecosystem.
"We are thrilled to embark on this innovative journey with the City of Shawinigan and CNETE," says Mourad Debbabi, dean of the Gina Cody School of Engineering and Computer Science. "This collaboration allows the Gina Cody School to actively contribute to shaping a sustainable future by bridging research, education and industry in the critical field of energy transition."
Designated as the "Cité de l'énergie" after shaping the history of hydroelectricity in Quebec, Shawinigan continues to pave the way in electrochemistry and transport electrification.
"Today is a historic date for our city," says Shawinigan's mayor, Michel Angers. "It fills us with pride that one of Canada's leading universities has decided to work here. The work of transforming our economy, which began 15 years ago, now places our city on the world stage of research. The strategic position occupied by Concordia, CNETE and the Cégep de Shawinigan in this field will take our city to the next level."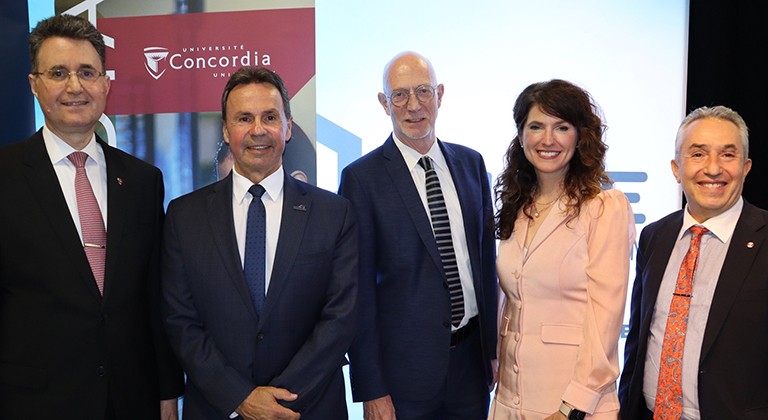 From left: Mourad Debbabi, dean of the Gina Cody School, Michel Angers, mayor of Shawinigan, Graham Carr, president of Concordia, Nancy Déziel, CNETE director and Karim Zaghib, engineering professor.
Accelerating innovation
Anchored by the CNETE, which is part of CEGEP de Shawinigan, the city already stands as a crucial pillar in the next stages of Quebec's battery industry development. The CNETE's mandate focuses on applied research, technical assistance and business information services, contributing to innovative projects and new technological applications in bioprocesses, membrane separation technologies and electrochemistry.
"CNETE and Cégep de Shawinigan are honoured to welcome and collaborate with the Concordia team, which brings together world-renowned researchers in the field of battery materials and transport electrification," adds Nancy Déziel, CNETE director.
"This exceptional synergy will enable the development of high-quality training programs and applied research. We are convinced that our complementary expertise will ensure we accelerate the innovative processes and products brought to market, thus making Quebec more competitive."
Research and development, innovation and training
Three core pillars will define the thematic campus:
Research and development: The Gina Cody School's chemical and materials engineering professors will lead state-of-the-art laboratories, delving into critical areas like precursors, critical minerals, non-flammable electrolytes, recycling and next-generation battery technologies.
Innovation and scale-up: The campus will pinpoint pilot projects for scale-up based on their economic benefits for the Shawinigan region and potential collaborations with local companies, advancing the energy storage and transport electrification sectors.
Education and training: In partnership with CEGEP de Shawinigan and CNETE, the thematic campus will offer training courses on digital automation, cybersecurity, AI, software engineering, energy management systems, electrochemistry and the transformation of critical minerals and the circular economy.
This collaboration between Concordia, the City of Shawinigan and CNETE strengthens Quebec's leadership on energy transition. It follows the recent news of Concordia being awarded a $123-million Canada First Research Excellence Fund research grant earlier this year. This grant, focused on electrifying society and decarbonizing communities, further underscores the importance of the thematic campus and the key roles played by both Shawinigan and CNETE as partners in this research project.
The announcement was made in Shawinigan during the Journée recherche appliquée – Filière batterie event, which is part of Écotech Québec's Semaine de l'économie verte 2023. The event was organized by the Escouade énergie, a cluster of 18 Quebec centres collégiaux de transfert de technologie en transition énergétique, and the CNETE.

Learn more about Concordia's historic Canada First Research Excellence Fund research grant.
Learn more about electrification research at Concordia.
---