A collaboration between Concordia and Kahnawake Survival School is inspiring the next generation of journalists
The Institute for Inclusive, Investigative and Innovative Journalism, helmed by Kristy Snell, aims to develop the future of the industry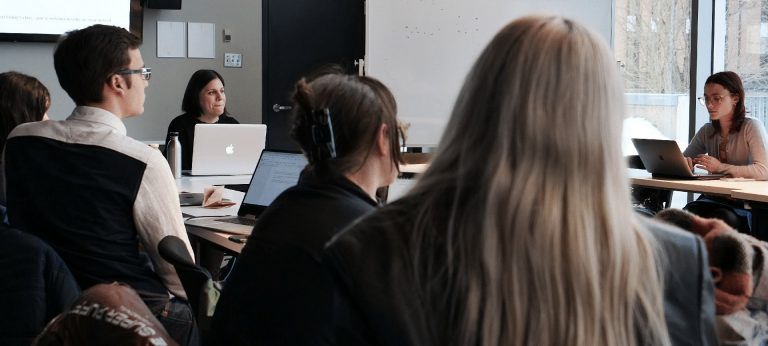 A partnership between Concordia's Department of Journalism and Kahnawake Survival School (KSS) aims to inspire Indigenous students to consider a career in the media.
The collaboration, headquartered at the department's Institute for Inclusive, Investigative and Innovative Journalism (I3J), sees Concordia students in a mentorship role. The goal is to help the secondary five students at KSS produce stories from their community for publication.
The project is steered by Kristy Snell, Concordia's newly appointed Journalist-in-Residence and I3J's academic director. Snell is an award-winning journalist who has been the voice of CBC Radio morning newscasts in Montreal for well over a decade.
For her, the partnership is about empowerment. "The idea was that the KSS students would do it all, with Concordia students acting as mentors," says Snell, a member of Standing Buffalo Dakota Nation in Saskatchewan.
"KSS students came up with story ideas, did interviews, picked quotes and did the writing. Our Concordia students acted as mentors, answering questions and offering solutions and motivation if they got stuck."
The collaboration includes CBC Montreal. The broadcaster has agreed to give the finished stories a home on its website and airwaves.
"The goal for the younger students is to give them a taste of journalism, an opportunity to tell stories they care about, and to show them that yes, they can do this," says Snell.
"For our Concordia students, I want them to understand the importance of building relationships when working on Indigenous stories, so they'll have confidence and understand their responsibilities in a few years' time when they are working journalists entering communities."
Clockwise from top left: Concordia students Talia Kliot, Elisabeth Ndeffo, Evan Lindsay and Kaitlynn Rodney.
Focus on experiential learning
Wahsontanoron Jamie Diabo was one of the KSS students who took part in this project. Her story, published on CBC Montreal, profiled Kanien'kehá:ka fashion designer Karoniénhawe Diabo. The designer attended New York Fashion Week with her brand, She Holds The Sky Designs.
"At first, I didn't even know what I wanted to write about and was pretty nervous about beginning the project," says Diabo.
"After making progress and doing the interviews for my article, that's when it hit me that I'm actually going to write an article. When it got published, I felt very proud of myself for being able to complete something that felt like I could never actually go through with."
Talia Kliot is one of the Concordia journalism students who mentored Diabo.
"Working with KSS has been such a fun and meaningful experience," she says. "I learned a lot about how to make journalism more inclusive both in theory and, after working with KSS, in practice."
Kliot adds that she is hopeful such projects might "help to build positive relationships between Indigenous communities and journalists after decades of continued inaccurate and unfair representation, and foster responsible and sensitive journalism practices in Concordia students."
This term, the KSS students are working to produce audio segments expected to air on CBC Radio Noon in the spring.
"It's been really exciting to see the projects coming together," says Snell. "My dream is that we'll see some of the KSS students we're working with now, studying with Concordia's journalism department in a few years' time."
While this project has a local focus, Snell says she would like to see more Indigenous students studying in journalism departments across the country.
The institute is conducting a study involving Canadian journalism programs. The plan is to analyze enrolment and consider how to help schools better recruit and serve Indigenous students.
"It takes commitment to create positive change, and it has to start within journalism programs. If we can help remove some of the barriers that limit the voices of Indigenous and other underrepresented communities, it can only make journalism better," says Snell, who herself is pursuing a Master of Education in Indigenous Education at the University of British Columbia.
"I feel fortunate to be part of what Concordia is doing. If I can help make positive change in some way, then I am grateful."

Find out more about Concordia's Department of Journalism and Institute for Inclusive, Investigative and Innovative Journalism.
---