Concordia students visit Global TV studios for the Quebec elections
Political science professor Guy Lachapelle offers his class a unique experiential learning opportunity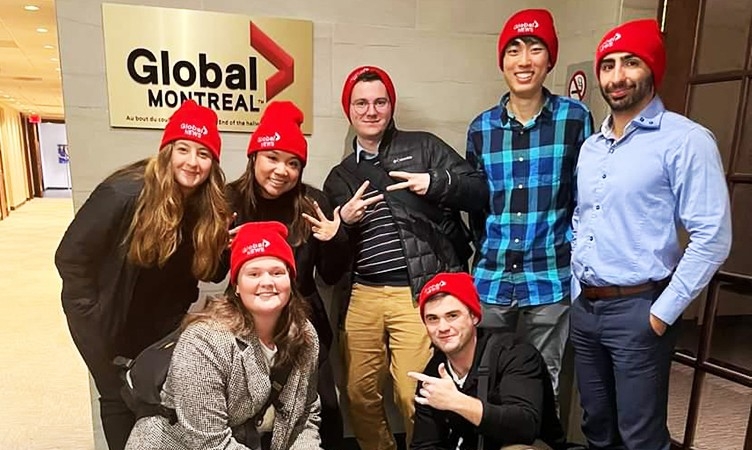 Clockwise from top left: Sarah Abou-Tanos, Jelian Alcos, Noah Martin, Yae-Ha Nam, David Sarno, Dillon Boucher and Catherine Houle.
A group of Concordia students recently got the opportunity to visit a live television broadcast as part of Global News Montreal's coverage of the Quebec elections.
"Station manager Karen McDonald asked me during the summer to find students to work with me at the decision desk," says Guy Lachapelle, professor in Concordia's Department of Political Science and a frequent political commentator.
"During my first class this term for La vie politique québécoise, I asked if students would be interested to work on election night. Eight accepted the proposal."
'A big opportunity'
One of those who accepted was Sarah Abou Tanos, an international student from Lebanon.
"I have been in Quebec for just a year, though I'm really interested in provincial politics," Abou Tanos says.
"For me it was a big opportunity on a personal and professional level."
Working behind the scenes on a live TV show felt like a lot of pressure, she shares, but one that was very worth it.
"It feels so satisfying that I was part of something big."
A priceless experience
For Yae-Ha Nam, the experience was priceless.
"It was awesome to be part of a live broadcast at Global News. I appreciated the fact that I played an important role in Quebec's 2022 election."
Nam already wanted to get more involved in campus life and opportunities in his second year of studies. "Whenever there is volunteer work, I join as much as possible," he says.
Expect to be surprised
For Lachapelle, it was important for students to see an example of how a degree in political science can be put to use.
The recent election results delivering a Coalition Avenir Québec majority were predicted by advanced polling. But Lachapelle says there are always going to be some surprises.
One area was the Montreal riding of Verdun, which produced an unexpected victory for Québec Solidaire. "Verdun was a typical case of swing votes coming from different parts of the district," he notes.
'The most direct way to participate in democracy'
Ultimately, Lachapelle relates that students told him the experience made them better appreciate how difficult it is to get the numbers straight and inform citizens.
"Studying elections is part of their learning. It is also important to know how to communicate your ideas when you only have a few minutes to answer questions," he says.
"Students gained a better understanding of how the simulation programs at Global can predict winners and losers."
Abou Tanos adds that she's taken a lot away from the experience.
"Elections are the most direct way to celebrate democracy and the process of people being part of the decision-making in their own government, which is a really big responsibility."

Find out more about Concordia's Department of Political Science.
---