Concordia-led initiative empowers Indigenous and racialized communities
Members of Project SOMEONE are working with partners in Quebec and Alberta to build resilience against discrimination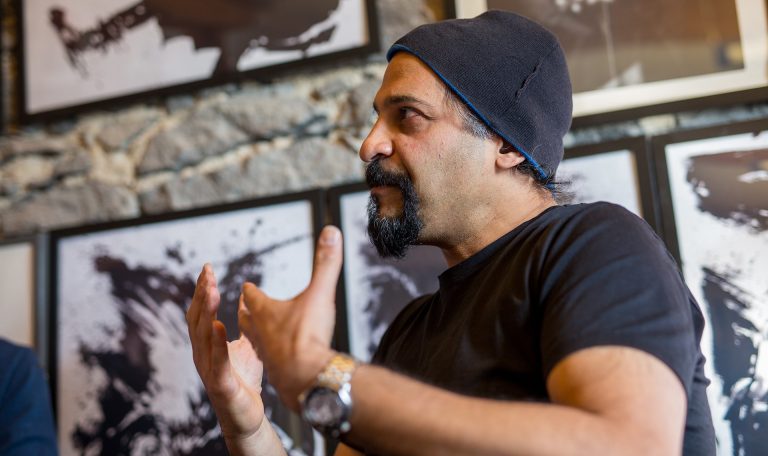 A new Concordia-led project is tackling systemic forms of discrimination that diverse Black, Indigenous (First Nations, Métis and Inuit) and people of colour face. It is doing so by documenting how these communities sustainably build resilience in an increasingly polarized society.
Based in Montreal, Chicoutimi, Quebec, and Edmonton, Alberta, the Innovative Social Pedagogy to Empower Indigenous Communities, Reduce Gender and Racial Biases project (ISP) is the latest initiative under the Project SOMEONE umbrella.
Project SOMEONE's mission is "to build awareness, create spaces for pluralistic dialogues and combat discrimination and online hate." It is the pedagogical arm of the UNESCO Chair in Prevention of Radicalization and Violent Extremism (UNESCO-PREV) and is housed in the Centre for the Study of Learning and Performance (CSLP), a university-recognized research unit.
As part of the ISP project, Concordia is partnering with the University of Alberta, the Université du Québec à Chicoutimi (UQAC) and select community organizations across these two provinces. Together, they will create, adapt and evaluate interactive workshops, documentaries and multimedia, online courses and policy briefs.
Over three years, the team will work with approximately 2,000 Canadians online and in-person with the goal of using social pedagogy principles to promote digital literacy and gender equality, as well as empower community leaders and magnify their narratives of resilience.
Partners in Quebec and Alberta
UQAC's Josie-Ann Bonneau and Mathieu Cook are part of the ISP's Chicoutimi team. They're aiming to document practices developed by grassroots organizations to promote better relations between Indigenous and non-Indigenous communities.
They hope to give young people from the Atikamekw and Innu nations — which are widely represented in their territory — a chance to express themselves about discrimination and racism through video.
"The ISP project is an opportunity to increase our understanding of building intergroup relationships," says Cook, who teaches social sciences at the university, is a full member of the CSLP, and is co-holder of the UNESCO Chair in Cultural Transmission among First Peoples as a Dynamic of Well-Being and Empowerment.
"It is also a good way to work toward empowering Indigenous communities, giving them a space to tell their stories and their own understanding of discrimination and racism," says Bonneau, who coordinates the UNESCO chair.
'Making space for stories from storied places'
Paul Gareau is Métis and an associate professor in the Faculty of Native Studies at the University of Alberta. He is a member of the Thirdspace Playback Theatre: Edmonton team, which is working with community members from the Black diaspora, Métis Nation of Alberta and Asian diaspora for the ISP project.
Gareau says ISP allows space to explore discrimination through educational modules, community discussion, participatory theatre and co-creation of initiatives with communities.
"It provides a tiered approach to communicating and recognizing each of our individual and collective perspectives in order to create solidarity and resist oppression and marginalization," he notes.

Gareau adds that the best response to understand and resist structural racism and institutional prejudice is by affirming the self-determination and value of each community.
"ISP allows for this to happen by making space for stories from storied places."
As part of their work, members of the cross-Canada team will "train the trainer" by collaborating with their communities to identify their needs, develop methodologies, build capacity and co-create innovative solutions. Materials will be produced in English, French and Indigenous languages, as appropriate, and the Concordia team will engage with Black and racialized youth in Montreal, among others.

Graduate students and faculty from Concordia's departments of Education, Art Education and Études Françaises and individualized programs will work on the various ISP initiatives.
Concordia's Vivek Venkatesh is CSLP director, UNESCO-PREV co-chair, ISP lead and Project SOMEONE co-founder. He says the funding helps UNESCO-PREV target five of the UN Sustainable Development Goals through an evaluative framework that favours collaborations with their community partners.
"We feel so fortunate to be able to learn with our collaborators in Montreal, Edmonton and Chicoutimi over a sustained period of three years, which ensures rich opportunities for knowledge exchange and leadership development," Venkatesh says.
Research funding
The ISP project was launched in April 2021 thanks to $780,000 in funding over three years from the Sustainable Development Goal Funding Program from Employment and Social Development Canada. Paula Wood-Adams, Concordia's interim vice-president of research and graduate studies, says this latest grant is another example of the university's demonstrated research quality.
"The continued commitment by various agencies across Quebec and Canada to fund Concordia-led research projects spanning a variety of disciplines shows the confidence they have in the potential of our researchers and the work they can produce."

Find out more about Project SOMEONE , UNESCO-PREV and Concordia's Centre for the Study of Learning and Performance.
---