Concordia students earn $30K prize and move on to the next phase of the Deep Space Food Challenge
Competitions by NASA and the Canadian Space Agency look to create novel food-production technologies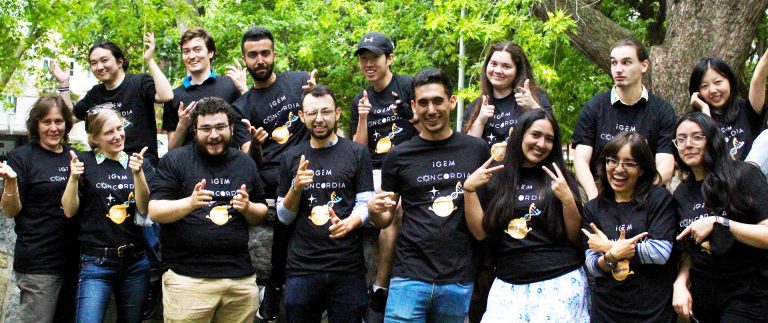 A group of students in Concordia's SynBioApps program has earned $30,000 and been named among the Canadian semi-finalists in the Deep Space Food Challenge, held in parallel by NASA and the Canadian Space Agency (CSA).
The Concordia team is one of 10 Canadian semi-finalists selected by the CSA. NASA will choose up to 20 American semi-finalists, who will receive $25,000 USD, and an additional 10 international teams that will not receive funding.
The university team's $30,000 award will facilitate prototyping and research activities as the group now moves on to phase two of the competition.
The Impact Canada site says the challenge "seeks to create novel food-production technologies or systems that require minimal inputs and maximize safe, nutritious and palatable food outputs for long-duration space missions and which have potential to benefit people on Earth."
The Concordia team's application was spearheaded by iGEM team mentor Steven Li (BEng 19), a PhD student in electrical and computer engineering at the Gina Cody School of Engineering and Computer Science. In addition to the space mission, he reports that the group's AstroYeast Microfarm project also presents many potential benefits for communities on Earth. The project bioengineers yeast to produce microorganisms that can create nutrients in space.
"The Deep Space Food Challenge will propel our project to unfathomable heights and fulfill our vision of a new sustainable and nutritious food source," Li says.
'Beyond a student project'
Gabriel Aguiar-Tawil is an iGEM team leader and one of Concordia's iGEM summer fellowship recipients. He says he is extremely proud of what the team has accomplished so far and looks forward to taking this next big step with them.
The Deep Space Food Challenge project is supported by the SynBioApps NSERC CREATE-funded training program and by Concordia. The team's work will continue under the SynBioApps umbrella and will include collaborations between students in the Gina Cody School and the Faculty of Arts and Science. It will have an engineering hardware component led by engineering team lead Li and a genetics research component led by genetics team lead Aguiar-Tawil.
SynBioApps program manager Orly Weinberg says the Deep Space Food Challenge competition gives students an inspiring experiential learning opportunity.
"It moves their research and development beyond a student project and into the realm of industry-funded innovation and application," she says.
The Impact Canada site reports that phase two of the project begins this fall and semi-finalists, including the Concordia team, will need to "build a food-production technology prototype that will take part in a kitchen-level demonstration with samples of food outputs."


Learn more about Concordia's SynBioApps program.
Read more about the Deep Space Food Challenge.
---