Researcher Maryse Fortin investigates cause and treatment of lower back pain
The alumna returns to Concordia to advance her studies using PERFORM Centre technology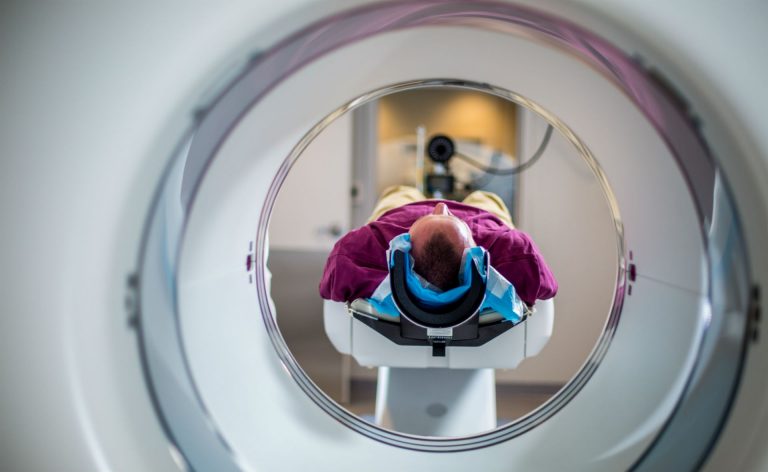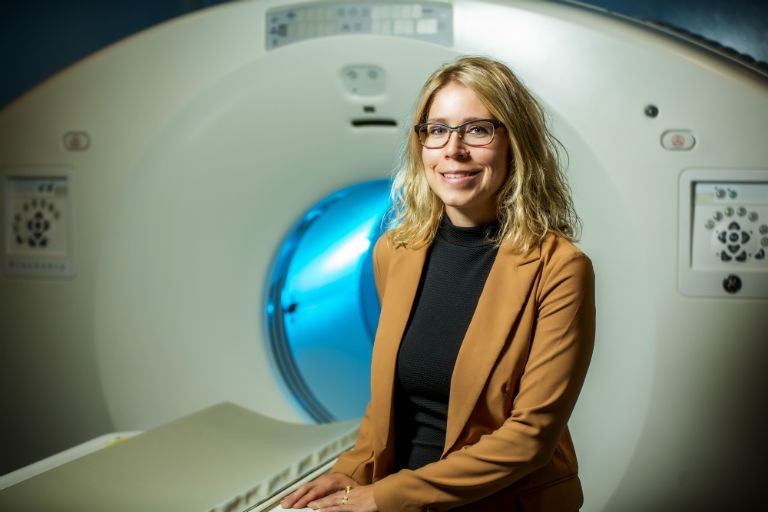 Maryse Fortin: "The equipment and facilities here are exactly what I need for my research."
'A rare asset'
"For our department, Maryse represents a rare asset," says Véronique Pepin, associate professor and chair of health, kinesiology and applied physiology.
"She is a nationally certified athletic therapist with clinical and business experience in the field, on top of being a high-profile emerging researcher in musculoskeletal health interventions."
Fortin spent years in the field as a clinician before earning her PhD in rehabilitation science from the University of Alberta and moving into academic research — an unusual combination.
"She precisely fits what our department was seeking to increase its research drive," Pepin says. "We have no doubt that she will add her touch to our bachelor's, honours and master's programs in athletic therapy and help lift off our new PhD in Health and Exercise Science. We are extremely excited to see her join our unit."
Fortin has also done postdoctoral research in medicine and orthopaedic spine surgery at the McGill University Health Centre and in electrical engineering at Concordia.
Her first research project in her new capacity will focus on the multifidus muscle's role in spinal pain.
"This muscle is relatively small, compared to other global muscles, but plays a critical role in lumbar spine health and stability. In subjects that suffer from chronic LBP, this muscle may be atrophied and contain fatty tissue."
This fat infiltration is known as tissue remodelling.
Reversing back pain?
Using innovative imaging techniques, Fortin's research aims to better understand the role of the multifidus muscle in the development and recurrence of spinal pain. The goal is to clarify how such changes in morphology may affect muscle function and whether specific types of exercises can reverse these degenerative muscle changes.
Funded in part by a PERFORM Centre grant for interdisciplinary research, Fortin says the centre is a major reason she decided to come back to Concordia.
"The equipment and facilities here are exactly what I need for my research."
Fortin will be making full use of the centre's cutting-edge technology, employing tools such as MRI and ultrasound machines, the Functional Assessment Suite and the conditioning floor.
"Maryse's research has the potential to impact countless people. We are excited to have her join our team," says André Roy, dean of the Faculty of Arts and Science.
"Her choice of Concordia speaks to the quality of health researchers we are able to attract. Thanks to researchers like Maryse, our faculty is pursuing our goal of being a uniquely defined powerhouse of interdisciplinary research."
Call for study participants
In keeping with Concordia's goal of doubling our research, Fortin will soon begin a randomized, controlled trial to test the effectiveness of different exercise interventions for patients with chronic LBP.
"Specifically, I will be recruiting a total of 50 subjects, male and female, between the ages of 18 and 60 years old, with non-specific chronic lower back pain."
What qualifies as non-specific?
"Pain of unspecified origin for more than three months, with moderate to severe related disability would generally be the type of subjects we are looking for," Fortin explains.
Participants will be completing a 12-week exercise intervention program, which will include two supervised sessions per week at the PERFORM Centre. Fortin and her team will then assess possible changes in back muscle size, level of fat and function using MRI and ultrasound imaging and patient's symptoms and/or disability via a series of questionnaires.
Fortin is looking forward to beginning the study in the coming weeks.
"We are really hoping to get some answers as to whether this tissue remodelling can be reversed and how it affects muscle function. I am optimistic that this study will provide us with important information to improve the management of LBP."

Learn more about the Department of Health, Kinesiology and Applied Physiology.
---