Concordia professor holds a solo exhibition at the Musée d'art contemporain de Montréal
Janet Werner presents a partial snapshot of the last decade of her work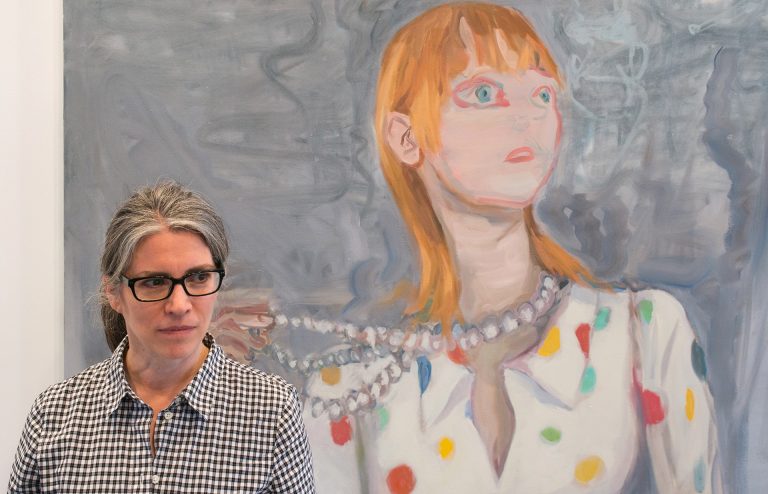 Janet Werner has been producing her own style of fictional portraits as far back as the 1990s. The Concordia professor, who's been in the Department of Studio Arts for 20 years, has seen her paintings exhibited from Ottawa to Vancouver to Prague. Most recently, she had her first major solo show in the United States at Anat Ebgi in Los Angeles.
From October 31, 2019, to January 5, 2020, the Musée d'art contemporain de Montréal (MAC) is presenting a self-titled solo exhibition by Werner that represents a partial snapshot of the last decade of her work — both her distinct use of collage using fashion photography and the process of construction behind it.
Born in Winnipeg, Werner holds a BFA from the Maryland Institute College of Art in Baltimore and an MFA from Yale University School of Art and Architecture in New Haven, Conn.
Sitting among her paintings at the MAC, she discusses the exhibition, her painting process and her final year of teaching at Concordia.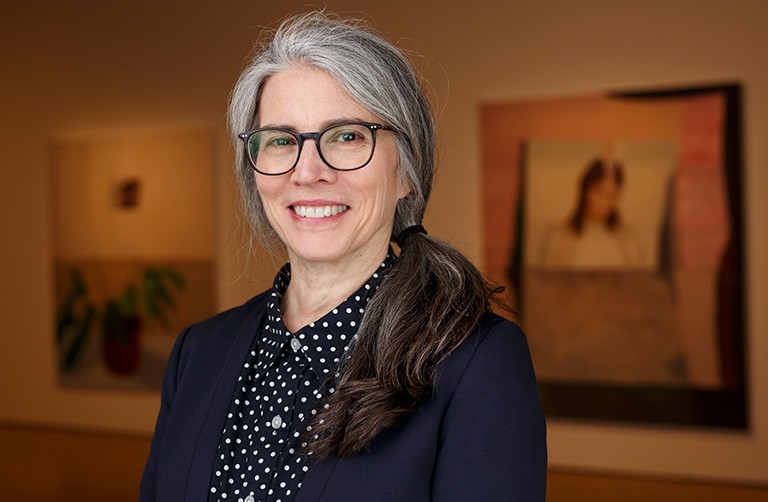 Janet Werner is a professor in the Department of Studio Arts. | © Concordia University, photo by Lisa Graves
My subjects are playing with your desire to know more about them
Can you describe how this exhibition came together?
Janet Werner: I worked closely with curator François LeTourneux. We decided to present selections of work from the last 10 years. So, it's not a retrospective and it's not even a full survey. We tried to pick works that were really representative of key moments in my recent production. We have a series of fictional portraits on one side of the space, and then it shifts to being about the construction of the images that happens in the studio.
The portraits are constructed through a kind of collage process. I used to hide the seams of the collage so that you didn't necessarily know why they were strange. But in the work in this room, you see a sort of space that could be the space of the studio. You see small images that are being moved around, suggesting some kind of manipulation.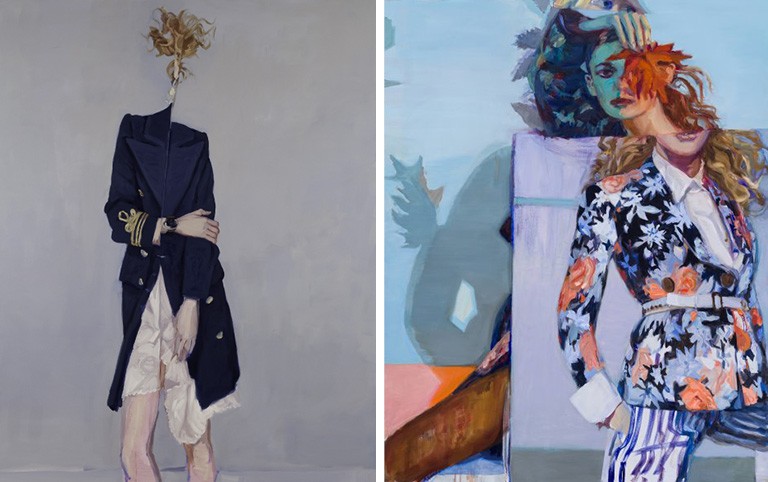 Left:
Folding Woman
, 2009, by Janet Werner. | Right:
Beast
, 2019, by Janet Werner.
When you say that the seams were hidden before, do you mean there was a conscious choice to change your process?
JW: I was hiding the seams before and now I'm revealing them. In Beast (2019), you see three distinct images being intercut. Before, I would hide the seams so you would see that there was a kind of distortion, but you wouldn't know why or rather you wouldn't see that there were two different images. You would just think, "Oh, that's a weird person!"
What brought about this shift in your process?
JW: Curiosity, for one thing. Also, the desire to move away from the portrait and to think more about the space around, and a little bit about architecture. I guess also a desire to pull back from the sort of emotional and psychological encounter toward something a little more cerebral.
It's funny. One of my questions was, could you still have the emotional feeling from a figure where you see that it's an image rather than a real person? In the other room, I sort of imagine that you're encountering another being. But here, you're encountering pieces of things.
It does seem that connecting emotionally to portraits of subjects is one thing, but when the paintings represent images, how do we relate?
JW: How do you relate? In the case of Untitled (Curtain) (2016), do you still see it as being a character that has an emotional weight? I wanted to add another level. You'll see, there's a lot of reference to curtains and stages, and the idea that the studio is a stage in which this performance is happening.
One of those characters is called Performer (2014), but all the portraits are doing a kind of performance. Sometimes there's costuming and a kind of masquerade — masking and unmasking.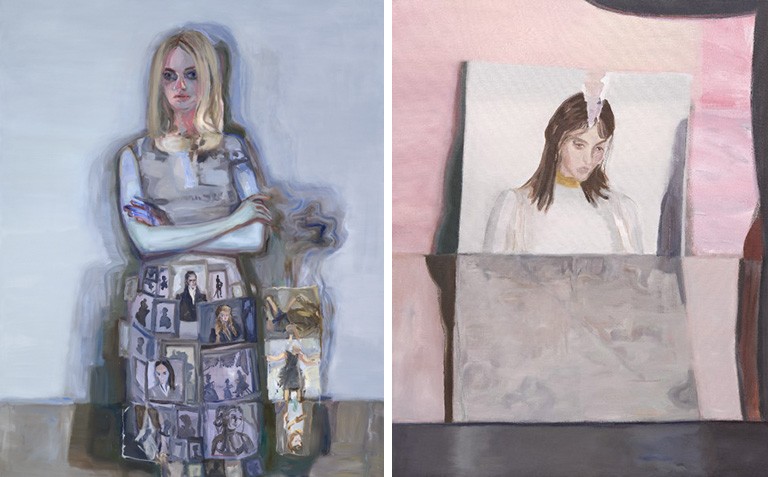 Left:
Untitled (Gallery),
2017, by Janet Werner. | Right:
Untitled (Curtain),
2016, by Janet Werner.
What is your interest in magazines and other publications?
JW: It's still important to me that I have something I can hold in my hand. There's a materiality to the photograph, to the magazine, to the experience of looking through magazines. I look through thousands of images before I find something that stimulates an idea.
It's pretty important to me to distance myself from the digital. In the studio everything slows down, including the way I scroll; I don't scroll through images, I turn pages. I know, it's funny. It's just a thin sheet of paper, but it still has a materiality that's different from the screen.
How do you feel that the subjects are playing with our gaze upon them, if at all?
JW: They're playing often by not revealing their eyes. In Hass (2017), it's folded over, so you just see a smiling mouth and not the eyes. In the other room, there's a character that has a mask where you don't see the mouth or eyes. They're playing with your desire to know them and know more about them.
Do you feel that race and whiteness factor in to your work?
JW: You know, it's what I know. It's my identity. So, to the extent that they're self-portraits, it wouldn't feel correct for them to be other races. They are, though, more like shells. Especially Untitled (gallery) (2017) — it's very ghostly.
What is your interest in representing a disfigured body?
JW: I sometimes think of those distortions as a way of alluding to interior life. If you saw something that was just normal proportions, you would just think it was a representation of something you could see. But this is really more about what you can't see, and that's inside.
I've always been fascinated with what happens in the invisible spaces between your eyes and inside the body. How can you talk about the inside of the body by showing the outside? The distortion is something that I hope makes you wrestle with the psychological content.
In Sorcerer (2016), the eyes and breasts are looking upward, with little hands on the table, and the body is collapsed. It's a body that's gone partially, still partially there, kind of questioning. There's a lot of different ways of interpreting what's going on. I like complexity!
How do you feel about your last year teaching at Concordia?
JW: It feels exciting to think that I'm going to be a full-time artist now after so many years of being torn between those careers. I enjoy teaching, but I find it takes so much energy. I'm excited to finally be a working artist whose only real job is to make my work.
I'll miss some aspects of teaching, but I hope I'll still have occasions to interact with students, graduate students in particular. I will respond to invitations. It's like stepping into the abyss a bit. I don't know what comes after this, so we'll see!

Janet Werner's solo exhibition at the Musée d'art contemporain de Montréal runs from October 31, 2019, to January 5, 2020.
Find out more about Concordia's Department of Studio Arts.

---