Concordia's Leonard and Bina Ellen Art Gallery hosts the first major solo museum exhibition of Shuvinai Ashoona
OCT. 30 - JAN. 18: The Mapping Worlds show is part of a broader shift in the ways Inuit art is treated in Canada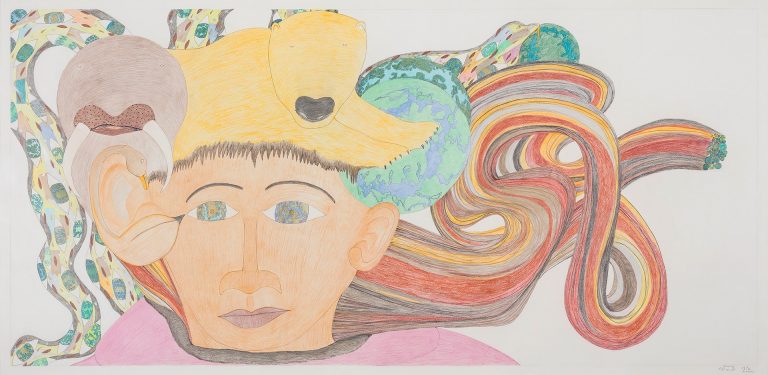 From closely observed naturalistic scenes of her Arctic home to monstrous and fantastical visions — each one of Inuit artist Shuvinai Ashoona's drawings has its own story to tell.
Concordia's Leonard and Bina Ellen Art Gallery is presenting Ashoona's first major solo museum exhibition, from October 30 to January 18, 2020. It features 33 drawings that vary in both scale and medium, completed over the past 15 years.
Michèle Thériault, director of the Ellen Art Gallery, programmed this exhibition as part of their overall initiative to feature Indigenous practices and curating on a regular basis.
Two years ago the Gallery produced Among All These Tundras with Inuk scholar Heather Igloliorte, associate professor in the Department of Art History, which juxtaposed Inuit practices with those of other Arctic communities in the world.
"Presenting the work of Shuvinai Ashoona is a continuation of an effort to bring significant Inuit art and knowledge to Concordia and Montreal," says Thériault.
ᓱᕕᓇᐃ ᐊᓲᓈ : ᓄᓇᙳᐊᓕᐅᕐᓂᖅ ᓄᓇᕐᔪᐊᙳᐊᓂᒃ (Shuvinai Ashoona: Mapping Worlds) is a selection of works produced by the artist over the past two decades. It is being organized and circulated by The Power Plant Contemporary Art Gallery in Toronto.
Curator Nancy Campbell says Ashoona inhabits a pivotal place both among Inuit artists and in the contemporary Canadian art scene in general.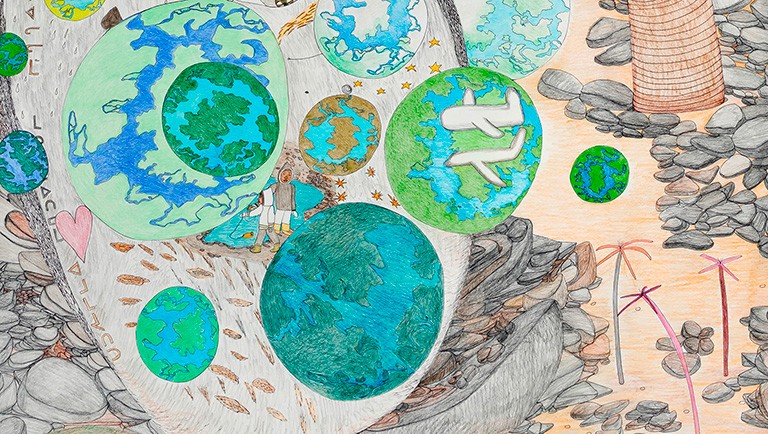 Composition (Clams and Globes)
, 2010, Shuvinai Ashoona. Detail | Courtesy: John Cook. Photo: Toni Hafkenscheid
To look at the work of Shuvinai Ashoona is to delight and discover
What can we expect to see at the exhibition, Mapping Worlds?
Nancy Campbell: These recent works are a departure from Ashoona's early black-and-white drawings of her home community, Kinngait, in Nunavut.
Through her drawing practice, where she uses Fineliner pen, coloured pencil and graphite, Ashoona builds her own histories that are an entangled mix of invention and fact. From this she imaginatively combines narrative traces and stories passed down by her Elders with unconventional representations of the world.
To look at her work is to delight and discover, for each contains a story within a story — a surprise, an observation, an unexpected twist or reference. Herein lies the brilliance of Ashoona's approach to story-telling and her innate refusal of systematic meaning-making.
When did you first encounter Ashoona's work? How did your working relationship with her begin?
I started working with Ashoona in 2003 after meeting her on my first trip to Kinngait. I was working on an exhibition of the work of Annie Pootoogook (1969–2016). I produced an exhibition in 2006 for the Art Gallery of Alberta that included the work of Pootoogook, Ashoona and Siassie Kenneally (1969–2018) who were first cousins and part of the drawing tradition that exists in Kinngait.
As Ashoona developed as an artist I took great interest in her and produced a monograph on her life and work for the Art Canada Institute.
How does this exhibition connect to the broader conversations about Inuit art?
The question should be how this exhibition connects to the broader conversation of contemporary art. I am convinced that as a living artist working in Canada her work should be, and is, considered under the broader criteria of contemporary art.
Inuit art has a ghettoized history, although because of the ground-breaking work of Pootoogook and her generation it is being considered contemporary art as opposed to tourist art or something separate from other art that is produced in Canada. The presentation of this exhibition is part of that history of art in Canada. It is helping to open museums up to the presentation of Inuit art in a broader context than previously seen.
Nancy Campbell is a curator of Canadian contemporary and Inuit art. She is currently a guest curator at the McMichael Canadian Art Collection. She was curator at the Macdonald Stewart Art Centre (now the Art Gallery of Guelph), University of Guelph; director of the Doris McCarthy Gallery, University of Toronto Scarborough; adjunct curator at The Power Plant Contemporary Art Gallery, Toronto; and curator of special projects at the Art Gallery of Ontario. From 2014 to 2015 she served as the editor of the Inuit Art Quarterly. Her current research focuses on contemporary Inuit drawing.

ᓱᕕᓇᐃ ᐊᓲᓈ : ᓄᓇᙳᐊᓕᐅᕐᓂᖅ ᓄᓇᕐᔪᐊᙳᐊᓂᒃ (Shuvinai Ashoona: Mapping Worlds) will be on view at the Leonard and Bina Ellen Art Gallery (1400 De Maisonneuve Blvd. W.) from October 30, 2019 to January 18, 2020.
The opening takes place Wednesday, October 30, from 5:30 to 7:30 p.m.
Dialogue-based group tours are available by reservation and can be arranged via email to: robin.simpson@concordia.ca.
All participants in the public programming for Mapping Worlds are Inuk.
View the list of programs and activities.

---