Concordia welcomes a new director to the FOFA Gallery
Eunice Bélidor looks to include diverse voices and expand connections with public audiences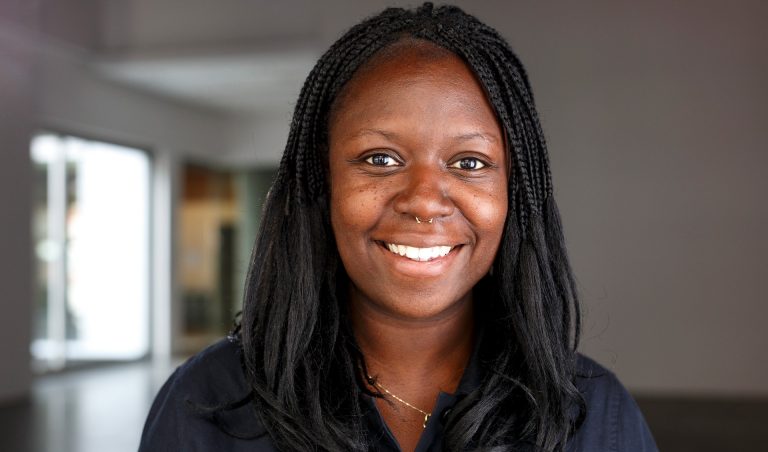 The first order of business for Eunice Bélidor when she entered her new office as the FOFA Gallery's director was to change the orientation of her desk.
She now looks out to the gallery and to the public.
As the first Black person to become director of the gallery, Bélidor believes that her visibility to passersby is significant for the representation of Black and other racialized people in the arts.
"A lot of people who don't think they have access to art are people of colour, so I'm hoping that they will see that it's their place as well."
'A dynamic cultural leader'
Bélidor is an independent curator, writer, researcher and 2018 recipient of a TD Bank Group Award for Emerging Curator from the Hnatyshyn Foundation. She recently co-curated the exhibition Over My Black Body at Galerie de l'UQAM and Spike Berlin.
Her practice focusses on contemporary Haitian art, fashion design, performance, post-Black studies and feminism. She did her undergraduate studies in art history at Concordia and completed both an MA in art history and visual culture and a graduate diploma in curatorial studies at York University.
Bélidor has worked at BAND Gallery and the Power Plant in Toronto and previously completed a five-year tenure at the Montreal artist-run centre articule.
She takes over from Jennifer Dorner, who served as gallery director from 2014 to 2019. "I'm delighted to pass on this role to such a dynamic cultural leader and I look forward to seeing how the gallery develops in the coming years," Dorner says.
"I'm proud of the work that was achieved by the FOFA Gallery team over the last five years, in particular the relationships that were developed with surrounding communities."
'Another hub for research and knowledge-making'
Since 2005, the FOFA Gallery has programmed exhibitions and events dedicated to showcasing the research and art-based practices of Concordia's Faculty of Fine Arts.
Part of Bélidor's excitement about stepping into the FOFA director role is the chance to build on the gallery's history of community-building and encourage more grassroots thinking in the art space with students.
"I hope to host conversations that students don't feel they can necessarily have in classrooms or places that are more rigid."
As a Concordia alumna, Bélidor (BFA 12) is familiar with the dynamics of the university's Engineering, Computer Science and Fine Arts Integrated Complex (EV Building) and the Faculty of Fine Arts. She stayed connected to Concordia in recent years through guest talks, where she would present her research and participate in studio critiques.
After five years as the programming coordinator for articule, Bélidor looks forward to the research potential of a space like the FOFA Gallery.
"I don't think that all research and knowledge should be affiliated with universities. I think that a lot of it comes from community conversations and grassroots organizing," she says. "The FOFA could be another hub for research and knowledge-making."
Promoting community accessibility and mentorship
Bélidor is especially interested in the potential of the FOFA Gallery's vitrine on Ste. Catherine St. as well as the adjacent courtyard space. Under the direction of Jennifer Dorner, the Inuit film festival Tillitarniit used the courtyard very effectively to bring many Indigenous community members who live in downtown Montreal together, she says.
With this in mind, Bélidor intends to take full advantage of FOFA's public spaces to attract new audiences.
"Because of where we are located, and how central we are, there are a lot of important things that can be brought to the community rather than just being for the people inside the university."
Embedded in Bélidor's approach to the gallery space and her role in it is the desire to reach those who may not feel they have access to viewing or participating with art.
FOFA regularly organizes undergraduate and graduate exhibitions where students have the opportunity to put their degree into practice in a professional setting. Bélidor considers this mentorship aspect of the gallery to be deeply important and is committed to reaching more students each year.
"If you're not already well-connected, then how are you going to know about different opportunities? Not everyone thinks they will be selected, so lots of people remove themselves automatically."
She is determined to find those who might discount themselves and, through knowledge sharing, continue FOFA's project of including new and diverse voices.
Bélidor looks forward to setting an example through meetings with students and parents.
"A lot of the parents of racialized people say that art is not a way to make a living. I'm hoping that these students will prove them wrong when they see me!"

Find out more about Concordia's FOFA Gallery.
---