7 Indigenous artists present a collaborative installation for Montreal's Nuit Blanche
Memory Keepers I is supported by grants from Concordia professor Heather Igloliorte and visiting scholar-in-residence Julie Nagam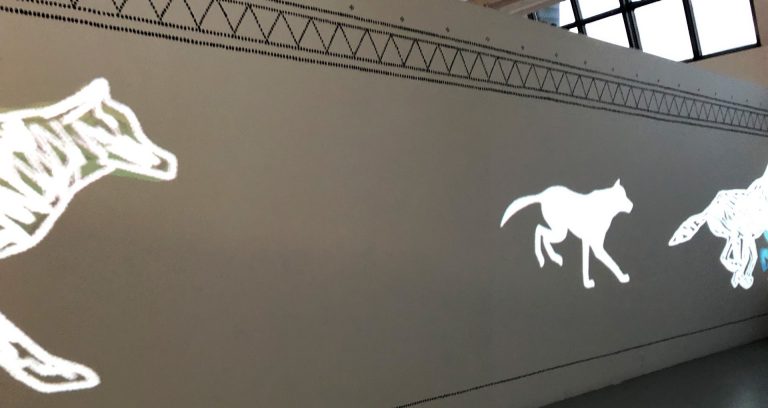 Montreal's 16th edition of the annual all-night Nuit Blanche festival will include an installation by seven Indigenous artists who are working together for the first time at Concordia.
The project is being organized and curated by Heather Igloliorte, Concordia University Research Chair in Indigenous Art History and Community Engagement; Carla Taunton, NSCAD University associate professor of art history; and Julie Nagam, chair in the History of Indigenous Art in North America at the University of Winnipeg and a visiting Indigenous Scholar-in-Residence in Concordia's Department of Art History.
During an intensive week-long workshop at the Indigenous Futures Cluster of Concordia's Milieux Institute for Arts, Culture and Technology over the midterm break, artists from Quebec and the Canadian Arctic have access to technical equipment, such as outdoor projectors and lights, and art materials and spaces, including sculpture and painting studios, to create a site-specific visual art installation.
The results will be displayed at the FOFA Gallery outdoor courtyard gallery during Nuit Blanche on March 2 — which, in a nice bit of connection, also hosts the Tillutarniit film festival celebrating Inuit culture during the summer.
"We want Concordians and the Montreal community to come and see what the artists were able to do over the course of this one week," says Igloliorte.
Nagam adds that she is looking forward to seeing the potential ripple effects from the installation.
"I'm excited to see what generates from this," she says.
'A production of memory'
Under the banner of Memory keepers 1 | Gardiens des mémoires, the artists will explore their past and future and the land and their relationship to it.
"As performers and digital makers, the artists invoke memory within them, and the kind of work they make is basically a production of memory," says Nagam, whose Social Sciences and Humanities Research Council of Canada (SSHRC) grant called Transactive Memory Keepers is supporting the project.
The installation embodies Concordia's strategic direction to double its research and the university's sustained commitment to Indigenous reconciliation.
"We are hoping that something really fun, experimental and interactive comes out of this," says Igloliorte. The associate professor of art history last year received a $2.5-million SSHRC grant to develop her project Inuit Futures in Arts Leadership to increase Inuit participation in the arts. She recently also received $50,000 from a special Indigenous research and reconciliation grants competition through SSHRC to continue that work.
Igloliorte's SSRHC funding, the Office of Community Engagement, the Department of Art History and the Initiative for Indigenous Futures all contributed to the project.
Nuit Blanche across the country
The installation is part of Igloliorte, Taunton and Nagam's newly formed GLAM Collective (short for Galleries, Libraries, Archives and Museums), which is exploring how to get Indigenous art out into the public. Under Nagam's SSHRC grant, the GLAM Collective will bring together clusters of Indigenous artists to create similar installations at night festivals across the country during 2019 and 2020.
This will lead to a major show in 2021, where all those original pieces will potentially be brought together in one space.
Each of the installations will be created by local artists and will be influenced by the places they're in.
"There are a lot of Inuit in this particular group, but when we're on the East Coast there will probably be more Mi'kmaq, and when we're in Winnipeg there may be more Metis or First Nations, so we always try to mix in some local artists," Igloliorte explains.
"In Montreal, because I have a grant that's specifically for supporting Inuit artists, we decided we would do something around the North coming to the South."
The artists participating are Algonquin-French contemporary artist and filmmaker Caroline Monnet; Nunavut-based Inuk sculptor and mixed-media artist Jesse Tungilik; Newfoundland-Inuit animator Glenn Gear, who lives in Montreal; Gwich'in and Inuvialuit installation and new media artist Tom McLeod; graphic artist from Nunatsiavut Jason Sikoak, who's studying studio arts at Concordia; Inuvialuit painter and curator Darcie Bernhardt and Inuk painter Megan Kyak-Monteith, who's pursuing her BFA in Halifax.
Dispelling preconceived notions
"We're bringing a senior francophone Indigenous artist, Monnet, into conversation with a group of Inuit artists who are mostly emerging or early career artists," Igloliorte says. "It's really exciting to think about the collaboration between these groups who don't often get to work together."
Tungilik, who is in residence at Concordia during the winter term, says the opportunity to work with other artists is something he's looking forward to.
He hopes the installation will allow attendees to broaden their horizons. "One of my hopes with my sculptural work is to get people to look at issues in a different light, especially concerning Indigenous Peoples in Canada," he says.
"There are so many entrenched views, and I think it can be very difficult to understand the other side's perspective. One of my goals is to get people outside of their preconceived notions."

Find out more about Memory keepers 1 | Gardiens des mémoires.

---