A contingent of professors and students bring their research to the Congrès de l'Association francophone pour le savoir
Concordia contributes to the largest multidisciplinary gathering of intellectuals in the French-speaking world
What do non-cochlear music, international student mobility and the ethical behaviour of companies all have in common?
They are three topics that Concordians will be presenting at the 86th edition of the Congrès de l'Association francophone pour le savoir (Acfas).
From May 7 to 11, the 2018 edition of this landmark conference — the largest multidisciplinary gathering of research and knowledge in the French-speaking world — will take place at the Université du Québec à Chicoutimi.
Over five days, academics and other experts will unpack current topics in the fields of science and creativity, nature and culture, and imagination and innovation.
For this year's theme, Célébrer la pensée libre, Acfas is hosting approximately 3,500 speakers from more than 30 countries. The week will see a total of 118 colloquia, all in French. Concordia's 13 participating researchers demonstrate the breadth of inquiry taking place on campus.
International student mobility, corporate responsibility & more!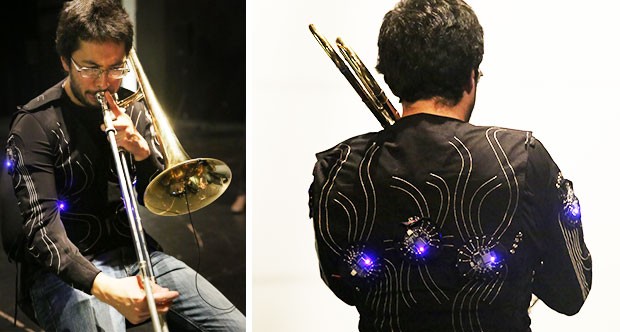 Professor Sandeep Bhagwati's latest research-creation project looks at non-cochlear music.
Chedly Belkhodja, professor and principal of the School of Community and Public Affairs, offers a case study of international student mobility in the Rimouski region of Quebec. His research examines how two educational institutions in the area have prioritized the recruitment of international students.
Sandeep Bhagwati, professor in the Department of Music, presents his latest research-creation project, Ecstasies of Influence. The work is an exploration of whether the essence of an interdisciplinary creative process in musical composition can be disassociated from an artist.
In a second session, Bhagwati will look at what he refers to as non-cochlear music – where movement, space and sounds converge to create a complex listening experience.
Philippe Caignon, professor in the Département d'études françaises, examines how Indigenous pedagogical values can be incorporated into terminology and translation curriculum in order to enrich teaching practices. He will cite a paper he wrote with Donna Kahérakwas Goodleaf, Concordia's Indigenous curriculum and pedagogy advisor.

Danielle Gauvreau, demographer and sociology professor, looks at the history of the Balsac population database to highlight the demographic works that have been done with it and examine new directions this work may take in the near future.

Svetla Kaménova, professor in the Département d'études françaises, presents the Verbotonal Method approach, which helps to improve the teaching of proper pronunciation in second language instruction.
Cédric Lesage, professor at the John Molson School of Business and the Lawrence S. Bloomberg Chair in Accountancy, explores the ethical behaviour of socially responsible companies.
Ketra Schmitt, associate professor at the Centre for Engineering in Society, offers a perspective on the subject of recruiting, retaining and celebrating women in scientific fields, notably in terms of the work-life balance, and ensuring that girls become involved in STEM (science, technology, engineering and mathematics) careers.
Five graduate students and post-doctoral fellows will also present their work: Mélissa Gélinas on the ecology of Indigenous television in Quebec; Koffi Eddy Ihou on a new hybrid approach to multimedia data modeling; Frédérica Martin on the role of university personnel in the non-academic career development of PhD students; Sandra Sjollema on poetry and social justice in research related to recreation and leisure; and Nora T. Lamontagne on how technologies bring older members of the Cercle de Fermières crafting organization closer together.
Additionally, Eric Fillion, a newly appointed public scholar and francophone winner of Concordia's Three Minute Thesis (3MT) Competition, will represent Concordia at the finals of Ma thèse en 180 secondes, the French version of 3MT.
Fillion's research traces the origins of Canada's cultural diplomacy by looking at how race and empire informed the making of a musically imagined Canadian-Brazilian community between 1938 and 1968.
Concordia hosted Acfas in 2014, welcoming 5,100 scholars and 173 colloquia. In total, more than 3,000 papers explored Research: Zones of Creativity and Convergence.

Read more about the Concordia presentations taking place at the 86th Congrès de l'Association francophone pour le savoir (Acfas).
---