Innovation, Technology and Society
Graduate Certificate (Grad. Cert.)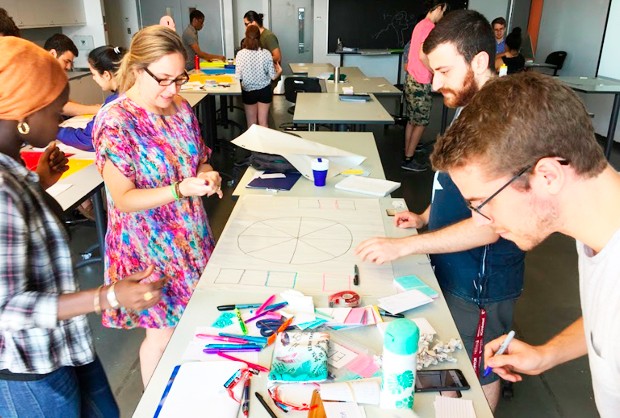 "We applied what we learned by doing a hands-on project at District 3." - Anna Karina Ehrhard
Admission to the graduate certificate program in Innovation, Technology and Society is suspended for summer, fall and winter of 2020/2021.
The Graduate Certificate in Innovation, Technology and Society pushes students to develop new strategies to tackle complex global problems and incorporate them into viable business models. In this program, social entrepreneurs, engineers and non-engineers work together across disciplines to cultivate innovative processes to address issues such as global warming, market crashes and animal extinction. Combining aspects of theoretical and practical learning, the program encourages you to discover ideation techniques before pursuing the commercial potential of your ideas through a practicum at Concordia's District 3 Innovation Hub.
Proficiency in English
Proficiency in English. Applicants whose primary language is not English must demonstrate that their knowledge of English is sufficient to pursue graduate studies in their chosen field. Please refer to the English language proficiency page for further information on requirements and exemptions.
Degree Requirements
Fully-qualified candidates are required to complete a minimum of 15 credits.
Please see the Engineering Courses page for course descriptions.
Innovation, Technology and Society Graduate Certification (15 credits)
9

credits chosen from the Theory Core Courses

• ENCS 6041 Creativity, Innovation, and Critical Thinking (4.00)

• ENCS 6042 Communication Techniques for the Innovation Process (4.00)

• ENCS 6043 Seminar in Innovation Process (1.00)

6

credits chosen from the Practicum

• ENCS 6044 Practicum in Innovation Process (6.00)

The graduate certificate can be completed within an academic year.
Please apply online. Read the how-to guide for application procedures.
1. Submit your application and pay a $100 CAD application fee. A student ID number will be issued
2. Upload required documents. This link can also be found on the Student Hub's My CU Account page.
3. A completed file that is ready to be assessed will include:
Application form and Fee

Curriculum Vitae (CV)

Statement of Purpose (approximately 500 words in length) and answer the following issues:

Motivations - What life experiences have informed your choice to pursue this certificate? Have you worked in the area of social innovation?

Expectations - What do you expect to learn through the certificate? What experiences do you want to have? What knowledge, skills and understandings to you wish to acquire and develop?

Future Plans - How do you anticipate using the knowledge you gain in this certificate? Will you begin a new career; continue in your current career?

Your Current Skills and Passions - What do you bring to work within your innovation team? In what area do you want to achieve impact? What projects do you wish to pursue?

Transcripts for all post-secondary institutions attended
Proof of Canadian citizenship (if applicable)
Applicants whose primary language is not English, are required to submit official language test scores, unless exempted.
For initial assessment purposes, scanned and uploaded copies of documents are accepted. To finalize a file, once admitted, Concordia University will require official documents.
DEGREE

FALL
(September)
WINTER
(January)
SUMMER
(May/June)
Innovation, Technology & Society
Canadian / International /
Permanent Resident
Note: Admissions have been suspended.