PERFORM Centre (Prevention, Evaluation, Rehabilitation and FORMation/training)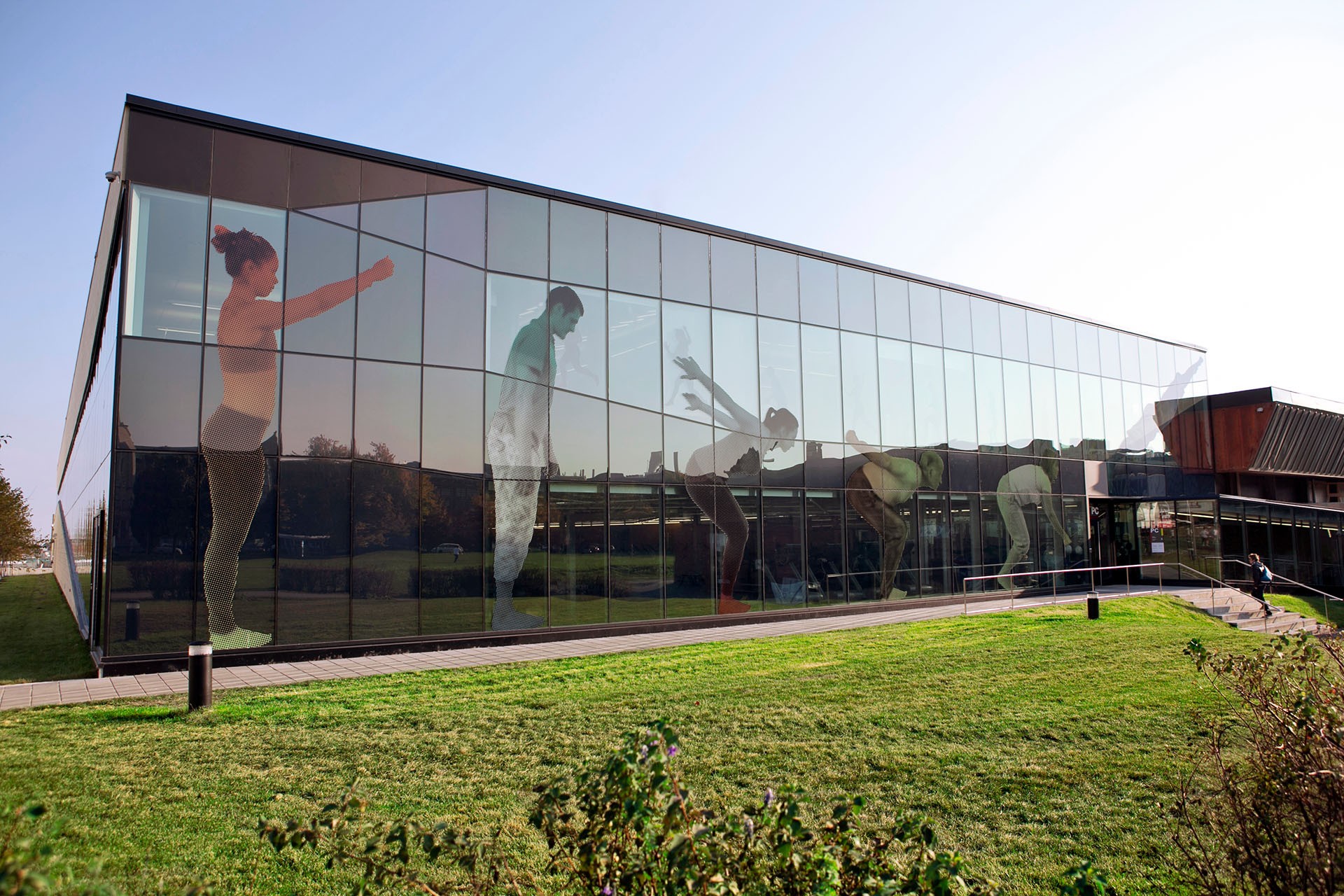 Located on the south side of Sherbrooke Street at the Loyola campus, the PERFORM Centre makes a striking impression as it inclines towards de Maisonneuve Street. The main floor's east side has aesthetic lines and windows that curve to create the image of an eye overlooking the centre's landscaped entrance. The eye is emblematic of PERFORM's clinical observations towards establishing better nutrition, improved rehabilitation methods, and healthier lifestyle choices for everyone.
The north-facing side is constructed entirely of windows to maximize natural light and connect the building's interior with the outdoor landscape. The interior/exterior ambiance reflects the need for people to maintain a healthy balance with indoor and outdoor activities. Hallways are painted in warm yellow and orange tones for a sunny, welcoming effect.
The open space encased in windows from the building's surrounding hallways reflects PERFORM's trilateral focus on research, education and community engagement.
PERFORM's facilities
Staffed by highly trained and certified professionals, the PERFORM Centre's nine platforms unleash knowledge and discovery.
Our imaging suite offers some of the best researchdedicated imaging facilities in Canada, including 3-Tesla MRI, PET-CT, SPECT-CT, a DXA scanner and ultrasound equipment.
Our spacious conditioning floor features the latest exercise machines including wheelchair adaptable equipment, a four-lane walking track, abundant natural light and a welcoming atmosphere. Software on all machines allows researchers to collect invaluable data from various age groups and clienteles.
Our athletic therapy internship clinic delivers the highest quality preventive and therapeutic care with the latest equipment including the only research-grade SwimEx pool in Quebec.
Our nutrition suite offers teaching facilities for cooking classes and demonstrations as well as a metabolic kitchen for preparing controlled meals.
Our cardiopulmonary suite advances research in lung and heart health across a range of groups of all ages including athletes, healthy individuals and people with chronic disease.
Our sleep laboratory has three private furnished bedrooms with cameras and polysomnography, all connected to a central control room, enabling novel and leading sleep research.
Our functional assessment suite measures movement, flexibility, strength and balance to serve clinical research, occupational biomechanics, athletic performance, industrial research and more.
Our clinical analysis suite uncovers traditional and novel risk biomarkers of disease using a full range of techniques from mass-spectrometry to cellular culture.
Our physiological suite houses Electro-Encephalography (EEG) and Near Infra-Red Spectroscopy (fNIRS) equipment that allows researchers to explore bioelectrical neuronal activity
Leap, the public art embellishing PERFORM's façade, was created by Montreal artist Adad Hannah. The large-scale, photo-based work on glass vibrantly depicts a series of 17 people engaged in various physical activities. Concordia students, faculty, and staff members served as models for the art to convey PERFORM's goal of healthier living for everyone starting with the university's community.