13 essential tips for exam success
From schedules to citing, here's what you need to know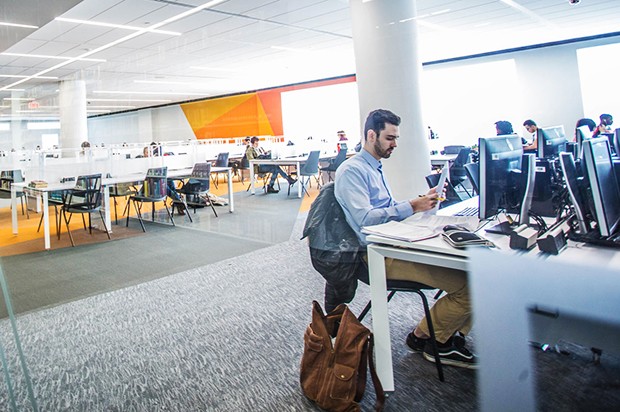 Your exam marks might count for more than all of your coursework combined, so it's worth taking the time to make sure you're properly prepared.
Here are the 13 essentials.
EXAM PREP
This code of conduct is the official word when it comes to exam violations, as well as the sanctions that may result from them.
The 15-page document seems like a lot to read, but a careless misstep — like ripping a page out of an exam booklet — can nullify your results. Think of those 15 pages as a long-term investment.
2. Check your schedule
Check your personalized final exam schedule online or consult a paper copy posted in the following locations:
The Mezzanine of the Henry F. Hall Building on the Sir George Williams Campus

The third floor of the Molson Building on the Sir George Williams Campus

Outside Room CC-214 in the Central Building on the Loyola Campus
If you discover an exam conflict, make sure to report it to the examinations office. Not sure if you have an official conflict? Check here!
3. Consult exam resources
The Exams page on the student hub brings together a lot of vital information, including rules and regulations, steps for deferring an exam, dealing with conflicts, setting an external exam and reporting an illness.
The Student Success Centre offers an entire range of exam prep sessions for selected math, accounting and economics exams.
4. Make a study plan
Plan your schedule to give yourself sufficient time to study for each exam. Build in time to study actively — review concepts, talk your way through ideas, test yourself, fix what you don't know. This will help you feel more confident going into the exam.
Also, set aside time for study breaks: eating, sleeping, socializing and exercising. Staying healthy is key to your success during exam time.
If you need a little help getting organized you can browse the Student Success Centre's time management handouts or meet with a learning specialist.
5. Manage your stress
There are lots of quick, easy ways to turn anxiety into action. If you're overwhelmed, get help. There are plenty of resources available if you're having difficulty coping with the crunch — including tutoring, counselling and medical support.
6. Cite your references
Plagiarism is the most common — and easily avoided — academic offence. One way to stay on track during a take-home or open-book exam is by knowing how to correctly cite your primary source material.
Follow the rules laid out by your professor, and read the citation and style guides created by Concordia Library. That way, you'll be sure you're giving credit where it's due.
7. Know before you go
Each exam is different, so do some research.
Find out from your professor what's going to be covered, what format the exam will take and how much it counts toward your final grade. Knowledge is power …
ON EXAM DAY
8. Be on time
Driving to campus, or taking public transit? Give yourself plenty of time to get to your exam, in case there's traffic or a road closure. It's far better to be too early than too late.
The last shuttle buses leave Concordia's Sir George Williams and Loyola campuses at 11 and 10:30 p.m. respectively during the exam period. Visit the shuttle bus web page for a complete schedule.
9. Bring your ID (but not your phone)
Your student ID card is the best ID to bring to your exam, but a driver's license or health-care card bearing a photo and signature is also acceptable. The easiest way to avoid a phone-related code of conduct offense is to not have your phone with you!
If you must bring your phone, keep in mind that you will not be able to keep it on your person during the exam — you will have to leave it at the front of the room in your bag or with your other belongings.
The same goes for any supplementary materials that are not expressly allowed in the exam — if you must bring them to the exam room, ensure they are stowed at the front of the room from the outset of the exam and not on your person or at your seat.
10. Keep your eye on the prize
Don't talk to people before the exam, don't compare notes and don't do anything that could put you off your game.
You're ready. You've got this.
11. Don't get bogged down
You shouldn't start with the hardest question. Instead, find one you're comfortable with, and go from there.
Build your confidence, get engaged and get your brain warmed up. That's part of performing: accessing that information and getting your head in the zone.
12. Rest your brain
If you start to feel anxiety, put the pencil down, close your eyes and breathe. Then brainstorm. Try to find something you know about that thing, but don't jump to catastrophic thinking. If you learned it, it will come to you.
13. Believe in Yourself!
"I used to wish students 'good luck' before an exam," says Reverend Ellie Hummel, Concordia's Chaplain.
"I'm not sure how much a successful exam has to do with luck. Rather, it's about believing in yourself, trusting that you studied enough, being confident that you can recall the material and being present in the moment."

Find out more about Concordia's Student Success Centre.
---