'Love yourself, laugh at yourself, embrace the change that's coming'
New graduates celebrate and receive sage advice at Concordia's fall 2022 convocation ceremonies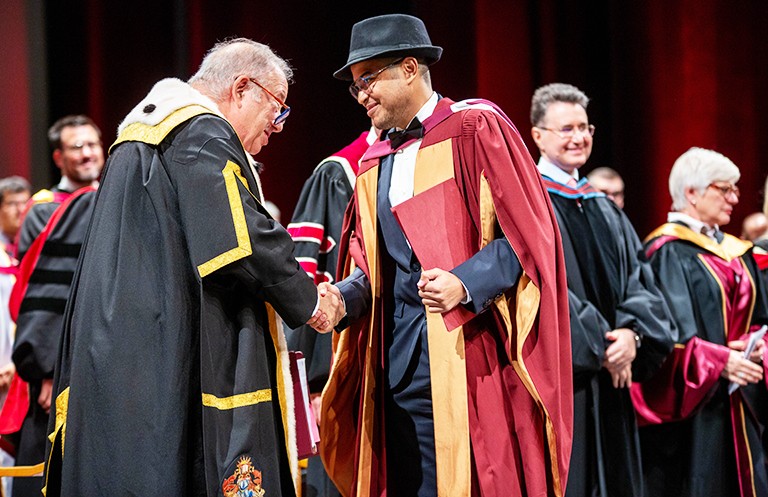 The 1,000-plus new graduates who weathered an extraordinarily stormy few years on their way to earning their degrees were rewarded with inspirational messages at Concordia's fall 2022 convocation ceremonies. Students from the Faculty of Arts and Science, Gina Cody School of Engineering of Computer Science, John Molson School of Business and School of Graduate Studies gathered to accept their diplomas at Montreal's Place des Arts on October 24.
Graduates from the Faculty of Fine Arts will celebrate convocation in spring 2023.
"Enjoy this moment in the company of loved ones who played an important role in your success," Concordia's chancellor Jonathan Wener, BComm 71, told the new alumni. "Be bold, take chances and do not be afraid to make mistakes."
Concordia President Graham Carr also addressed the graduates. "What I hope you take from this ceremony is inspiration, the inspiration needed to transform the rigorous training that you received at Concordia into concrete, beneficial action for society and the world," he said.
"Every year, thousands of new students begin their studies and thousands more graduate. And that's how the cycle of inquiry, learning and innovation evolves and flourishes. Because in the end, it's through all of you that we offer solutions to the world."
Motivational messages
The ceremonies featured three honorary doctorate recipients who delivered encouraging words to the graduates.
At the Faculty of Arts and Science convocation, Fibbie Tatti, born to the Sahtúgot'ı̨ne First Nation on Great Bear Lake in the Northwest Territories and a distinguished educator, received a Doctor of Laws "for preserving and promoting Indigenous languages and culture."
"Each of you has your gifts from the Creator. I am confident that each of you will be able to use your gifts to the benefit of yourself, your family and your people," she said.
Tatti applauded the university for acknowledging the value of her work.
"Concordia is confirming that Indigenous languages are integral to who Indigenous people are. Our language and our identity come directly from traditional lands and are vitally important to the survival of Indigenous people."

Reshma Shetty, co-founder of the Boston-based microorganism design company Ginkgo BioWorks, received a Doctor of Laws "for expanding the role of synthetic biology in our world" at the Gina Cody School of Engineering and Computer Science ceremony.
"If you're fortunate enough to have choices, as many of you do, choosing the path you enjoy is more likely to open the aperture of opportunity and lead you to places you've never dreamed. So instead of making choices based on where you want to be 10 years from now, or 20 years from now, make choices on how you want to spend your time today," she said.
"Your life energy is the most precious thing you have. Use it wisely. Work on problems that matter to you and optimize locally and not globally by choosing the paths that give you joy today."

At the John Molson School of Business convocation, Concordia bestowed a Doctor of Science on technology integrator and serial entrepreneur David Fung "for developing sustainable industries around the globe."
"You can fulfill your potential one day, but the next day you have a new level of potential to fulfill. The key is choosing to be humble and teachable, denying uncomfortable ignorance and undoing arrogance in favour of the unlimited possibilities that come with lifelong learning," he said.
"Growing and collaborating is a daily choice to make our life count. And it requires a daily commitment to fulfill our new potential to be profitable and make the world a better place."

As always, each ceremony included valedictory addresses from exceptional graduating students.
"Fundamentally speaking, we are all stardust turned conscious on this miniscule rock in the habitable zone of this uninteresting solar system, quite literally barreling through the universe," said Christopher Liczner, BSc 15, MSc 18, PhD 22, to his fellow arts and science convocating students.
"We are nothing, but at the same time we are everything. That thought scares me to my core, but I believe some fear is a necessary catalyst to keep growing, to keep moving forward in this ever-changing world, in order to be prepared for whatever hardship may come to pass," he continued.
"So please love yourself, laugh at yourself, embrace the change that's coming and use the perseverance, skills and knowledge that you gained at Concordia University. And life will seem effortless."
---