The Concordia Farmers' Market brings fresh, local produce back to campus this fall
A student-led food coalition welcomes more vendors and adds a new downtown location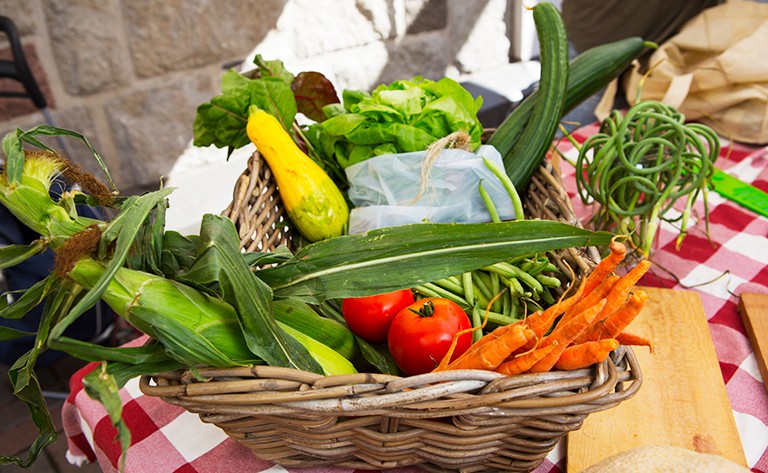 Shylah Wolfe: "Farmers' markets play a vital role in empowering producers and educating consumers."
The Concordia Farmers' Market is coming back to campus after a two-year COVID-19 hiatus. The return means local produce and products will be available right where you study, work and gather.
The group leading the return of the market is the Concordia Food Coalition (CFC). The student group wants to get the word out to those looking for delicious ways to encourage community-supported agriculture.
"Farmers' markets play a vital role in empowering producers, educating consumers and building resilient local food systems," says Shylah Wolfe, CFC executive director.
"The Concordia community deserves the opportunity to connect with and buy from the great local — and hyperlocal — food producers, so we are facilitating that."
Buy baskets or shop by inspiration
There are two ways people can buy from farmers involved in the market: they can sign up for two months of weekly produce baskets or drop by from August 31 to October 27 and purchase what appeals to them. Tables will be set up at the following times and locations:
Give time, earn experience
There is also opportunity for community members to share their time and gain experience with local producers.
"Working on a small-scale market garden farm gives people the chance to do very diverse tasks throughout the season," says Jean-Philippe Vézina (BA 03), a Concordia graduate turned market gardener and social entrepreneur with Jardin Lakou, one of the market vendors.
"It is a great experience for those interested in learning more about the agriculture business and developing skills specific to that field."
Students enrolled in certain internship or project-related courses may also have the chance to earn credits if they reach out to CultivAction, a solidarity cooperative cultivating land on Loyola Campus.
"Every day, dozens of students and community members walk by the garden, read our educational signage and ask us questions," says Caleb Woolcott of CultivAction.
"Familiarizing people with the idea that food can be grown in their very own neighbourhood is a key part of the sustainable food movement. Hyper-local farming is important because it helps heal the disconnect between us and our food."
Harvested and hand-made
The Concordia markets also provide an opportunity to buy local products that are made, not just grown.
"While farmers' markets are vital in connecting local and sustainable food to the community, they are also important in providing a space for artisans to sell their goods," says Emma McLaughlin, Concordia Farmers' Market coordinator.
"We are continually working on making our markets as accessible as possible so we've removed the cost barriers that most markets hold. Because of this, we are fortunate to have a wide array of vendors at our markets, including jewellers, potters, craft-makers and painters. Their presence at the market contributes to a thriving local economy."
Growing together
The value of the market was clear to numerous institutional partners. The Office of Sustainability provided support to its return under the provisos of the Sustainability Action Plan.
"Locally grown food supports biodiversity and is associated with fewer carbon emissions," says Cassandra Lamontagne, sustainability manager with the office.
"Just as importantly, it builds food security, empowers communities and enables access to improved nutrition. On-campus urban agriculture is therefore a vital part of our Sustainability Action Plan. The return of the Farmer's Market was a clear priority when selecting projects to support."
Facilities Management and the Dean of Students Office are also supporting the return of the market through space and other logistics.
"One of the things I love about the Farmers' Market is that it shows what can happen when students and staff work together," says Andrew Woodall, dean of students.
"What's more, when it's up and running, the market creates opportunity for various members of our community to engage among themselves and with the vendors interested in sustainable food systems."

Learn more about community-supported agriculture and other aspects of Concordia's Sustainability Action Plan through the Sustainability Hub.
---