Concordia welcomes its first accessibility change lead
Anna Barrafato: 'We must all commit to reducing barriers'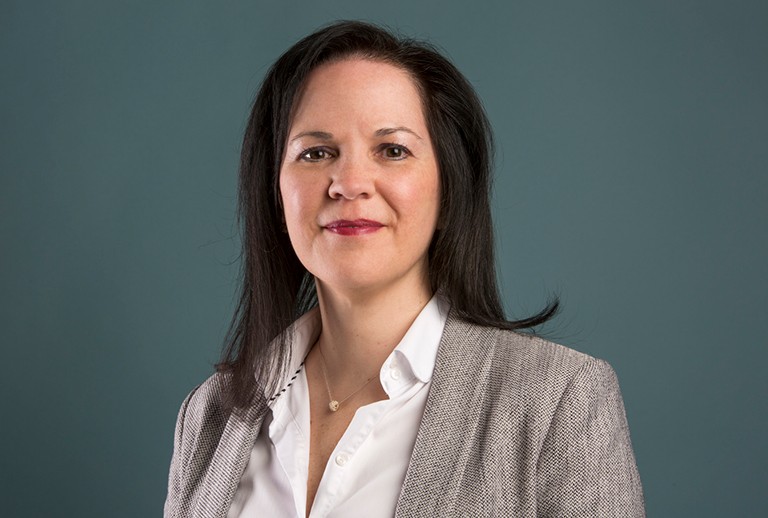 Anna Barrafato: "We need to commit to inclusivity from the start."
Anna Barrafato (MA 98) is Concordia's new accessibility change lead, reporting to the Equity Office.
In this inaugural role, Barrafato is working across the university to foster more accessible and inclusive physical and digital spaces and the provision of appropriate technology and services to more equitably serve all Concordians.
For more than a decade, Barrafato has been a well-known and respected figure for her dedication to creating a more accessible campus. Across her career, she has served as an advocate and representative on countless university and external working groups, advisory committees and task forces on equity, diversity, inclusion and accessibility.
Barrafato's new role also involves advancing accessibility in classroom environments to better support faculty and students, whether teaching and learning is taking place online or in-person.
"Anna's insight, expertise and experience are tremendous assets to Concordia in leading and overseeing the integration of our newly updated accessibility policy," says Lisa White, executive director of the Equity Office. "She will equally be ensuring that the policy is embedded within the culture and practices of the university."
In her previous role as a disability accommodation specialist with Concordia's Access Centre for Students with Disabilities (ACSD), Barrafato was instrumental in reducing barriers in classrooms for students with disabilities.
"Continuing to build on her previous achievements with the ACSD, Anna's responsibilities will also include spearheading the development of an institution-wide campus strategy to reduce obstacles to inclusion for students, staff, faculty and visitors," White adds.
"On behalf of the Equity Office, we are incredibly pleased that Anna has joined our team where she will continue to make a positive difference in the lives of our community members who experience and live with disabilities."
'Accessibility is a matter of social justice'
Can you tell us a bit about yourself and what continues to inspire your work to improve accessibility on campus?
Anna Barrafato: I'm a Concordia alum with an MA in child studies and a master's degree in counselling psychology from McGill University. I began my career at Concordia within Student Services.
As a psychologist with Counselling and Psychological Services I provided psychotherapy and career counselling, as well as facilitated workshops and therapy groups for students with mental-health and career-development needs.
Most recently, I held the position of disability accommodation specialist at the ACSD where I supported the accommodation needs of students with disabilities, as well as promoted the importance of an accessible and inclusive campus community.
I worked closely with faculty members and served on numerous internal committees, as well as presented nationally and internationally at conferences on best practices in accommodations, Universal Design for Learning (UDL), mental health, strengths-based advising and inclusive teaching practices.
Working within disability services allowed me to forge strong relationships with colleagues across Quebec, Canada and the United States, and to stay abreast of emerging trends. I am passionate about the work I do, as accessibility is a matter of social justice and all Concordians with disabilities deserve to have the same experiences as their nondisabled peers.
How does your new role as accessibility change lead with the Equity Office differ from your previous position with the ACSD?
AB: The ACSD is a student services office that directly provides support services and reasonable academic accommodations to students with disabilities.
The scope of my work as a disability accommodation specialist was centred on reducing classroom barriers and providing student accommodations when the academic environment was inaccessible.
In my current role, as accessibility change lead, I will work toward creating a broader universal strategy to accessibility on campus, and within the teaching and learning environments, as well as support the Equity Office in the implementation of the newly updated accessibility policy. It will touch upon the built environment, digital technology, services and instruction.
Is there a particular mindset needed of Concordians to bring greater accessibility to their work and areas of responsibility?
AB: Accessibility is a shared responsibility across the university, and we must all commit to reducing barriers so that individuals with disabilities, be they students, staff, faculty or visitors, have full and equal participation to their work and student life on campus.
We need to move away from accessibility as being an afterthought and commit to inclusivity from the start. With a focus on accessibility awareness and promotion, debunking myths, such as accessibility only affects a small group of users, is of the utmost importance.
Can you provide us with a few highlights from the newly updated accessibility policy?
AB: It's truly an inclusive policy that provides a framework for students, staff, faculty and visitors whereby the university commits to the inclusion and participation of students and employees with disabilities. This commitment includes facilitating the prevention, identification and/or removal of barriers for persons with disabilities to ensure access to services, events, activities, facilities, premises and buildings, employment, digital structures and university processes and accommodations.
The scope of the policy is wider than the previous one, which only focused on student accommodations. It recognizes the accessibility needs of all users and highlights the importance of shared responsibility.
Can Concordians contact you directly with questions, and if so what type of advising should they expect to receive?
AB: As part of my role in overseeing the implementation of the accessibility policy, I will be meeting with various units and departments over the next few months to discuss the policy and the university's commitment to accessibility and inclusion.
I remain as a resource person and am happy to consult with Concordians. I am also committed to working closely with faculty on the implementation of inclusive teaching practices and UDL.

Learn more about Concordia's Equity Office and the university's revised accessibility policy.
---